2017 Whatcom County Farm Tour Stops
1. Appel Farms
2. Twin Brook Creamery
3. Boxx Berry Farm
4. Bellingham Farmers Market
5. Triple Wren Farm
6. BelleWood Acres
7. Cloud Mountain Farm Center
8. MyShan Dairy
What can you get with your VIP Tour Badge here?
Free Alluvial Farms hooded sweatshirt if you place a deposit on a pastured pork share
Alluvial Farms
2399 Mount Baker Highway, Bellingham (at Circle F Enterprises)
Alluvial Farms raises high quality pastured pork and focuses on ecological stewardship and growing resilient food sheds. As their name suggests they farm in the broad alluvial fans of the Frasier and Nooksack River deltas. They are passionate about stewarding healthy animal and cropping systems and can't wait to share their knowledge about ecological farming. The Whatcom Conservation District will also be there with resources and information about farm planning. Visit the farm and pigs and feel free to continue with a gorgeous walk to Squalicum Lake after!
Appel Farms
6605 Northwest Dr., Ferndale
Appel Farms started with a young man's dream to be a dairy farmer and that dream carried him from his home in Holland to a bright future in the United States. He established his dream farm in 1967, and later began making cheese! The passion behind Appel Farms comes from a love of family, farming, the land, and the community that we live in. Feel the love, sample amazing cheeses, and learn a ton! There will be guided tours and fun kids activities as well as super cute goats to feed and watch prance around.
What can you get with your VIP Tour Badge here?
20% off any item in the Country Café or store
(spirits excluded)
BelleWood Acres & Distillery
6140 Guide Meridian, 1/2 between Bellingham and Lynden!
The farm tour isn't complete without a stop at BelleWood. Tour participants receive a free bin-train ride for the family and a free ticket for the corn maze, which teaches participants about the wonderful agricultural resources we have in Whatcom County. Enjoy a stream walk complete with educational signage describing how farms and fish can thrive together. Tickets are available for purchase to pick apples or experience the corn cannon and new duck run. Join the fun of Harvest Happens at the orchard and enjoy the food in our lovely café.
What can you get with your VIP Tour Badge here?
40% off Bellingham Farmers Market merchandise from the info booth
Bellingham Farmers Market
1100 Railroad Avenue, Bellingham
The nationally-recognized Bellingham Farmers Market is the perfect place to start your Farm Tour! Pick up a Farm Tour Map, talk face-to-face with local farmers selling at the market; and check out the delicious variety of produce, meats, cheeses and more being grown and produced right in Whatcom and Skagit Counties. Stop by our Demo Days booth to learn new recipes for school lunches and ask us questions about how to prepare local veggies. The market is open from 10am-3pm.
Boxx Berry Farm
6301 Northwest Rd., Ferndale
A family operated berry and vegetable farm with both retail and U-pick berries available, as well as a wide variety of assorted veggies including sweet corn, plus farm fresh jams and syrups. Originally started by owners Mike and Roger's parents on 20 acres in 1960, it has grown to over 100 acres! Boxx Berry is dedicated to the cultivation of fresh, flavorful, and responsibly grown berries for their community and customers throughout the Northwest. Enjoy wagon rides through the farm and homemade strawberry shortcakes and ice cream at this stop, and stock up on berries!
Cloud Mountain Farm Center
6906 Goodwin Road, Everson
Cloud Mountain Farm Center is a nonprofit educational farm dedicated to building a vibrant local food system. Our programs are designed to help new and beginning farmers, established local farmers and home gardeners grow healthy food, successful crops and farm businesses. Enjoy hourly farm tours, fresh fruit and veggie tasting, and workshops at 11am & 2pm on harvesting fall fruit. Learn about growing your own food from our expert nursery staff and shop our fresh produce for sale.
Ferndale Farmstead
2780 Aldergrove Road, Ferndale
You've heard of farm-to-table, but what about seed-to-cheese? Come experience how the Ferndale Farmstead puts sustainable principles in action to produce their crafted cheeses. Sitting on a 500 acre farm, the Ferndale Farmstead grows their own feed and raises their own cows to produce the milk for their creamery. Tour the facility, walk the farm and learn about the seed-to-table process — of course, with cheese tasting at the end.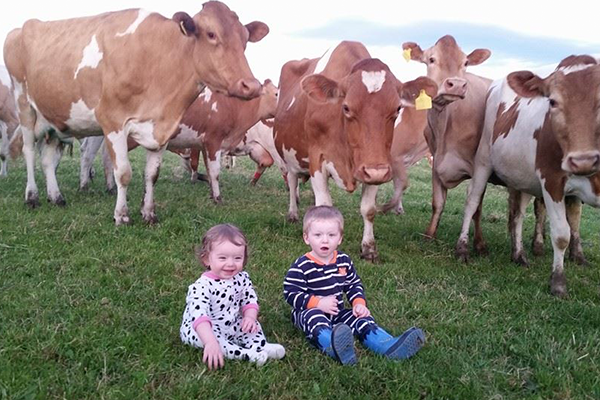 What can you get with your VIP Tour Badge here?
Buy one gallon of milk and get a 1/2 gallon of chocolate milk free!
MyShan Dairy 
112 H St. Road, Lynden
MyShan Dairy is a small Guernsey dairy North of Lynden. We vat pasteurize, bottle and distribute to 25 stores, from Lynden South to Everett. Cows are fed a non-GMO grass diet and we are currently working to become non-GMO Certified. Come meet and feed our gentle-natured Guernseys, pet the fawn and white colored calves, enjoy a hay ride tour of our farm, learn about A2 milk, see the processing facility, taste the "Golden Guernsey Goodness," and learn about the health benefits of Golden Guernsey milk.
Riverhaven Farm
741 River Rd., Lynden
Riverhaven Farm calls themselves an ecological farm, and attempts to utilize or mimic nature through a diverse biology – focusing especially on building rich, healthy soil. They believe that as much as we are what we eat, including what our animals eat, we are our soil. Healthy soils produce healthy fruits, vegetables, and grains or greens for our animals, that we then eat! They utilize permaculture and Joel Salatin's grass-fed production models to grow vegetables, fruit, sheep, beef, and chicken. Explore their pastoral farm and learn all about sustainable grass-based agriculture.
Ten Fold Farm 
4634 Guide Meridian, Bellingham
Come on out to Ten Fold Farm, a Certified Naturally Grown 9.5-acre family farm, practicing old-world planting and tending techniques. Learn about the wide variety of heirloom and non-GMO vegetables, herbs, fruits, and flowers we're growing this season. We will be touring the vegetable gardens during the farm tour and will be offering a look on how farm planning can help local farms and homesteads in the area. And of course, please try our wonderful produce at the info booth!
Triple Wren Farms 
2424 Zell Rd., Ferndale
A family run flower farm just outside of Bellingham they also grow blueberries, pumpkins, and honey. Triple Wren provides some of the most beautiful flowers for florists and brides throughout Whatcom County, and grow salmon safe certified organic blueberries. Learn about the Slow Flowers moment and how they grow their gorgeous sustainable blooms. They are also passionate about helping the next generation of farmers and have started a flower farmer internship program. Pick up a pumpkin, jar of honey, and a bright bunch of flowers to take home and meet another amazing Whatcom farming family!
Twin Brook Creamery
9728 Double Ditch Road, Lynden
Twin Brook Creamery is a historic dairy, started all the way back in 1910, and in 2007, they began bottling their own milk on the farm in glass bottles. Bring your lunch for a picnic, take a wagon ride around the farm, visit a historic barn built in 1911, tour the processing facility, pet a baby calf, or sample our chocolate milk (and regular too)! A great spot to enjoy the beautiful northern Whatcom County scenery and learn about how local dairy farms operate and the tremendous amount of work they put it to be great environmental stewards.
Eat & Drink! Refreshment Stops
Good to Go Meat Pies
305 Grover St, Lynden & 128 W Main St, Everson
Meat pies and pastries made with locally sourced ingredients. Open house Sept 9!