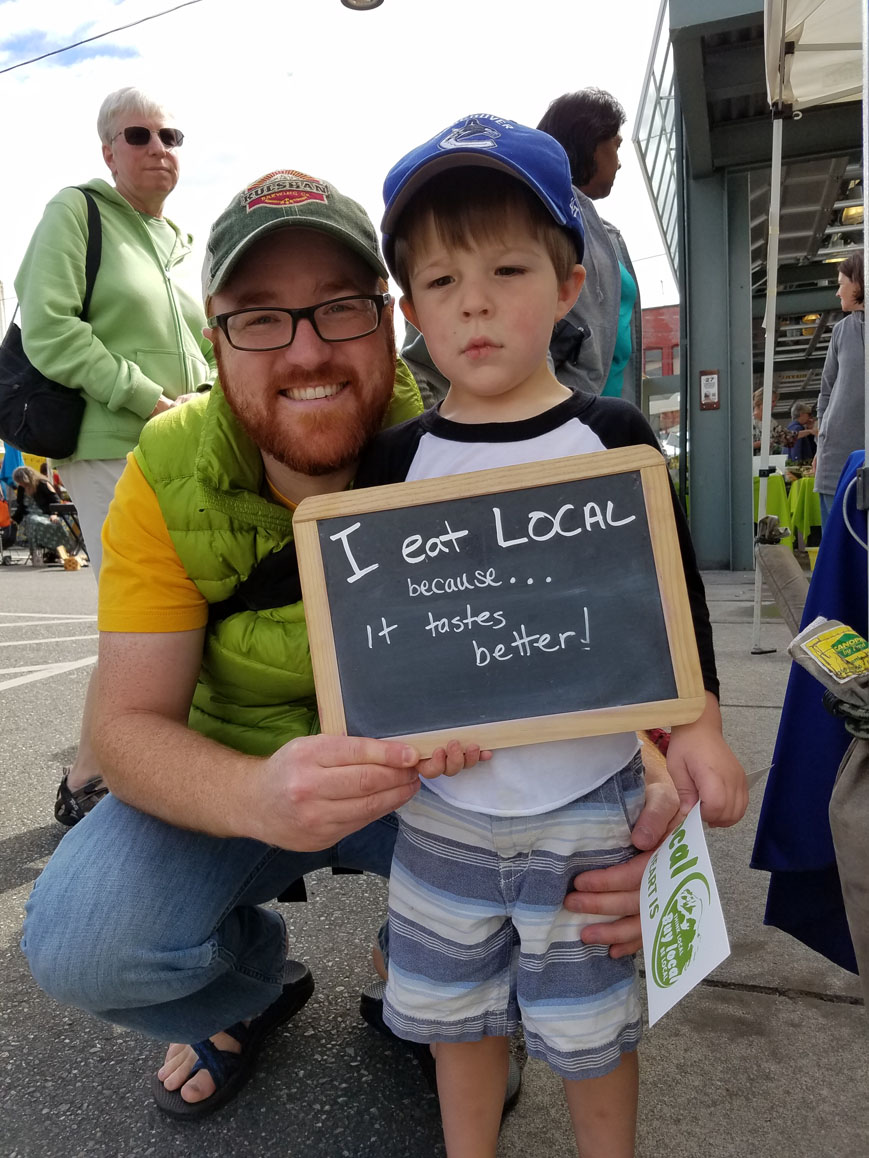 The Eat Local First Campaign is a community effort
Headed by Sustainable Connections Food & Farming Program, that encourages Whatcom County residents to make a difference by Eating Local First.
We make it easy to find and celebrate fresh local foods with resources like the Whatcom Food & Farm Finder or events like Eat Local Month. We have tons of info to get you started, and events to keep you connected.
The Eat Local First Program also identifies the restaurants, markets, and food businesses that purchase from local food producers and provide them with the support and resources to do even more.
Look for the Eat Local First Logo at restaurants, grocery stores, and other businesses around town to stay connected to businesses that commit to providing you the freshest local food.
What is Local Food?
"Locally grown" refers to food and other agricultural products (for example, wool or flowers) that are grown or produced, processed and then sold. There's no standard definition of "local" and it isn't officially monitored. We like to define "local" as food that is grown, raised, or produced in Whatcom, Skagit, San Juan or Island Counties. We crafted this definition because we have an abundance of food available in our little corner of the world and because local food is more than just measuring food miles – it's getting to know farmers, fisherman, and food producers here in our backyard.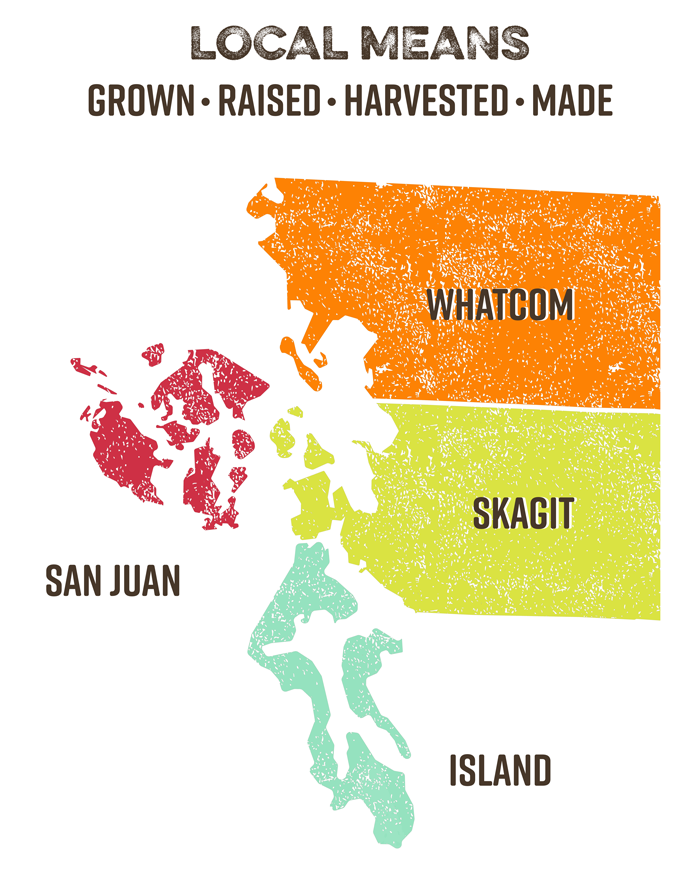 Which Local Businesses are Participating?
The following food businesses are passionate about supporting our local farmers and food system, and they've committed to shifting at least 10% of their food purchases to local ingredients. Some are doing much much more! Before you head out shopping or when you are trying to pick a place to eat, think about these businesses to Eat Local First!
ACME Farms + Kitchen
Aslan Brewing Co.
Avenue Bread
BelleWood Acres and Distilling
Bellingham Farmers Market Association
Bellingham Pasta Co.
Boundary Bay Brewery & Bistro
Bow Hill Blueberries
Brandywine Kitchen
Breadfarm
Cauldron Broths
Chuckanut Brewery & Kitchen
Ciaò Thyme
Colophon Café
Community Food Co-op
Cosmos Bistro
Crave Catering
Crossroads Grocery, Inc.
Cuisine Claire
Dandelion Organic Delivery
Diamond Jim's Grill
Drizzle
EAT Restaurant & Bar
Evolve Chocolate Truffles LLC
Flying Bird Botanicals
Gathered Confections
Good To Go Meat Pies
Haggen, Inc
Homeskillet
Hundred North
Infusion Cuisine
Keenan's at the Pier
Kombucha Town
Let Them Eat Cake
Lettered Streets Coffeehouse
Living Earth Herbs
Lovitt Restaurant
Mallard Ice Cream
Old Town Café
Paellaworks
Pepper Sisters
Pizza'zza
Primer Coffee
Pure Bliss Desserts
Raven Breads
Rifugio's Country Italian Cuisine
Seifert & Jones Wine Merchants
Shambala Ancient Grain Bakery & Farm to Fork Bistro
Simmering Tava
Skagit Valley Food Co-op
Tasca del Tinto
Terra
The C Shop, Candy Shop, Cafe & Pizza
The Cheese Shop at Appel Farms
The Daisy Cafe
The Spice Hut
Triple Wren Farms
Woods Coffee
Yorky's Market
Copyright © 2002 - 2017 · Eat Local First · All Rights Reserved
Website photography courtesy of: Diane Padys Photography, Buff Black Photography, Katheryn Moran Photography, and Megan Gehring