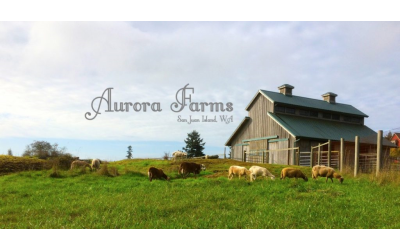 652 No 2 Schoolhouse Road Friday Harbor WA, 98250
(360) 378-0233
farm@aurorafarms.org
aurorafarms.org
Sustainable, pasture grazed beef, lamb, goat, pork, eggs, poultry, vegetables, berries, greenhouse crops, cider, flowers, B&B, gardens, dinners, tours, classes, year-round.
Aurora Farms (AF) is a 31 plus 75-acre polyculture farms. The farm focus is based in sustainable organic practices, education and restorative agriculture, rotational grazing/holistic pasture management, mixed vegetable production, flowers, orchards, multi-species grazing, and soil regeneration. We make our own compost. Soil is our soul.
AF utilizes additional locations for production, as well as developing agro-forestry and greenhouse cultures, value-added products, agricultural business plan development, farm-stays/B&B, events, farm dinners and more. Future plans for a combo/wood-fired bakery, stone walls and other land-based art projects are in the works, and we are actively seeking volunteers and creative, interested individuals. We also have a thriving farmer intern program.
Woman-owned
Sustainable Practices:
Sales Methods: In-Store;Wholesale
Neighborhood: San Juan Island: Friday Harbor
Return to Main Business Directory or View ALL Business Listings