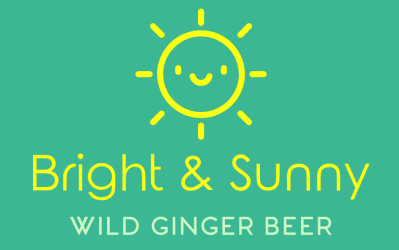 2500 Cornwall Ave. Bellingham WA, 98225
(360) 207-4049
info@drinkbrightandsunny.com
drinkbrightandsunny.com/
Bright & Sunny Ginger Beer is a wild fermented, non-alcoholic bubbly drink with serious bite! That means we don't add carbonation, and we don't add yeast. The delicious flavor and tiny bubbles come naturally from four simple ingredients: fresh organic ginger, fresh squeezed limes, organic cane sugar, and cold clean water. We brew our sparkling soda in small batches with minimal sugar to keep the alcohol content under 1%. Drink Bright & Sunny straight up, mix with liquor for world-class mules, or add juice and mineral water for a refreshing mocktail.
Find us at the Bellingham Farmers Market for special batches that include local fruit like sun-ripened berries, juicy peaches, tart apples, and more! We also offer seasonal sippers like the 'Not Toddy', a piping hot concoction of our ginger beer and apple cider with spices and a touch of honey. In the summer, cool off with the 'Nojito', our ginger beer mixed with peppermint simple syrup.
Bright & Sunny strives to be a healthy source of live probiotic culture for folks in the PNW to enjoy. Cheers!
Woman-owned
Sustainable Practices:
Sales Methods: Online Store;In-Store;Wholesale;Vending (non-storefront)
Neighborhood: Bellingham: Cornwall Park
Return to Main Business Directory or View ALL Business Listings