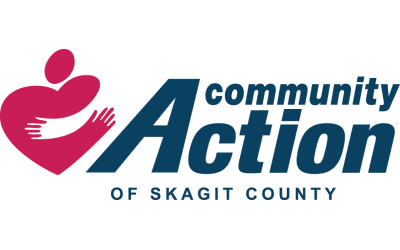 (360) 416-7585
info@communityactionskagit.org
www.CommunityActionSkagit.org
Vision: Our vision is a community in which everyone works together to end poverty in Skagit County.
Mission: Community Action stabilizes lives, equips people to meet their goals, and builds a stronger, more equitable Skagit County.
Equity Statement: Guided by those we serve, we believe that together we can change values, beliefs, and policies to create equitable systems.
Services: Community Action is a multi-service anti-poverty organization. In addition to direct services, we build community strength through our Skagit Food Distribution Center, which provides most of the food going in and out of 19 food banks and meal programs in Skagit, Island, San Juan, and Snohomish Counties. We have a thriving Farm to Food Bank program, and host the Latinx Advisory Committee. With partners, we develop housing people can afford. Our direct services include: Energy & Utility Assistance and conservation coaching; front door to Coordinated Entry for Homeless Services; employment services; adult education, ELA and citizenship classes; help signing up for Basic Food, WIC and other public programs to make ends meet; and services for veterans, seniors, people with disabilities, and families with children. We run a family homeless shelter, and the East County Resource Center and Concrete Community Center meal program.
Sustainable Practices: Accepts EBT/Food Stamps
Sales Methods: Services
Neighborhood: Mt. Vernon
Return to Main Business Directory or View ALL Business Listings