Promoting Local Food & The businesses That sell it
Become an Eat Local First Business
Free for Sustainable Connections members – Eat Local First is a collective marketing campaign and the trusted community resource for finding truly local food. Eat Local First businesses are committed to serving the freshest foods that have been grown, caught, raised, and crafted in Whatcom, Skagit, San Juan, and Island counties.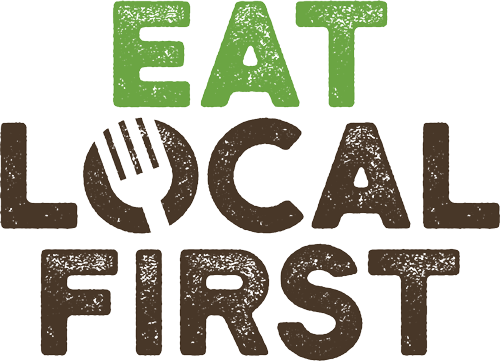 The Eat Local First Campaign helps build market demand for local products and the businesses who sell them.  The more times people are exposed to a common brand and message, the more likely they will be to act – and eat more local food!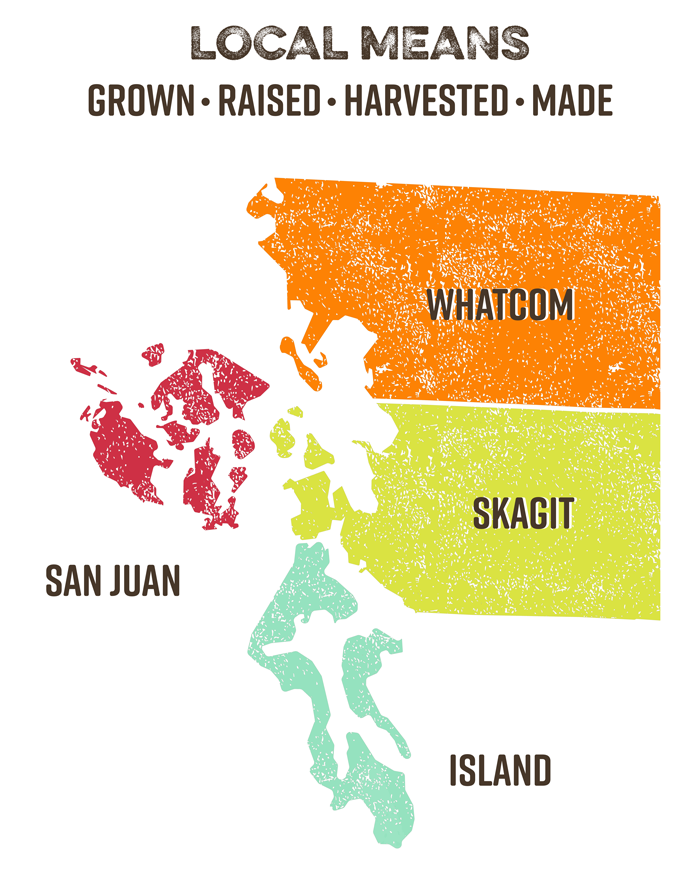 How to Participate
Grocers, Restaurants & Food Artisans – Fill out the Eat Local First application and meet with one of our staff!
As an Eat Local First participant, we ask that you work towards shifting at least 10% of your total food purchases annually to locally grown foods. A 10% shift in our local food economy would mean an additional $50 million circulating in our local economy!
Eat Local First Materials
Marketing materials with your participation in the Eat Local First Campaign for you to utilize at your business to customers know you're committed to providing & supporting local farmers.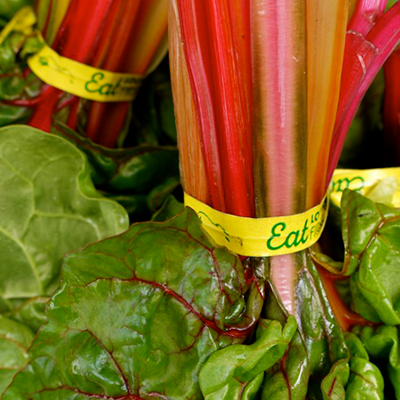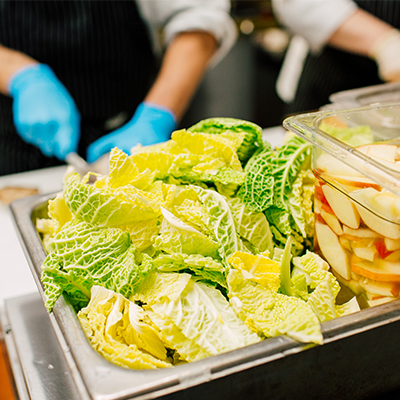 Businesses that proudly display Eat Local First materials make it easy for customers to both IDENTIFY and TRUST that they are making a choice to eat truly local food.
Use the Free materials offered to Sustainable Connections members: window clings, posters, stickers
Incorporate the Eat Local First logo on menus, specials boards, shelf cards, etc. to identify local products
Use the logo in your own advertising, packaging, or marketing materials (high-resolution digital files are available, as well as varied versions icons to compliment your business' brand)
Farmers & Fisherman– Utilize materials on your website, on your signage and marketing! Ask us for materials and electronic files.
Promotion Materials
Eat Local First logos
Eat Local First fork menu icon 
Eat Local First poster
Eat Local First Twist Ties ($4/bunch of 300)
Eat Local First Window Sticker. To use on front entrance or display case inside
Point of Sale Cards
Need more materials?
Contact alex@sustainableconnections.org or (360) 647-7093 x111
Who's participating now?
We'd love to have you join the growing community of Eat Local First Businesses in Whatcom & Skagit counties! Here's a current list of all Eat Local First businesses participants that have been utilizing the Eat Local First Campaign and shifting their purchasing practices:
ACME Farms + Kitchen
Aslan Brewing Co.
Avenue Bread
BelleWood Acres and Distilling
Bellingham Farmers Market Association
Bellingham Pasta Co.
Boundary Bay Brewery & Bistro
Bow Hill Blueberries
Brandywine Kitchen
Breadfarm
Cascadia Mushrooms
Cauldron Broths
Chubby Bunny Farm
Chuckanut Brewery & Kitchen
Ciaò Thyme
Colophon Café
Community Food Co-op
Cosmos Bistro
Crave Catering
Crossroads Grocery, Inc.
Cuisine Claire
Dandelion Organic Delivery
Diamond Jim's Grill
Drizzle
EAT Restaurant & Bar
Evolve Chocolate Truffles LLC
Flying Bird Botanicals
Full Bloom Farm
Gathered Confections
Good To Go Meat Pies
Haggen, Inc
Homeskillet
Hundred North
Infusion Cuisine
Keenan's at the Pier
Kombucha Town
Let Them Eat Cake
Lettered Streets Coffeehouse
Living Earth Herbs
Lovitt Restaurant
Mallard Ice Cream
Mt. Baker Care Center
Old Town Café
Paellaworks
Pepper Sisters
Pizza'zza
Primer Coffee
Pure Bliss Desserts
Rabbits Field Farm
Raven Breads
Rifugio's Country Italian Cuisine
Seifert & Jones Wine Merchants
Shambala Ancient Grain Bakery & Farm to Fork Bistro
Simmering Tava
Skagit Valley Food Co-op
Small Acres
Tasca del Tinto
Terra
The C Shop, Candy Shop, Cafe & Pizza
The Cheese Shop at Appel Farms
The Daisy Cafe
The Spice Hut
Triple Wren Farms
Woods Coffee
WWU University Dining & Catering Services
Yorky's Market