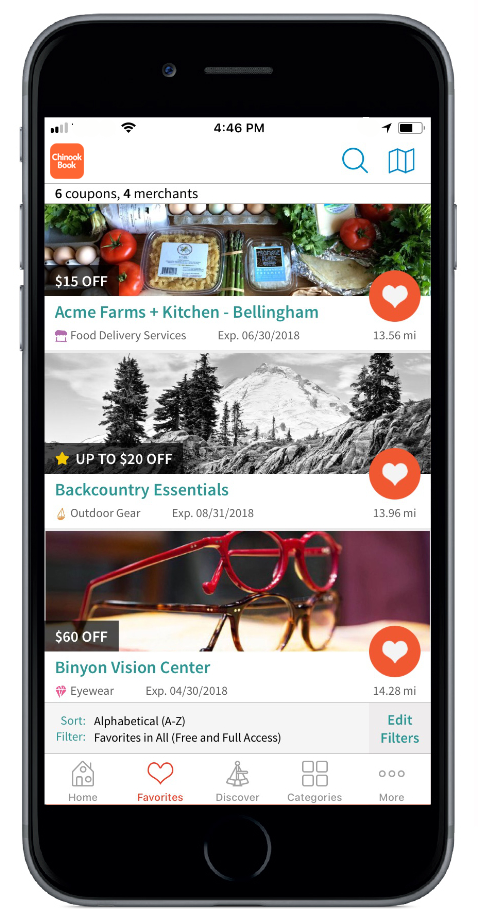 Discover new businesses, redeem coupons, earn rewards
Never forget your coupons at home
You can take Chinook Book with you to use in
Whatcom + Skagit County, Seattle & Puget Sound, Portland & Oregon, San Francisco Bay Area,  Denver & Boulder,  and even Minneapolis.
Chinook Book makes a great gift!
Give the gift of saving to friends, family, co-workers, employees, students and more.
Give The Gift of Saving Where Your Heart Is
Now you can purchase an annual subscription card for Chinook Book and give as a gift!
The giftee will download the app and enter their unique activation code inside the card to start their year long subscription of Chinook Book to use here in Whatcom County, Seattle, Portland and beyond!
$15.00
Find Chinook Book Subscription Cards At
 
 
 
Village Books – Fairhaven
1200 11th StreetBellingham
Community Food Co-op Downtown
1220 N Forest StBellingham
Sustainable Connections Office
1701 Ellis St, Suite 221Bellingham
Village Books – Lynden
430 Front StreetLynden
Community Food Co-op Cordata
315 Westerly RdBellingham
Sustainable Connections Events
TBA
We're happy to mail cards for an additional $0.50 to cover postage.
Call us to order yours (360) 647 7093 x106 or x104