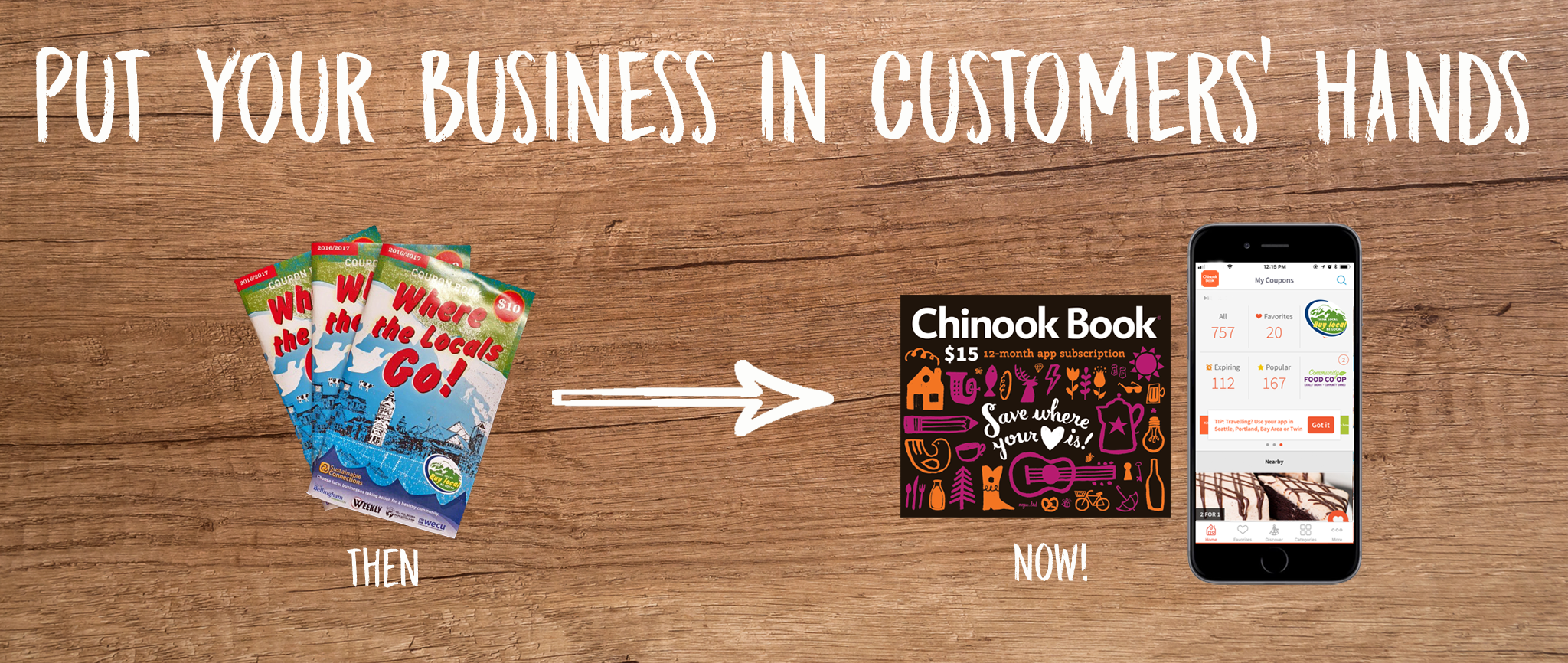 With 35,000 app users and 1,000's of unique businesses in the Puget Sound region, the Think Local Chinook Book App is becoming THE way for locals and visitors to find your business.
2,000+ Whatcom County App Users Right Now
JOIN IN ANYTIME! NO PRINT DEADLINE 
Add on features whenever you want to launch next month.
REACH NEW CUSTOMERS
Mobile coupons are incredibly popular! Put your business in the palm of customers' hands
REAL ROI AND METRICS
Monthly emailed reports show how many people used your coupon, favorited your coupon or saved it for later.
CHINOOK BOOK USERS ARE FROM
Whatcom County, Seattle & Puget Sound region, Portland & Oregon, San Francisco Bay Area, Denver & Boulder and even Minneapolis.
MINIMAL STAFF TRAINING & NO TECH REQUIRED 
Accepting coupons is as simple as looking at a customer's phone
SO MUCH MORE THAN JUST COUPONS
Customer loyalty rewards with mobile punchcard, in line advertising and seasonal promotions!
Scroll to explore…
PRICING & FEATURES
Annual Coupon

Seasonal Coupon

Inline Ad

Punch Card

Business Member

$125
$100
$100
$150

Non
Business Member

$200
$125
$125
$200
Scroll through all 4 features below for more details.
Let becca@sustainableconnections.org know if you have questions!
Features
Year-round visibility
Deploys the 1st of the month

Monthly emails to users highlight the most relevant new and expiring offers based on user location and preferences

Push notifications tell users when new offers are added and favorite offers are expiring + location reminders when they're in your neighborhood
Annual Coupon Pricing

BUSINESS MEMBER

$125.00

NON

BUSINESS MEMBER

$200.00
Features
Runs for 2 months
Highlight a seasonal sale or promotion;  promoted through email and push notifications too!
Pick your timing

Nov 1st – Dec 31st
Jan 1st – Feb 28th
Mar 1st – Apr 30th 
May 1st – Jun 30th
Jul 1st – Aug 31st
Sept 1st – Oct 31st 
Seasonal Coupon Pricing

BUSINESS MEMBER

$100.00

NON

BUSINESS MEMBER

$125.00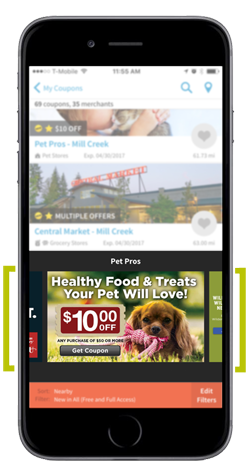 Features
Inline ads run for a month at a time; highlight an upcoming event, a seasonal promotion, or draw people to your coupon year round.
Image must be 1302 pixels wide x 756 pixels tall in PSD, PDF, JPG, TIFF, or PNG (if 24 bits) format.
Have your Ad tap to wherever you want:
open to an external website (mobile-friendly sites only)
directly to your merchant coupon
open your merchant coupon list to see all your coupon offerings
Inline Ad Pricing

BUSINESS MEMBER

$100.00

NON

BUSINESS MEMBER

$125.00
Punch Card Pricing

BUSINESS MEMBER

$150.00

NON

BUSINESS MEMBER

$200.00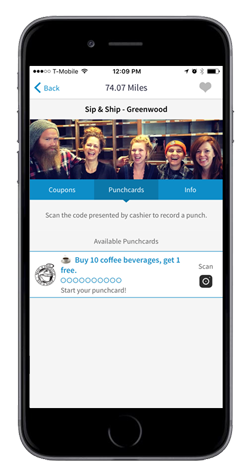 Replace your paper punchcards
Easy to implement, with no new hardware or software required.
Trackable results with insights into your best customers.
Pre-installed for the entire Chinook Book app audience in Seattle & Puget Sound region (~32,000).
Includes an announcement email to all your users who have marked your business as a Favorite in the Chinook Book app.
Simple for cashiers and customers alike
For each punchcard offer you run (ex. Buy 10 slices of pizza, get 1 free), we will provide a unique, scannable QR code to keep at checkout.
To get a punch, customers simply scan the QR code with their Chinook Book app.
When a customer fills their punchcard it automatically turns into a mobile coupon for the free item. Simple!
This is a project of the Think Local First Campaign, and a partnership of Sustainable Connections and Chinook Book
Thank You To The City Of Bellingham For Continuous Support Of Think Local First! To Make Projects Like This Possible