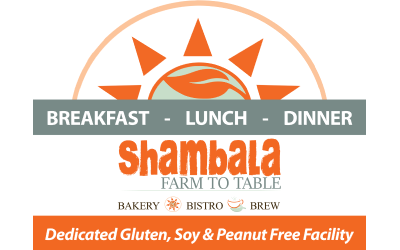 311 Pine St.
Mt. Vernon
98273 Mount Vernon WA, 98273
(360) 588-6600
info@shambalabakery.com
www.shambalabakery.com
*This business is a Sustaining Member of Sustainable Connections! Sustaining Business Members go above-and-beyond to support the work of Sustainable Connections and to make our place an amazing one to live, work, and play in. They are model businesses and inspiring change-makers invested in our local economy. We hope you will help us celebrate them by supporting and shopping with them!
At Shambala Ancient Grain Bakery, you can enjoy delicious options baked at our dedicated gluten, soy, and peanut FREE facility using our own NON-GMO whole grain ingredient blends sourced from locally in the PNW! Our expansive, allergen-smart bakery menu is dedicated to accommodating folks with variety in our scrumptious GF & Vegan breads and pastry recipes, that include our own fresh milled Ancient Grain Blends of millet, sorghum, teff, amaranth, quinoa, and flax. They are nutritious and loaded with protein and fiber, yet comprise a moist, soft & stretchy, crust and crumb texture that surprises and delights. Wholesale partnerships are celebrated, do give us a call for details and product descriptions, we will be happy to bring you samples by appointment. We are also OPEN to the public at our Mount Vernon outlet location within Belem's Cafe daily 8-5 offering our GF, Vegan breads and pastries. plus an array of our renowned menu items with a dedicated gluten-free fryer. We offer our products regionally from Bellingham to Seattle, with 7 farmers market locations weekly in the Summer, and 3 year-round in the Winter. Please see our outlets for product options close to you at shambalabakery.com/locations.
Over these past 8 years, we have partnered with regional grocery and restaurant locations from Bellingham to Tacoma, and these partnerships include juice bars, barista's, and deli collaborations with custom breads and pastry menus. Our amazing, fluffy and crusty sandwich buns and unique crisp-chewy handmade 12′ pizza crusts are proven to be chef-celebrated and customer-returning options for regional menus. We also have other market-tested favorites from our Bistro menu: Cheez Sauce, V Wasabi Chive Ranch, Nut & Soy Free GF Shamburgers, and Falafel/Flatbread for Gyro's, adding delicious egg, dairy, gluten, nut and soy FREE options to round out your menu adding Vegan GF options that source local ingredients.
For catering, we can include any ingredients you desire, such as locally sourced organic produce from Shambala Farm and other regional partnerships, organic local cheeses, and true free-range eggs, as well as responsibly sourced local seafood, and family raised organic grass-fed beef options. The farm-to-table recipes are all made from scratch, and our fresh breads and pastries are baked in-house at our dedicated gluten, soy and peanut-free facility and restaurant. Our vintage Shambala Permaculture Farm Event Venue on Camano Island is for your enjoyment by reservation for low-impact Farm to Table meetings, education, weddings & receptions, birthday dinners, and reunions- details at shambalabakery.com/catered-event-hosting (http://www.shambalabakery.com).
Woman-owned
Sustainable Practices: Eat Local First;Salmon Safe Certified
Sales Methods: Wholesale;Goods;Vending
Neighborhood: Mt. Vernon
Return to full Business Directory