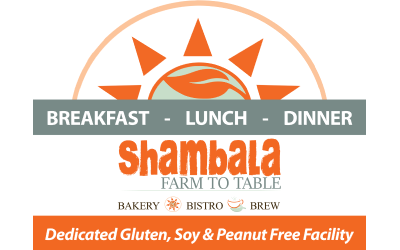 311 Pine St.
Mt. Vernon
98273 Mount Vernon WA, 98273
(360) 588-6600
info@shambalabakery.com
www.shambalabakery.com
*This business is a Sustaining Member of Sustainable Connections! Sustaining Business Members go above-and-beyond to support the work of Sustainable Connections and to make our place and amazing one to live, work, and play in. They are model businesses and inspiring change-makers invested in our local economy. We hope you will help us celebrate them by supporting and shopping with them!
At Shambala Bakery & Bistro, your whole family can enjoy delicious options! Our expansive, allergen-smart menu is dedicated to accommodating folks with variety in our scrumptious, primarily vegan menu, with also cheese, egg, responsibly sourced seafood and local organic grass-fed beef options. The farm-to-table recipes are all made from scratch, and our fresh breads and pastries are baked in house with our own ancient grain blends at our dedicated gluten, soy and peanut free facility.
We also serve fresh-roasted, organic Shambala Barista coffees with organic milks, plus fruit smoothies and fresh pressed juices. Featuring local Pacific Northwest wines, ciders and gluten-free beers on tap rounds up our local-sourcing menu.
Enjoy fine food in a casual boutique setting at Shambala Bakery & Bistro, in historic Downtown Mount Vernon. We bring our Shambala Farm on Camano Island full circle in offering our own Organic produce, plus other local farm products, in our restaurant menu. Nuts are not used in our recipes, just occasionally offered in icing/baked good options and they are well announced in descriptions on display.
Woman-owned
Sustainable Practices: Eat Local First;Salmon Safe Certified
Sales Methods: Wholesale;Goods;Vending
Neighborhood: Mt. Vernon
Return to full Business Directory