Join us for our Virtual Watch Party of:
Wasted! The Story of Food Waste
Thursday, June 4th
6:30 pm
Kick back, relax, and enjoy dinner and a FREE movie at home. Before you change out of your daytime sweats into your jammy pants and settle into your favorite cozy chair, order a dinner (or drink) special from your favorite local restaurant who donates to our Food Recovery Program. A few participants of the program are offering Virtual Watch Party Specials just for this watch party of
Wasted! The Story of Food Waste
. Tune in after the movie for a chance to win prizes and great conversation.
Learn more about specials, prizes, and all the ways to be involved!
What parents should know: This movie is not rated. While we feel it is family-friendly, please use your own discretion. There are references in the movie to drugs and suicide, but all foul language is beeped out.
Why register if it's free?
We'll be sending you a password protected link to watch the movie, a coupon code for $10 off one dinner special (limited to first 20 households), a link to join the virtual hangout, and a reminder to tune in!
About the movie
From Rotten Tomatoes: The Rockefeller Foundation, which last year made a $130 million commitment to cut food waste in half by 2030, supported Zero Point Zero Films and Anthony Bourdain to create WASTED! The Story of Food Waste, a feature-length documentary that will change how people buy, cook and eat food. Through the eyes of chef-heroes like Bourdain, Dan Barber, Mario Batali, Massimo Bottura, and Danny Bowien, audiences will see how the world's most influential chefs make the most of every kind of food, transforming what most people consider scraps and rejects into incredible dishes that feed more people and create a more sustainable food system. The film also features several food waste reduction stories all over the world including waste-fed pigs in Japan, a disposal program that has reduced household food waste by 30% in South Korea, and a garden education curriculum New Orleans. WASTED! The Story of Food Waste showcases forward-thinking leaders who show how each of us can make small changes – all of them delicious – to solve one of the greatest problems of the 21st Century.
BROUGHT TO YOU BY OUR FOOD RECOVERY PROGRAM:
Work in the food industry? The Food Recovery Program reduces food insecurity and addresses climate change by recovering and redistributing nutritious surplus food to neighbors in need.
Want to reduce your carbon foot print? The Squatch Food Waste program addresses climate change by encouraging people to reduce food waste at home.
Interested in starting a food recovery program in your own town? We've got the framework to get you started.
We'll be live, but you don't have to be!
Join us live on Thursday, June 4th at 6:30pm to watch the movie in good company. If you have plans on June 4th, no big! Just make sure you're done watching before Friday, June 5th at 6:30pm. Our video link will only work for 24 hours!
To get the full impact of this Virtual Watch Party, here is what your evening could look like:
Dinner and a movie?
Order a Virtual Watch Party Special (and a drink to go?) from one of the following restaurants. We're highlighting restaurants who regularly donate food to our Food Recovery Program.
Bonus: The first 20 households to register for the movie receive $10 off one Virtual Watch Party special! You'll receive a code after registering for the watch party. The code is only valid for the evening of Thursday, June 4th.
Prefer to Dine in?
We hope to provide some scrappy inspiration for you! And we want to hear about what you made during the virtual watch party, or post on social media #squatchfoodwaste. Here are some ideas for recipes that use every last scrap of your food:
Outfit Change!
Cue the pump up music. It's time to trade in your daytime sweatpants for your evening wear pajama bottoms
Tune In
We'll be hosting a Zoom hang out before the movie. Hear from our Food Recovery Program Manager, Mark Peterson, show off your pajama pants, and let us know what Virtual Watch Party special or scrappy recipe you're eating! You'll get the call in information for the hang out after you've registered.
Time to Watch
Our link to Wasted! The Story of Food Waste will go LIVE at 6:45pm! Make sure you've registered in advance since this link is password protected. Once you've registered for the watch party, you'll get the password in your email.
Want to discuss the movie while it's happening? Then join our Facebook group, Waste & Whatnot. Pose questions, make comments, and connect with your community over social media. This group will remain active even after the watch party is done, so it's a great way to stay connected with the waste-free community!
Tune Back In
We'll have another zoom call after the movie. We want to hear what you learned and what you think we can do about food waste right here in Whatcom County. You'll get the call in information for the second hang out after you've registered.
Everyone loves prizes!
Once you've finished watching the movie, test your knowledge on food waste by taking the quiz below (quiz will go live on June 4th)! After completing the quiz you'll be entered to win this awesome prize pack:
Your own copy of Cooking With Scraps: Turn Your Peels, Cores, Rinds, and Stems into Delicious Meals

$25 gift card to RE Store

$25 gift card to Good-To-Go Meat Pies, another amazing supporter of our Food Recovery Program
$40 gift card to the Community Food Co-op
Did we mention that our Food Recovery Program mascot, Squatch, will be delivering the prize pack?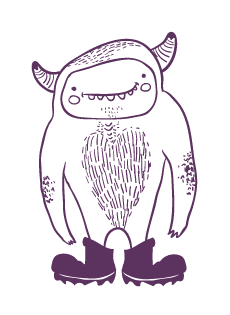 The views, information, and opinions expressed in the movie Wasted! The Story of Food Waste are solely those of the individuals involved with the movie and do not necessarily represent those of Sustainable Connections and its employees. We are not responsible and do not verify for accuracy any information contained in the movie.