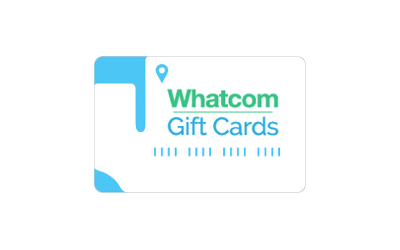 (855) 386-4438
info@whatcomgiftcards.com
www.whatcomgiftcards.com
Whatcom Gift Cards is a Bellingham-based technology platform providing local businesses plastic gift cards to offer in-store and e-gift cards that customers can buy online and send instantly to recipients via email (text delivery coming soon!). We also provide online business listings, marketing materials and consulting designed to drive the success of each merchant's gift card program. Our corporate name is GiftWith SPC, a WA state Social Purpose Corporation. We are founded on the principle that fulfilling our mission comes before profit. Our stated mission:
-Increase the revenue of local independent businesses
-Drive consumers to 'buy local'
-Strengthen local economies
We serve Bellingham, Blaine, Fairhaven, Ferndale, Lynden and all of Whatcom County.
Sustainable Practices: Bank Local First
Sales Methods: Online Store;In-Store;Services
Neighborhood: Bellingham: Columbia
Return to full Business Directory