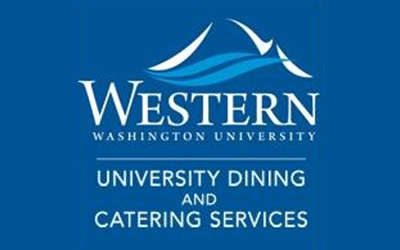 516 High Street Bellingham WA, 98225
(360) 650-2970
dining@wwu.edu
www.wwu.campusdish.com
This business is a Partner of Sustainable Connections, located in Whatcom or Skagit County but is not locally-owned. Partner businesses of Sustainable Connections are committed to the quality of life in our region and working with Sustainable Connections and locally owned businesses.
Western Washington University offers one of the finest college dining services in the country. Our quality, variety, convenience and healthy food options are unsurpassed.
We also offering catering services and welcome the opportunity to serve you. We pride ourselves on offering an outstanding array of food and beverage selections designed to meet a variety of needs. We are dedicated to providing you with the highest quality of catering services, from a simple coffee break to extravagant receptions and dinners. Our catering staff strives to develop and produce customized menu events. We invite you to contact our experts to assist you in planning your next event.
Sustainable Practices: Eat Local First
Sales Methods:
Neighborhood: Downtown: Forest/Holly
Return to Main Business Directory or View ALL Business Listings