BELLINGHAM, WA, November 17, 2022 – Join Sustainable Connections and Sasquatch as they share 10 ways to show your local love this holiday season.  
1) Attend a local event! This community is bursting with holiday markets and celebrations. Peruse local vendors' offerings to find a special gift, and know that you're supporting a small business in the process. Find a gathering that invites community to celebrate together, sparkling lights and warm beverages included! Check out Sustainable Connections' event calendar here.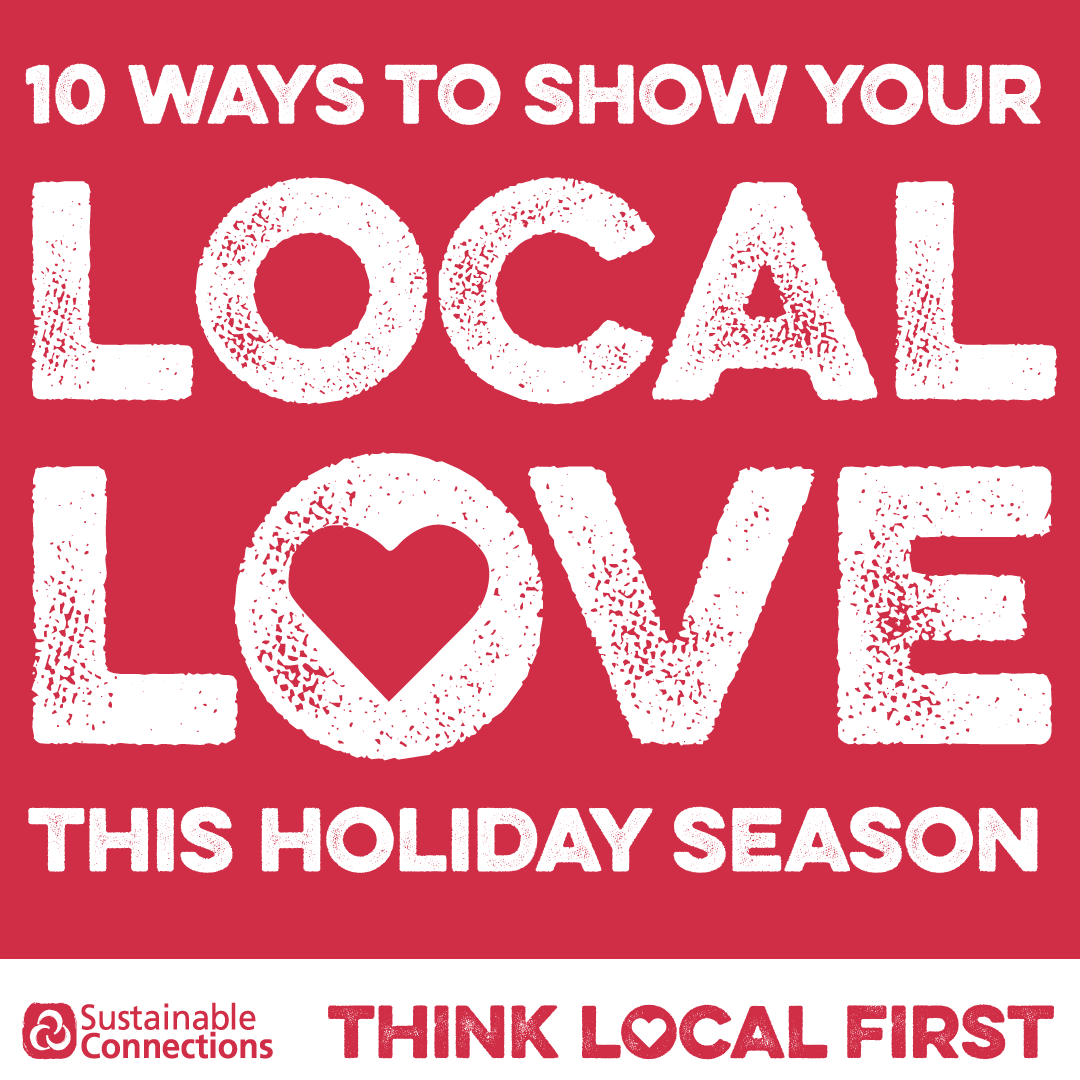 2) Learn something new! Did you know this community is full of talented craftspeople just waiting to share the tricks of their trade? Well, now you do! The holiday season is the perfect time to learn a new skill – and it's even better if you walk away with a sweet gift to share with your friends and family. Find holiday classes here.  
3) Give a Think Local First Gift Card! Whatcom County Think Local FIrst gift cards are the perfect way to share the local love – after all, they're redeemable at over 270 local businesses! Sending cards is easy too. Simply choose your recipient and send your gift card via text message or email. You also have the option of printing out gift cards to hand deliver to a special someone. Send a gift card here and find a list of participating businesses here.  
4) Add a gift tag! Sustainable Connections has created a variety of adorable gift tags that can adorn your gifts with local love. Think Local First gift tags are free to download and print yourself or you can pick them up for free at CopySource at 1122 N State Street in downtown Bellingham. Find them here!  
5) Tell your favorite local business you ♥ them! Local love is best when shared! Shout it from the frosty rooftops this season by submitting your favorite local business and what you love about them. So much of the work of small business owners goes unappreciated, and it can make someone's day to know why they're a special part of your world. Plus, when you submit your response, you'll be entered to win a local Hydrascape sticker and a Hydroflask to display it on! Enter here.  
6) Shop the local gift guide! Looking for inspiration but not quite sure where to find it? Sustainable Connections has you covered with their local gift guide. You'll find a variety of gift options at a range of prices. The one constant? They're all local – and awesome! Check out the gift guide here.  
7) Find local food for your holiday meals! This is such a special time of year for local food. You might be wondering what could possibly be in season, but luckily there is a bounty of locally-sourced products to choose from for festive meals, weekly groceries, unique gifts, and holiday décor. Find all the most delightful local goodies in one place – The Holiday Food & Farm Finder! 
8) Shop at a winter farmers market! Farmers markets aren't just for summer! That's right – there are plenty of markets around Washington that are open into the winter. They're the perfect places to stock up on farm-to-table goodness for your holiday meals. Find winter farmers markets here. 
9) Win epic food prizes! Okay, so this one is a win-win. You support local AND you get the chance to win over $1500 worth of local fabulous foodie goodies (say that ten times fast). Take a brief survey to be entered to win one of many delicious prizes from local farms, markets, and restaurants. The deadline to enter is midnight on January 1, 2023. Winners will be notified in early January. Enter here!  
10) Deck yourself – and your loved ones – out in local apparel! Show your love of local with a custom "Think Local First" or "Drink Local First" tee, tank, or sweatshirt. Suuuuper soft cotton-polyester blended fabrics are sure to keep you comfortable and stylish this season! Shop here.  
As Amy Vergillo, Sustainable Connection's Communications Director, says, "When we talk about the holiday spirit, we're really talking about the spirit of reciprocity. By shopping and eating locally, you can give the gift of your hard-earned dollars, your attention, and your care to this community. And in return, you get seriously delicious food and gorgeous gifts!"  
Investing in the local economy builds a vibrant and thriving community, supporting the small business owners and farmers who make this place such a special home to so many. Give the gift of local this holiday season – find more information and inspiration at thinklocalfirst.org,  Washington Holiday Food and Farm Finder, and Sustainable Connections' Facebook and Instagram.  
# # # #