WE CREATE THRIVING COMMUNITIES THROUGH INNOVATIVE IDEAS, COLLABORATION, AND ACTION.
Visit our Events Page for a Full List of Annual Events
| | |
| --- | --- |
| | |
| | Think Local for the Holidays 2018 - November 01 - December 31, All Day Small businesses are the heartbeat of our neighborhoods, the spine of our local economy, and the spirit of our town. Help us celebrate. Discover new business. Love where you live. |
| | Energy Club - at Primer Coffee, Bellingham WA January 17, 8:00 am - 8:45 am A quick and casual meetup to give energy efficiency enthusiasts all of the tools, information, and connections they need to make steps towards energy efficiency in the workplace. Join us the 3rd Thursday, every other month! |
| | 2019 Farm To Table Trade Meeting - at Bellingham Technical College, Settlemyer Hall, Bellingham WA February 19, 8:30 am - 4:00 pm The Farm-to-Table Trade Meeting is NW Washington's premier food and farm business conference. Bringing together over 180 farmers, fishers, chefs, grocery buyers, food artisans, processors, and distributors! |
"The northern Washington town of Bellingham may be the epicenter of a new economic model for a post-consumerist economy, producing goods and services focused on what surrounding communities need and can sustain."
-NPR Marketplace, interview with Sustainable Connections
Choosing local retailers creates jobs and community. Hear from a variety of local entrepreneurs who call Bellingham home and learn why they choose to live and love local.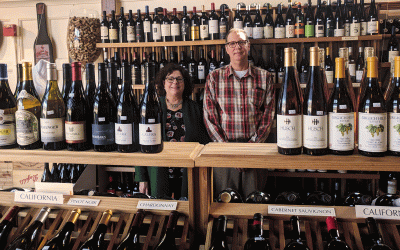 Over 50 years of food and wine experience   By Liz Hansen December 2018 If you're anything like me, buying a bottle of wine for a special occasion consists of deliberating over the prettiest bottle on the sale rack. As you can imagine, I often get stuck with my...
read more
Make A Donation
Your tax-deductible donation will help support the health, resiliency, and well-being of our community now and in the future.
Thank you to our Sustaining Members
OUR WORK WOULD NOT BE POSSIBLE WITHOUT YOU!