WE CREATE THRIVING COMMUNITIES THROUGH INNOVATIVE IDEAS, COLLABORATION, AND ACTION.
Visit our Events Page for a Full List of Annual Events
| | |
| --- | --- |
| | |
| | Solarize For Smart Business- Lynden - at Jansen Art Center, Lynden WA May 23, 12:00 pm - 2:00 pm Learn why now is the time for your business to go solar! |
| | Solarize For Smart Business- Anacortes - at Skagit Valley's Farmhouse Restaurant, Mount Vernon WA June 12, 12:00 pm - 2:00 pm Learn why now is the time for your business to go solar! |
| | Smart Business Leadership Series (Part 2: People) - at Community Food Coop, Bellingham June 19, 11:30 am - 12:45 pm Sustainable Connections and the Community Food Co-op are proud to partner to bring our community a special 2019 business workshop series that will explore the quadruple bottom line of sustainability. This is the second workshop in a four part series and will focus on People. |
| | Northwest Green Home Tour - Whatcom County 2019 - June 22, 10:00 am - 5:00 pm Whatcom County's Northwest Green Home Tour is an engaging, self-guided tour of new and remodeled homes. |
| | Energy Club - at Primer Coffee, Bellingham WA July 18, 8:00 am - 8:45 am Meet like-minded folks and energy efficiency experts to learn about local resources to help you save energy at work and so much more! |
| | 2019 Whatcom County Farm Tour - September 07 - September 08, 10:00 am - 4:00 pm See, taste, feel, and learn hands-on what goes into local food production. Meet unique Whatcom County farms and experience the passion and care that goes into producing local food for our community. |
BUILDING COMMUNITIES & STRENGTHENING OUR ECONOMY
"The northern Washington town of Bellingham may be the epicenter of a new economic model for a post-consumerist economy, producing goods and services focused on what surrounding communities need and can sustain."
-NPR Marketplace, interview with Sustainable Connections
Choosing local retailers creates jobs and community. Hear from a variety of local entrepreneurs who call Bellingham home and learn why they choose to live and love local.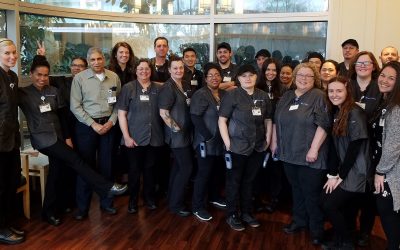 How is a nun from the 1880s and Bellingham's local food scene connected? We'll tell ya! Click through to learn how PeaceHealth set the stage for taking care of overall community health and wellbeing, and what that means for some of our local farmers today.
read more
Thank you to our Sustaining Members
OUR WORK WOULD NOT BE POSSIBLE WITHOUT YOU!