We educate, connect and promote local businesses
to build strong communities.
| | |
| --- | --- |
| | |
| | Meet Your Farmer: CSA Happy Hour for Businesses - at Diamond Jims Grill, Bellingham March 29, 5:00 pm - 7:00 pm CSA stands for Community Supported Agriculture and is a way to work with local farmers to get a box of farm fresh food each week... |
| | 2017 Whatcom Food & Farm Finder Release! - at Bellingham Farmers Market, Bellingham April 01, 10:00 am - 3:00 pm Join us, opening day of the Bellingham Farmers Market to get your 2017 Whatcom Food & Farm Finder – the guide for all things local... |
| | Let's Do Lunch Series - April - at Sustainable Connections, Bellingham WA April 05, 12:00 pm - 1:15 pm |
| | Think Local First Mobile App Info Session For Businesses - at Sustainable Connection, Bellingham WA April 19, 5:00 pm - 6:00 pm Join us for a quick presentation on how the Think Local First Mobile Coupon App powered by Chinook Book will work and your options as... |
| | Shuksan Meadows Park Mural Painting Party - at Shuksan Meadows Park, Bellingham WA April 22, 11:00 am - 3:00 pm Shuksan Meadows Park offers families a place to play and getoutside close to home, But it needs some love and attention. let's bring beauty and... |
| | Yes! In My Back Yard- Happy Valley - at Our Saviours Lutheran Church, Bellingham WA April 28 - April 29, 5:00 pm - 7:00 pm Yes! In My Back Yard- Happy Valley Exploring creative housing solutions for a healthy, happy neighborhood. Join the Happy Valley Neighborhood Association and Sustainable Connections... |
A New Economic Model
"The northern Washington town of Bellingham may be the epicenter of a new economic model for a post-consumerist economy, producing goods and services focused on what surrounding communities need and can sustain."
-NPR Marketplace, interview with Sustainable Connections
A Local Living Economy
Choosing local retailers creates jobs and community. Hear from a variety of local entrepreneurs who call Bellingham home and learn why they choose to live and love local.
News and Highlights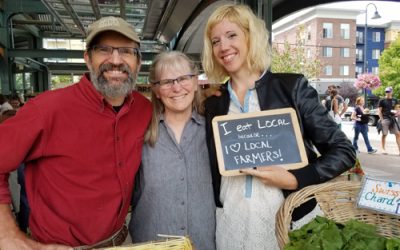 We are excited to be adding a new position to the Sustainable Connections' Food & Farming team--made possible thanks to the generous support of the Whatcom Community Foundation! The position is Project & Marketing Specialist, and will manage several key...
read more
Make A Donation
Your tax-deductible donation will help support the health, resiliency, and well-being of our community now and in the future.
Make A Donation
Thank you to our Sustaining Members
OUR WORK WOULD NOT BE POSSIBLE WITHOUT YOU!