We are a 501(c)3 nonprofit educating, connecting and promoting
local businesses to build strong communities.
Visit our Events Page for a Full List of Annual Events
| | |
| --- | --- |
| | |
| | Green Building Nerds- Special Session with Zack Semke - at Sustainable Connections HQ, Bellingham WA May 24, 3:00 pm - 5:00 pm If you were fortunate to be at the Sustainable Design and Development Conference and catch Zack Semke of NK Architect's keynote address on market transformations,... |
| | KAPOW Pop Up Plaza - at 1100 State Street, Bellingham WA June 02 - June 03, 10:00 am - 10:00 pm |
| | Chefs Breakfast: Making a Plan for the New Minimum Wage - at Maikham Thai, Bellingham WA June 20, 7:30 am - 9:00 am *Network * Eat Good Food * Learn about important topics Open to all food & farming businesses and organizations With the new minimum wage laws... |
| | Imagine This! Home and Landscape Tour 2017 - at The Roost, Bellingham WA June 24, 10:00 am - 5:00 pm Do it yourselfers and those looking for great contractors for an upcoming project will delight in a day of exploring beautiful, innovative and eco-friendly homes and Landscapes during the 15th annual Imagine This! Home & Landscape Tour. This year's tour includes 8 amazing locations featuring the best in eco-friendly homes and landscapes. |
| | Flow State of Mind Coaching 101: Finding Flow & Ditching the Overwhelm - at Sustainable Connections, Bellingham WA June 28, 5:00 pm - 6:30 pm Sustainable Connections is proud to present this workshops Series with Summer Huntington. Sustainable Connections Members and Local Business Owners are invited to attend. Are you... |
| | Toward Zero Food Waste Workshop - at Sustainable Connections, Bellingham WA July 12, 2:00 pm - 4:00 pm Learn from experts Mark Peterson, Rodd Pemble from SSC, and Holly Bevan-Bumford from Good to Go Meat Pies, about how you can reduce waste at... |
A New Economic Model
"The northern Washington town of Bellingham may be the epicenter of a new economic model for a post-consumerist economy, producing goods and services focused on what surrounding communities need and can sustain."
-NPR Marketplace, interview with Sustainable Connections
A Local Living Economy
Choosing local retailers creates jobs and community. Hear from a variety of local entrepreneurs who call Bellingham home and learn why they choose to live and love local.
News and Highlights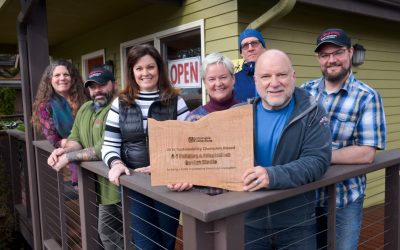 Every year Sustainable Connections honors five local businesses that are taking steps towards achieving a healthy triple bottom line--taking care of employees, our environment, and the local economy--with a Sustainability Champion Award. Drawn from the four tenets of...
read more
Make A Donation
Your tax-deductible donation will help support the health, resiliency, and well-being of our community now and in the future.
Make A Donation
Thank you to our Sustaining Members
OUR WORK WOULD NOT BE POSSIBLE WITHOUT YOU!