WE CREATE THRIVING COMMUNITIES THROUGH INNOVATIVE IDEAS, COLLABORATION, AND ACTION.
Visit our Events Page for a Full List of Annual Events
| | |
| --- | --- |
| | |
| | Indie Month 2019 - July 01 - July 31, All Day Small businesses are the heartbeat of our neighborhoods, the spine of our local economy, and the spirit of our town. Help us celebrate. Discover new businesses. Attend summery events. Win prizes! |
| | Pop up Happy Hour - at Bellingham Cider Company, Bellingham WA July 31, 5:00 pm - 6:30 pm Celebrate Independent Businesses at this pop up happy hour on the deck at Bellingham Cider Company. |
| | Farm Fund Celebration - at Boundary Bay Brewery & Bistro, Bellingham WA September 01, 4:00 pm - 8:00 pm Kick up your heels and enjoy some rollicking live music, square dancing, a tractor photo booth, farmer recognition and awards, and delicious food and brews at Boundary Bay—all to benefit the Community Food Co-op's Farm Fund and kick off Eat Local Month! |
| | 2019 Whatcom County Farm Tour - September 07 - September 08, 10:00 am - 4:00 pm See, taste, feel, and learn hands-on what goes into local food production. Meet unique Whatcom County farms and experience the passion and care that goes into producing local food for our community. |
| | Farm-Infused Beer Tasting - at Aslan Depot, Bellingham WA September 07, 5:00 pm - 10:00 pm Join us for a unique opportunity to drink Aslan beer infused with locally sourced produce. This event will showcase four beers with seasonal flavor profiles inspired and grown by Whatcom County farms. |
| | Farm Tour Brunch - at Cosmos Bistro, Bellingham WA September 08, 8:00 am - 10:00 am Enjoy the famous Farm Tour Brunch at Cosmos Bistro! Featuring a farm-fresh eggs benedict, pastured proteins, and scratch-made breads complete with all local coffees and teas. |
BUILDING COMMUNITIES & STRENGTHENING OUR ECONOMY
"The northern Washington town of Bellingham may be the epicenter of a new economic model for a post-consumerist economy, producing goods and services focused on what surrounding communities need and can sustain."
-NPR Marketplace, interview with Sustainable Connections
Choosing local retailers creates jobs and community. Hear from a variety of local entrepreneurs who call Bellingham home and learn why they choose to live and love local.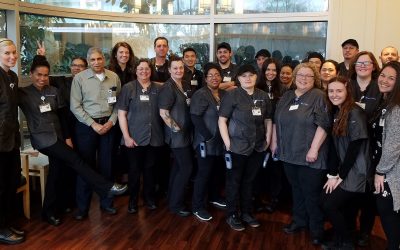 How is a nun from the 1880s and Bellingham's local food scene connected? We'll tell ya! Click through to learn how PeaceHealth set the stage for taking care of overall community health and wellbeing, and what that means for some of our local farmers today.
read more
Thank you to our Sustaining Members
OUR WORK WOULD NOT BE POSSIBLE WITHOUT YOU!