We create thriving communities through innovative ideas, collaboration, and action.
| | |
| --- | --- |
| | |
| | Missing Middle Housing - May 17, 5:30 pm - 6:30 pm What is "missing middle" housing? In this FREE virtual event hosted by Bellingham For Everyone, we will discuss what "middle" housing forms are, how they contribute to creating equitable and affordable communities, and why these housing forms are missing from cities all across the US including Bellingham and Whatcom County. |
| | Farm + Food Connections - May 18, 10:00 am - 11:30 am A connection event for farmers and food businesses, our biannual "Farmer–Chef Mixer" is a well-loved, well-attended meet-up brimming with conversation! |
| | Energy Club: District Energy in Bellingham - May 20, 8:00 am - 9:00 am Meet like-minded folks and energy efficiency experts to learn about local resources to help you save energy at work and so much more! |
| | Waste & Whatnot - June 08, 4:00 pm - 5:30 pm We've all heard the ugly statistic that 30-40% of food is wasted in the US – let's all do what we can to shrink that number to zero! Join us with some local food waste reduction experts as we learn some fun recipes to use up your commonly thrown away items. |
| | Virtual Climate Action Book Club: Drawdown - June 17, 8:00 am - 9:00 am Sustainable Connections is making Climate Action Book Club a regular thing, so mark your calendars for the third Thursday in February, June, and October!   This June, we will be discussing Drawdown: The Most Comprehensive Plan Ever Proposed to Reverse Global Warming by Paul Hawken. |
BUILDING COMMUNITIES & STRENGTHENING OUR ECONOMY
"The northern Washington town of Bellingham may be the epicenter of a new economic model for a post-consumerist economy, producing goods and services focused on what surrounding communities need and can sustain."
-NPR Marketplace, interview with Sustainable Connections
Choosing local retailers creates jobs and community. Hear from a variety of local entrepreneurs who call Bellingham home and learn why they choose to live and love local.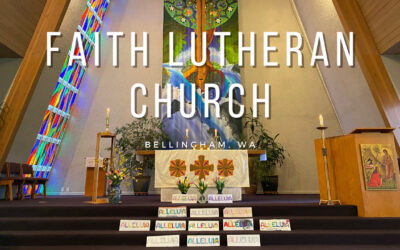 Faith Lutheran Church plays an active role in bettering the community in many ways. On the third Sunday of each month, Faith Lutheran collects non-perishable food items as well as monetary gifts for donation to the Bellingham Food Bank. The church also excels in...
read more
Thank you to our Sustaining Members
OUR WORK WOULD NOT BE POSSIBLE WITHOUT YOU!