WE CREATE THRIVING COMMUNITIES THROUGH INNOVATIVE IDEAS, COLLABORATION, AND ACTION.
Visit our Events Page for a Full List of Annual Events
| | |
| --- | --- |
| | |
| | Energy Club - at Primer Coffee, Bellingham WA March 21, 8:00 am - 8:45 am Meet like-minded folks and energy efficiency experts to learn about local resources to help you save energy at work and so much more! |
| | Smart Business Summit - March 28, 12:00 pm - 5:00 pm Learn how and why purpose-driven businesses succeed. Unlock the power of people at the Summit, and create a meaningful workplace that benefits both employees and our community. |
| | Farm Share Fair - at Boundary Bay Brewery Mountain Room, Bellingham WA March 30, 12:00 pm - 3:00 pm Meet local farmers. Learn about local food boxes (CSA), farm fresh, healthy food, in 1 convenient weekly box. Enjoy live music and a pint! |
| | Solarize for Smart Business - April 01 - June 12, 12:00 pm - 2:00 pm Join us for lunch to learn about the benefits of energy efficiency and special incentives available for your business to go solar. Sign up for a lunch workshop in Lynden, Mt. Vernon, or Anacortes and take advantage of special pricing for a limited time. |
| | Let's Do Lunch Series April - at Sustainable Connections, Bellingham WA April 03, 12:00 pm - 1:15 pm Come for the networking, leave with experience! |
| | 2019 Eat Local First Food & Farm Finder Launch - at Bellingham Farmers Market, Bellingham April 06, 10:00 am - 3:00 pm Hot off the presses! Get the 2019-2020 Eat Local First Food & Farm Finder. The best guide to local food in our area. |
BUILDING COMMUNITIES & STRENGTHENING OUR ECONOMY
"The northern Washington town of Bellingham may be the epicenter of a new economic model for a post-consumerist economy, producing goods and services focused on what surrounding communities need and can sustain."
-NPR Marketplace, interview with Sustainable Connections
Choosing local retailers creates jobs and community. Hear from a variety of local entrepreneurs who call Bellingham home and learn why they choose to live and love local.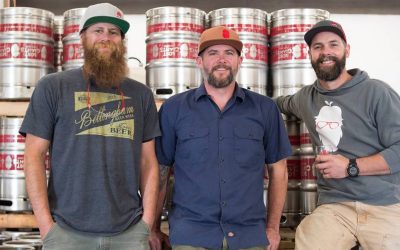 For the love of all things Bellingham… you need to get to know Lost Giants Cider Co. Pull up a chair and get to know friends and co-owners Chris Noskoff, Brad Wilske, and Abe Ebert.
read more
Thank you to our Sustaining Members
OUR WORK WOULD NOT BE POSSIBLE WITHOUT YOU!