We create thriving communities through innovative ideas, collaboration, and action.
| | |
| --- | --- |
| | |
| | Energize Whatcom - August 01 - September 30, multiple days or times TAX CREDITS AND USDA ENERGY GRANTS NOW AVAILABLE Is your business too hot in the summer? Too cold in the winter? Is your energy bill through the roof? Sustainable Connections wants to help! |
| | Eat Local Month - September 01 - September 30, 12:00 am September Eat Local Month is back! We are excited to be your guide as we taste our way through the very best that Northwest... |
| | ALL IN for Climate Action Week - September 20 - September 26, multiple days or times ALL IN for Climate Action Week is a celebration of all the knowledge and resources our community has to offer when looking for solutions to address global climate change at the local level. |
| | Whatcom Housing Week - October 18 - October 22, multiple days or times As a member of the Whatcom Housing Alliance, Sustainable Connections is proud to be a part of Whatcom Housing Week - a series of events that build awareness and support for innovative housing solutions to create safe, equitable and affordable homes for everyone. |
| | Virtual Climate Action Book Club: All We Can Save - October 21, 8:00 am - 9:00 am Sustainable Connections is making Climate Action Book Club a regular thing, so mark your calendars for the third Thursday in February, June, and October!   This October, we will be discussing All We Can Save: Truth, Courage, and Solutions for the Climate Crisis edited by Ayana Elizabeth Johnson and Katharine Wilkinson |
BUILDING COMMUNITIES & STRENGTHENING OUR ECONOMY
"The northern Washington town of Bellingham may be the epicenter of a new economic model for a post-consumerist economy, producing goods and services focused on what surrounding communities need and can sustain."
-NPR Marketplace, interview with Sustainable Connections
Choosing local retailers creates jobs and community. Hear from a variety of local entrepreneurs who call Bellingham home and learn why they choose to live and love local.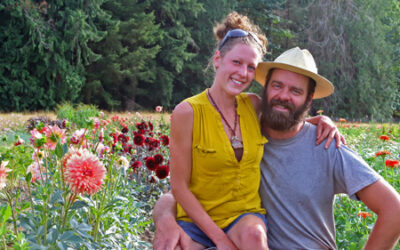 Kragnes Family Farms A Deeply Rooted Farm, In Full Bloom By Alex Smith A sense of place is a powerful thing. Feeling a connection to the land and surroundings provides an intangible feeling of comfort and belonging. When Ben and Tyne first visited Whatcom County, this...
read more
Thank you to our Sustaining Members
OUR WORK WOULD NOT BE POSSIBLE WITHOUT YOU!