We meet businesses where they're at!
You decide what membership rate suits your business best. We base our member rates on annual revenue so that entrepreneurs of any size or industry can join, reap the benefits of our network, and help us work towards a thriving local economy together.
Download our Member Benefits as a .PDF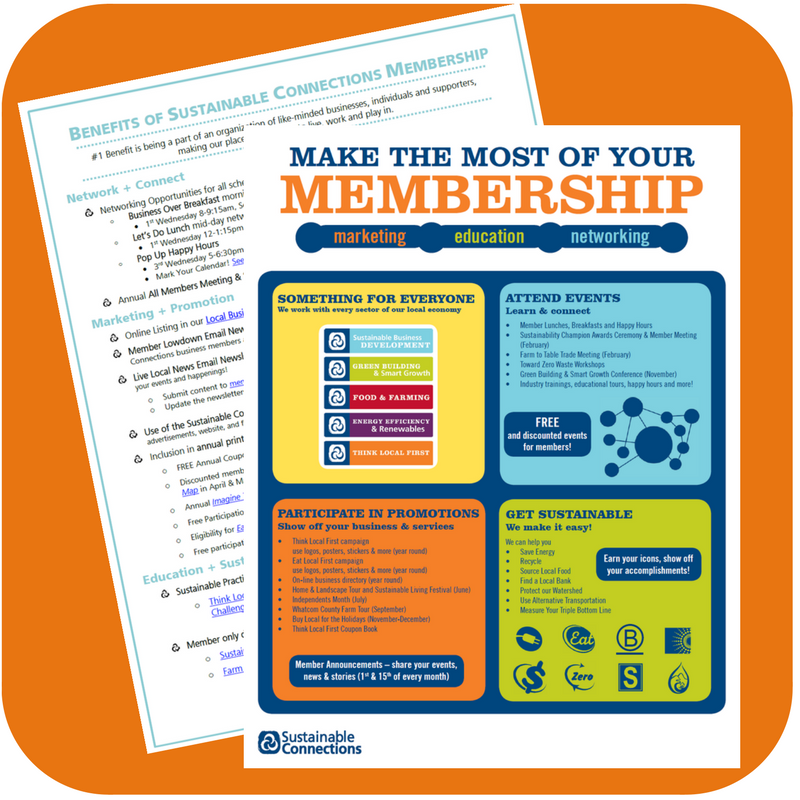 Or click through the slides to your left to see all that we can offer your business
Network + Connect
Spring 'Let's Do Lunch' Series on the 1st Wednesdays 8am-9:15pm in March, April, & May.
Features 1/2 speed networking & 1/2 educational presentations
Fall Business Over Breakfast Series The 1st Wednesday 12-1:15pm of September, October, & November.
Features 1/2 speed networking & 1/2 educational presentationsPop Up Happy Hours & Business Mobs
Annual All Members Meeting & Sustainability Champion Awards Ceremony in February
Member Lowdown email newsletter on the 2nd Monday of the month
an opportunity to promote your biz to other business members and learn about upcoming opportunities!
Marketing + Promotions
Free listing and logo exposure in our Online Business Directory


Use of the Sustainable Connections name and logo for your business cards, shelf tags, advertisements, website, and fleet vehicles. Being apart of a network of like-minded businesses is valuable!
Inclusion and discounted rates for printed and distributed Publications
Free or discounted Registration or Participation in Workshops, Conferences & Events; Farm To Table Trade Meeting, CSA Sign Up Help, Home & Landscape Tour, Towards Zero Waste Workshops, Eat Local Month, Whatcom County Farm Tour, and many more!
Sustainable Connections monthly Program newsletters to targeted audiences depending on your industry and reach
Sustainability
Sustainable Business Practices We can help your business and your employees be more sustainable, save money, reduce impact, and draw customers!
BUSINESS MEMBERSHIP
Based on your annual revenue
Under $50,000                $190—12 months   
$50,000 – $250,000       $275—12 months 
$250,000 – $500,000     $385—12 months       
$500,000 – $1 million     $495—12 months    
Over $1 million                 $595—12 months    
SUSTAINING MEMBERSHIP
$1,200 (or $100/month—12 months)
For a higher rate of business membership, Sustaining Members are thoroughly promoted and thanked!
NON-PROFIT MEMBERSHIP
Based on your annual operating budget:
Under $50,000                     $150—12 months    
$50,000 – $250,000            $220—12 months   
$250,000 – $500,000          $310—12 months   
$500,000 – $1 million          $400—12 months   
Over $1 million                       $475—12 months   
BUSINESS PARTNERSHIP
We welcome businesses that are not locally owned as Business Partners, but do not promote them in our Think Local First campaign due to the purchasing power and marketing resources that are typically available to larger businesses. Partner Businesses receive all member benefits except those that apply to the Think Local First Campaign. Please email us to get started!
1 to 24 Full Time Employees         $125—12 months  
25 to 100 Full Time Employees     $550—12 months  
100+ Full Time Employees             $1100—12 months  
MEMBER ELIGIBILITY
Annual business membership is available to you, if you can answer "Yes" to all of the following questions:
Is your business privately held?
Does 50% or more of your ownership live in Whatcom County (or surrounding counties)?
Is your business registered in the state of Washington, and does your corporate or national headquarters lie inside Whatcom, Skagit, San Juan or Island Counties?
Do you have full autonomy to make your own independent decisions regarding your unique business and it's purchasing, operations and distribution, as well as the name and look of your business?
Do you pay all your own marketing, rent and other business expenses without assistance from, or payment to, a corporate headquarters?
If you answered "No" to any of the above questions, you'd probably best fit as a Partner of Sustainable Connections.
Join Us!
Fill in this form below to get started and let us know a little bit about your business. Once you hit submit it will take you to an online payment page where you can pay with a visa, master or discover credit card. Or simply skip that step and we'll know to send you an invoice with your New Member Packet in the mail asap.
Check your inbox shortly after joining for a 'Welcome to Sustainable Connections' email that will fill you in on the next steps to making the most of your membership. We can't wait to get to work with you more soon.
Join or Renew Your Membership