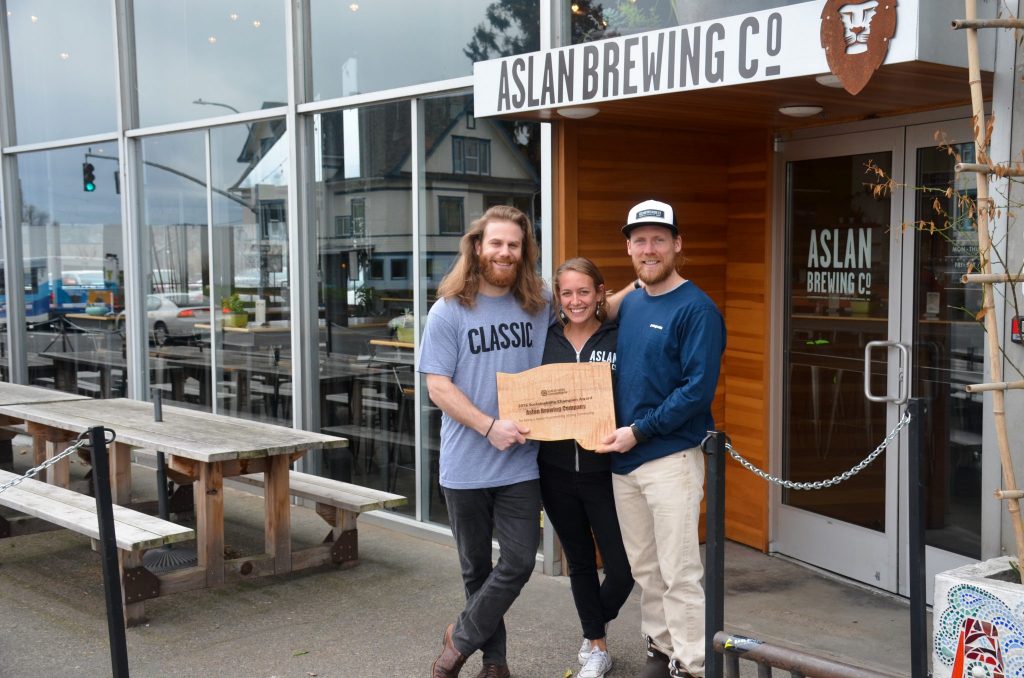 Every year Sustainable Connections honors five local businesses that are taking steps towards achieving a healthy triple bottom line–taking care of employees, our environment, and the local economy–with a Sustainability Champion Award. Drawn from the four tenets of our mission, the awards celebrate local businesses who are leaders in Strong Community, Healthy Environment, Meaningful Employment, and Buying Local First, as well as a Lifetime Achievement Award.
This year's Strong Community Award goes to Aslan Brewing Co.! This award goes to a local company that actively engages our community, leads by example, and gives back. They are passionate collaborators and share their knowledge with others.
Aslan Brewing Co. has been an innovator and collaborator in our community since 2012. They're constantly working on triple bottom line practices and have recently, through a rigorous review and inspection process, become a certified B Corporation, meaning they are required to meet higher standards of social and environmental performance while ensuring that these standards are comprehensive and transparent.
They are passionate about supporting our community and have committed to doing everything they can to give back, regularly hosting fundraisers and brewing special beers for a wide variety of community organizations and causes. They've established a robust charitable giving framework and a strong measurement system, focusing their philanthropic efforts in five categories: art and culture, health, environment, education, and the common good. In 2016 alone, Aslan donated $35,331 in beer, or just over 15% of their total profits!
They also support and collaborate with other local businesses, prioritizing organic Whatcom County ingredients as much as possible when sourcing food for their menu. And they are active members of the Brewshed Alliance, have signed the Brewery Climate Declaration, and are supporters of PCC Farmland Trust.
They are an inspiration to our local community and lead by example. They've taken steps to reduce their impact in a number of ways including reducing their waste by sending spent grain to local farmers, installing a 'Han Silo' to eliminate non-recyclable malt bags from their operations, capturing rainwater, being a Clean Energy Partner, and so much more. What can we say? We are so lucky to have Aslan in our community.
Learn more about Aslan's sustainability and feel extra good about your next beer