Experience the vibrant coffee culture that Whatcom County has to offer! Bellingham and Whatcom County are renowned for their thriving local coffee scene, with independent cafes and passionate baristas at nearly every corner. This local promotion coordinated by Sustainable Connections and Visit Bellingham is not just about indulging in delicious brews, it's about supporting local businesses and contributing to the community's growth.
By joining us on this crawl, you'll have the chance to immerse yourself in the enticing aromas, taste expertly crafted coffee, and connect with the friendly faces behind each cup – all at your own pace. Don't miss out on exploring Whatcom County's coffee hotspots while supporting local businesses all summer long.
Participate in the Coffee Crawl on the Think Local First digital passport where caffeine lovers all over are invited to visit numerous local java joints around Whatcom County. At each stop, visitors simply check in using their digital passports, collect points, and earn piping–hot prizes. The passport not only lets participants experience the finest brews in Whatcom County, but also encourages latte lovers to shop, dine, and sip at locally owned businesses. By supporting our favorite beaneries and local businesses, we all win!  
Signing up is easy! Just click the sign-up button on your phone. Each time you check into a location on the digital passport, you'll earn points that can be redeemed for Think Local First swag. There are no paper passports to keep track of and you don't have to bug a barista for a stamp! It's all available on your smartphone. 
Earn Points and Win Prizes!
Participants using the digital passport earn a point every time they check in on their mobile phones! Redeem points for prizes such as a Think Local First tee shirt, Sasquatch coffee mug, or a $10 gift card that's redeemable at over 270 local businesses around Whatcom County. Don't forget to sign up for our News & Events newsletter and follow us on social media. You can read all about Sasquatch's Coffe Crawl journey on our blog, too!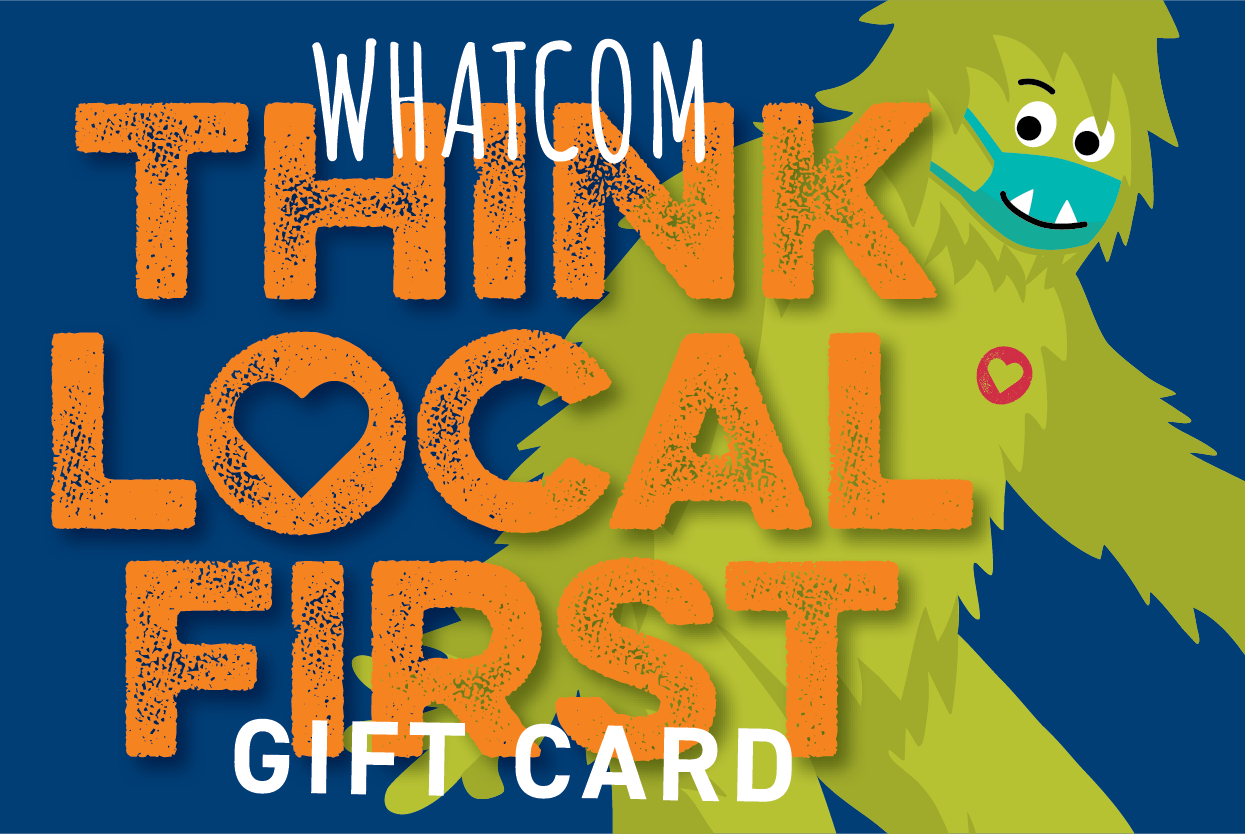 Whatcom County's Think Local First eGift Card has many of your favorite retailers, restaurants, services and entertainment in one place. Use the Think Local First gift card at any participating location in Whatcom County — there is truly something for everyone!
How does it work? Choose your recipient and send your gift card via email or text message. The recipient can use it to make purchases at participating businesses.