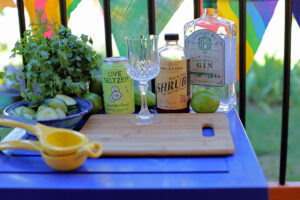 After a long day spent playing or working in the sunshine, there's nothing like a refreshing beverage in your hand. Bonus points for filling up your glass with local produce and products that not only support your body but also support the vibrant agricultural and economic landscape of Whatcom County (yeah, a gin and tonic can do all that! ;)). Cucumbers are summer classics and lucky for us, local farmers have plenty to share. You can get a little fancy and add some Shiso and Citrus Shrub from Bellingham-based Apple State Vinegar. To make this into a mocktail, simply omit the gin. Recipe credit: Apple State Vinegar.
Directions
In a 16 oz glass with ice, add 2 oz gin, 3/4 oz Shiso & Citrus Shrub, and 5 oz tonic water.
Garnish with a lime slice and a thinly sliced cucumber.