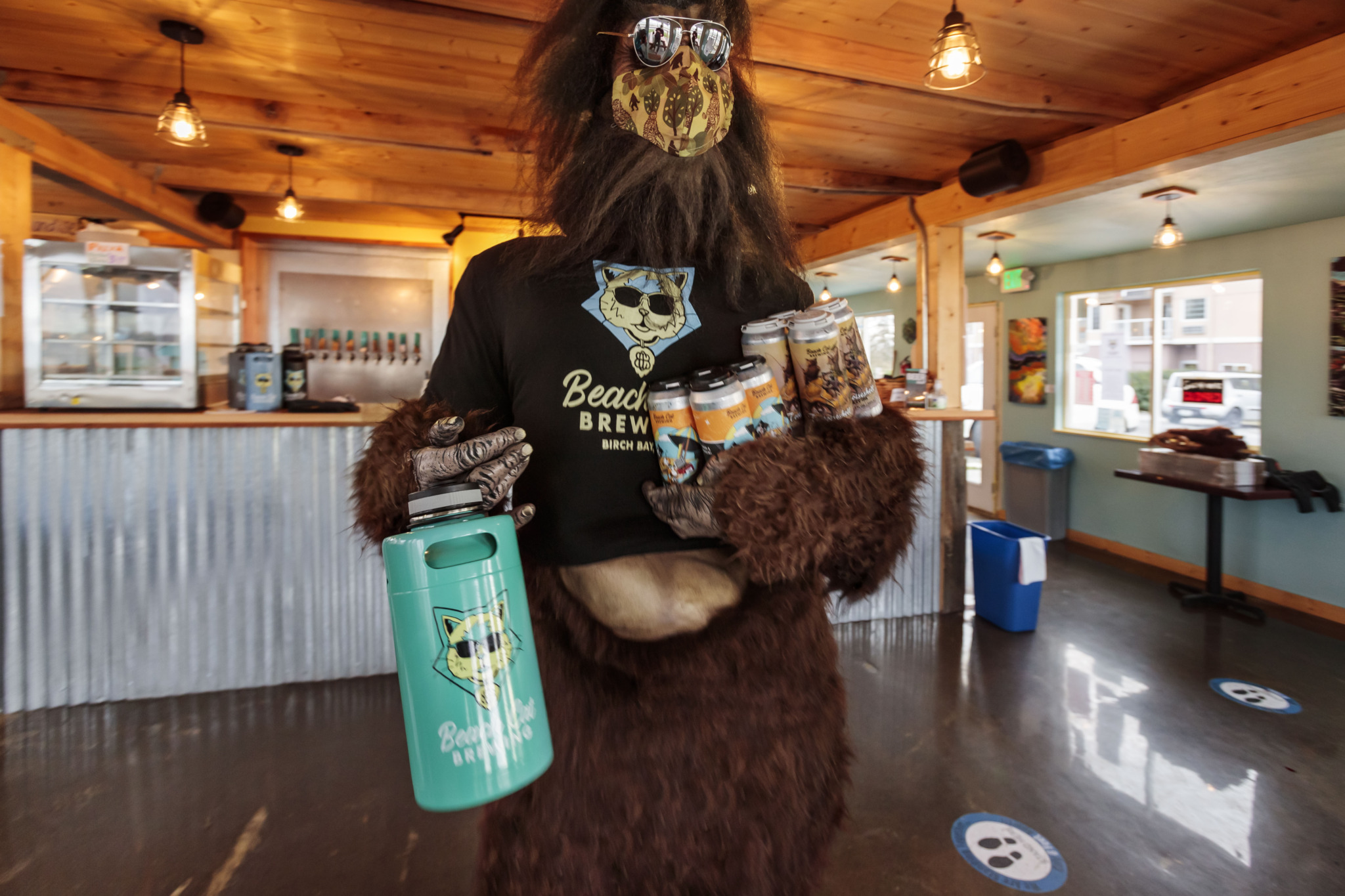 Drink Local First with Sasquatch's Sips
What's Sasquatch sippin' on these days? Well, if our mysterious and furry friend is anything like us, they've got no shortage of options!  
Summer is in full, glorious swing in Bellingham and Whatcom County. We've been out relishing all the delights that this beautiful place has to offer. Maybe you're off exploring Bellingham Bay or the San Juans in a kayak, sailboat, or paddleboard. Or perhaps you're zipping around on your bike, marveling at the various shades of green that flash by. We've been enjoying picnics on the beach, too. There's nothing like a spread of local food and drink enjoyed in the great outdoors, especially with friends or family.  
After all these activities, you're probably feeling a little… thirsty! Sasquatch certainly is, after they've spent the morning tromping through their secret forests in the Mount Baker Wilderness. Post-hike, Sasquatch heads to one of the many spots throughout Bellingham and Whatcom County that offer delectable summer refreshments.  
The best part? All of these drinks can be purchased using the Think Local First Gift Card. Maybe you have money left on a card you were gifted during the holidays or maybe you want to purchase a Think Local First gift card for a friend and treat them to a refreshing beverage. Either way, it easy to help Sasquatch Drink Local First by enjoying and imbibing from the county's many watering holes.  
Let's start our tour at Camber, a beloved institution that's gained national recognition for its commitment to excellence and seriously good coffee. There's nothing like pre-gaming a summer adventure with an icy, caffeinated beverage. Sasquatch is kind of obsessed with their Iced Mocha: that perfect coffee/chocolate balance fuels them up for their next excursion. 
If you're looking for an anti-inflammatory golden elixir to keep you glowin' and groovin' all summer long, look no further than Café Velo's Golden Milk that Sasquatch usually gets with oat milk before speeding off on their bike.  
Bellingham and Whatcom County are full of outdoor dining spaces where you can take in sunsets with a cold beer or cider and a crew of your best friends. Rolling up to a brewery, all sun-kissed and dirty from playing in the mountains, is one of life's greatest small pleasures. Might we suggest kicking up your tired feet at Stemma Brewing with a Citra Single Hop IPA? If summer could be poured into a pint glass, this would be it. 
Beach Cat Brewing is another one of Sasquatch's faves when they're looking for a view along with their beer. Located in Birch Bay, this is a spot not just for enjoying a brew, but also for craft beer education and community growth.  
If you're looking for some probiotics along with your buzz, pick up a can of Kine Kombucha. This ain't your garden variety booch; made in Everson, it's designed to inspire your next adventure. Their Grapefruit Kombucha hits the spot particularly well after a long day in the sun. 
Long days in the sun are key to growing the ingredients for Atwood Ales Farm Brewery's many unique and delightful farmhouse ales and saisons. Their beers are made with local ingredients: "water from their local aquifer; malt from less than 50 miles away in the Skagit Valley; and their estate-grown hops. Then they add other ingredients sourced from their own farm." Sasquatch is a big fan of the Amber Farmhouse Ale, as are we!  
And sometimes you just want a weekend at home, stopping by the farmer's market or indulging in a decadent brunch. We'll be enjoying the ultra-local and ultra-delicious feasts served up at Cosmos Bistro. And we'll definitely have a Chipotle Bloody Mary in hand: a revelation of flavor that matches the vibrant summer season.  
If you're looking to continue the imbibing adventure, L & L Libations is a relative newcomer to the Bellingham bar scene that has brought exquisite drinks and snacks (like their take on the Crunchwrap!) to downtown. A house favorite is the Desert Rose, which is the perfect thirst-quencher in the middle of summer. Featuring tequila, muddled limes, rosewater simple syrup, fresh grapefruit juice, and a splash of soda, it refreshes the spirit and the body.  
Speaking of refreshments, Calypso Kitchen has just the non-alcoholic drink for you. Sarah, the chef and mastermind behind Calypso, brings Caribbean flavor to the Pacific Northwest. She's got food aplenty that will get your tastebuds dancing with joy, but there's truly nothing like her Hibiscus and Sorrel beverage on a sunny day. Hibiscus is a sweet-and-sour flower that pairs with zingy sorrel to keep you cool and satisfied.  
Sometimes Sasquatch needs a light breakfast to start their day of adventure, so they'll peruse the shelves at Village Books and stop by Evolve Café (located on the top floor) to sample the delights of dream team Christy and Shannon. Evolve's blueberry smoothie puts the abundance of summer on full display, packed with Bow Hill blueberries, local honey, and energizing ginger and turmeric.  
Turmeric also plays a starring role in Shrub Farm + Apple State Vinegar's Turmeric and Carrot Shrub, which infuses a tropical glow into a good-for-your-gut elixir. You can add their flavorful concentrate to sparkling water for an invigorating, non-alcoholic treat. Sasquatch relies on their daily apple cider vinegar for a boost of energy! 
The whole family can enjoy apple cider slushies at Bellewood Farms in Lynden, where orchards of Washington's famous fruit grow beneath the watchful eye of Mount Baker. Why not pick up a couple of adult beverages, too, like their "farm-to-glass" spirits?
When you Drink Local First, you're not just treating yourself to the incredible beverages that Bellingham and Whatcom County have to offer. You're also contributing to the local economy, showing up for friends and neighbors, and supporting environmental health. After all, when blueberries come from down the road and are nourished by rich Whatcom soil, your morning smoothie turns into a sustainable act that ripples out across the community. 
Sasquatch is going to be sippin' on good beer, fine spirits, and non-alcoholic refreshments all month long. Will you join them and Drink Local First?