Fresh Pasta, Made Simply
By Alex Smith
When I think of the holiday season, my mind immediately turns to good food shared with good people and a healthy amount of laughter. So it was perfectly fitting that I had the chance to visit the home of Bellingham Pasta Co and the owner, Katie Hinton. It turns out that high-quality ingredients plus a playful attitude is the perfect recipe for pasta that's truly outstanding.
Like so many good food businesses, Bellingham Pasta Co. sprung from one person's need. In this case, the need was for fresh pasta. After 10 years and many long return trips from visiting family in Portland, car stuffed with fresh noodles, a light bulb switched on in her head. Why did she have to wait to visit family in order to get the pasta she craved so badly? Not only that, there must be other people who wanted fresh pasta in Whatcom County, right?
So she started making pasta herself, and she'll be the first to admit that it took time to develop the technique. After slowly learning the process and gathering equipment, she began to sell. Then she got an unexpected call from Andy Haggen (whose last name may sound familiar) asking about her pasta. "I was amazed," she recalls, "I hadn't even put out a press release yet!" Apparently, the market was ripe. Today you can find her products at the 6 Northwest Washington Farmers Markets including Bellingham, Terra Organics, The Community Food Co-op, Haggen, and Whole Foods.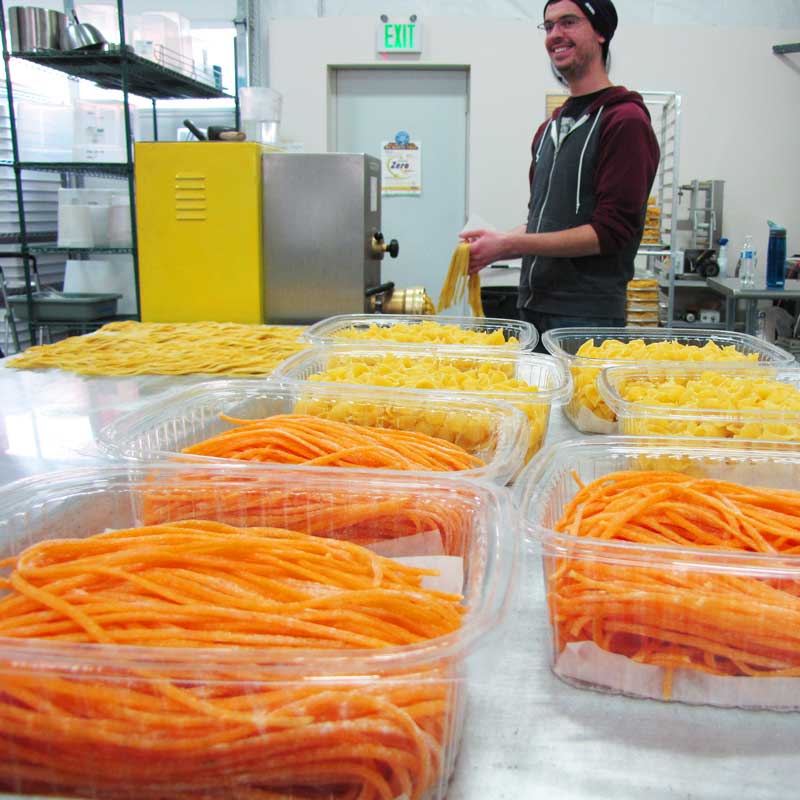 Now celebrating the 10th anniversary of the business, Bellingham Pasta Co seems to have found its forever home in a bright, open building North of downtown near Locust beach. Her dog Millie acts as greeter (unfortunately she can't help out on the production floor due to health code regulations and common sense) and the space feels welcoming even given the amount of stainless steel surfaces. Part of this is due to the constant music and laughter in the background and the decor that includes employees' hand-painted portraits of their dogs.
During production, a combination of her 5 employees will be cracking eggs, mixing dough, and cutting or packaging pasta. Other days the kitchen is in use by other local businesses such as Evolve Chocolate Truffles and Gusto Wood-fired Pizza. This arrangement allows several businesses access to a kitchen without having to pay the full cost of ownership. And there's room for more in the kitchen: local businesses looking for a processing facility should get in touch.
Devoting 10 years of her life to running this business begs the question: Why pasta? According to Katie, "If you look at the ingredients in many dried pastas, you'll find that they don't include egg – that's why it's shelf stable." She explains that the addition of egg gives the pasta a richness that can't be matched. The technique is also a factor. "If you look at my spaghetti, it's coarse. If you look at dry spaghetti, it's very smooth. So the sauce isn't going to grab onto it; it's very slippery."
She explains how different kinds of pasta have different textures depending on their intended usage. The coarse spaghetti works well to hold a tomato sauce, while the linguine and fettuccine are best used with simple oils or rich creamy sauces (hence fettuccine alfredo). Although traditional pasta is unflavored, Bellingham Pasta Co offers some flavored options simply because they fly off the shelves. The kalamata olive fettuccine offers a subtly savory and salty flavor while the roasted red pepper linguine adds a fiery orange color and a bolder flavor to build a dish around.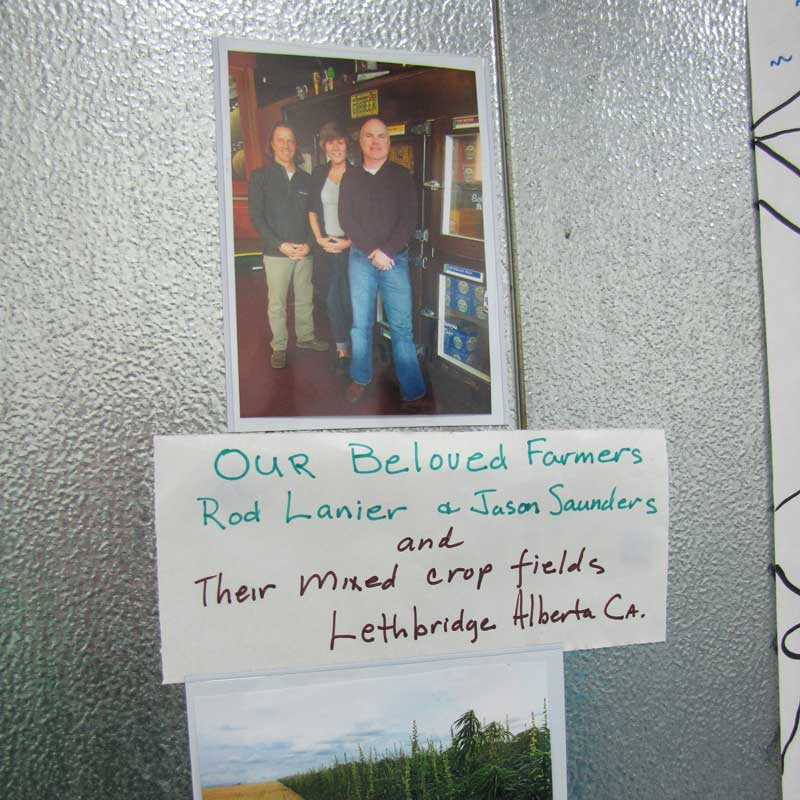 Standing next to a picture of the farmer who grows her wheat, Katie explains that fresh pasta also bulks up as it cooks, meaning it can feed more people on a pound-for-pound basis. It cooks more quickly than its dry counterpart as well, saving energy and getting the food to the table faster. There's also the benefit that it supports local businesses, which in turn are more likely to support other local businesses. And of course the environmental aspect: "A lot of dry pasta is coming from New York and Italy. So you have to think about the transportation, too."
While these are all good reasons, the main driving force has been that it's just plain tasty. "I can have a spaghetti dinner and think, wow, that's the best thing we've had all week." She contrasts this with the more typical American experience of pasta being a fast and easy but underwhelming dinner option.
The only real reason, it seems, that more people don't eat fresh pasta is the intimidation of trying a new thing. Dried pasta from the grocery store is nostalgic and comfortable. Katie wants people to know, though, that it's really not hard to make the switch. She's now posted videos on her website of both the pasta making process and demonstrations of how to use her products. She hopes that spreading knowledge will help people become more comfortable and discover the joy that is fresh pasta. Because, in her words, "once you try it, you'll never go back to dry pasta."
Bellingham Pasta Co.
Bellingham, WA
Website
Facebook