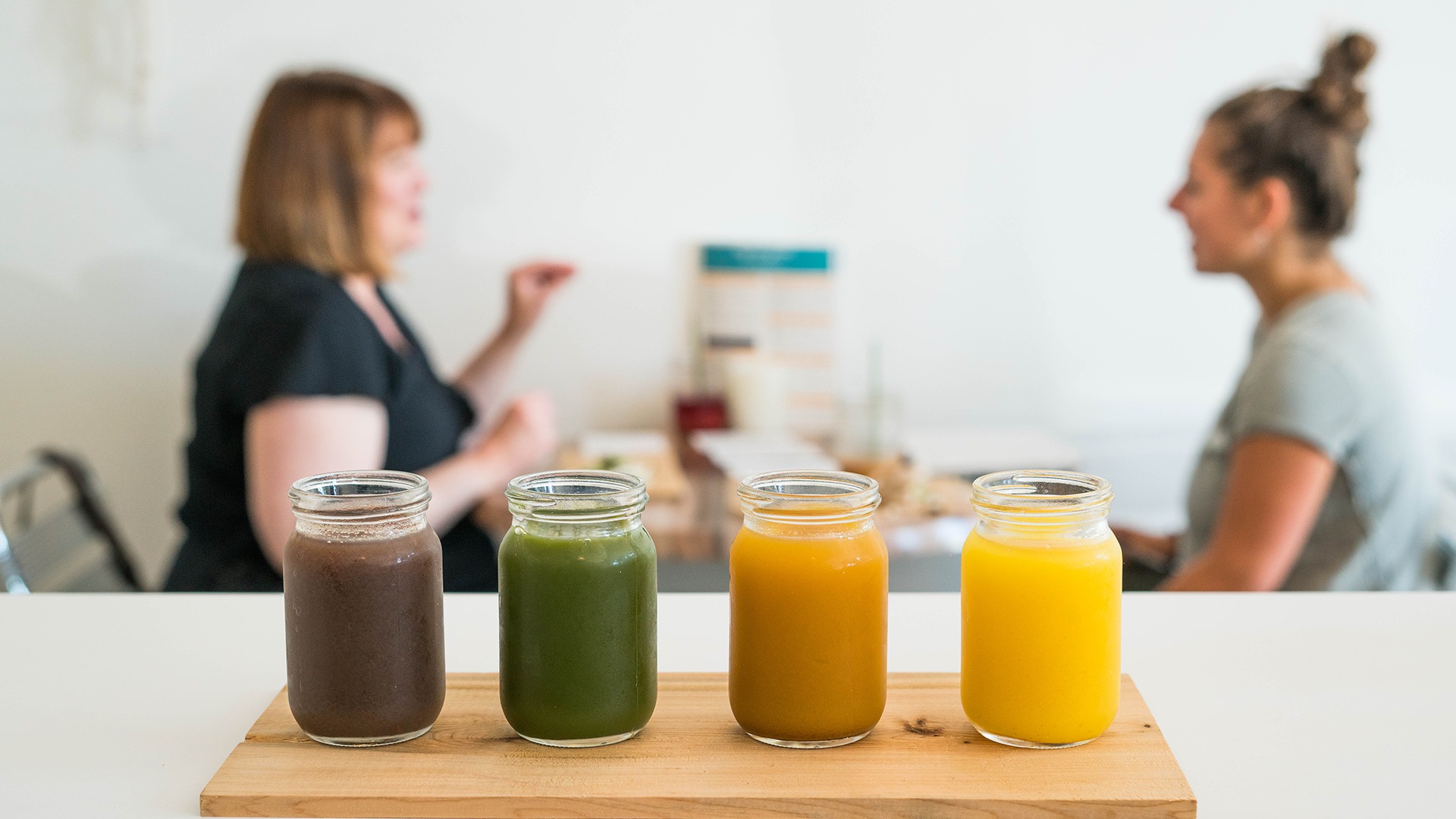 Fuel the Love
By Alex Smith
The heart is a complex organ. A combination of electrical signals, precise valves, muscles, and a labyrinth of tubes and chambers are constantly working in harmony to keep each and every one of us alive. Given its beautiful complexity and phenomenal harmony, it's no wonder the heart is a symbol of love.
This metaphor also extends to the aptly named Big Love Juice with its two locations in downtown Bellingham (State St. location below right, photo by Beau Gaughran) and Fairhaven. Their goal is to essentially become the heart of the community. By quietly performing the endless tasks of finding the best ingredients, combining them expertly, sharing knowledge, and providing welcoming spaces, Big Love is pumping life into the community in a number of ways. Its anatomy also happens to be just as complex.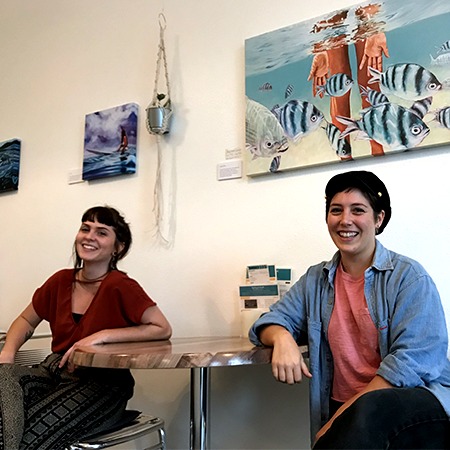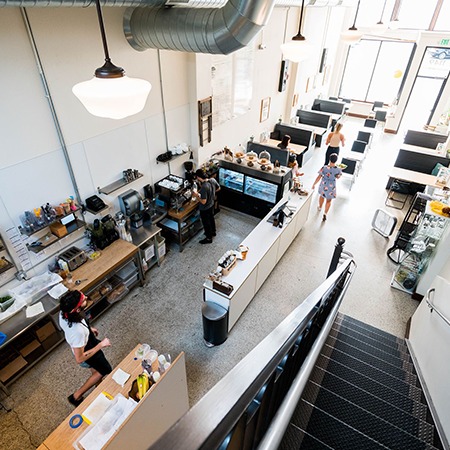 With one location in the Herald building and another on 10th St in Fairhaven, Big Love is on both sides of the main artery that is the interurban trail. A leisurely 15 minutes on bike would take you from one location to the other. In both spaces, you'll find driftwood sculpture and plentiful art. Reclaimed objects from around Whatcom County work in harmony with menu items. In Fairhaven, you'll even have the option to eat and drink in the Big Love Board Room, a lounge and art gallery that faces the bay.
While this is all lovely, it's certainly not the only focus. After all, when it comes to hearts, function trumps form. Luckily, it's more than just a pretty place. First, I should mention that calling Big Love a juice bar doesn't tell the whole story. From house-made bread and green bowls to baked goods, smoothies, and coffee, there's a whole lot more than just juice. The founder Lisa has spent a lifetime working towards this. From training at the original Le Cordon Bleu in Paris at 17 to working at Wolfgang Puck's flagship Spago, it's fair to say she's put in her dues.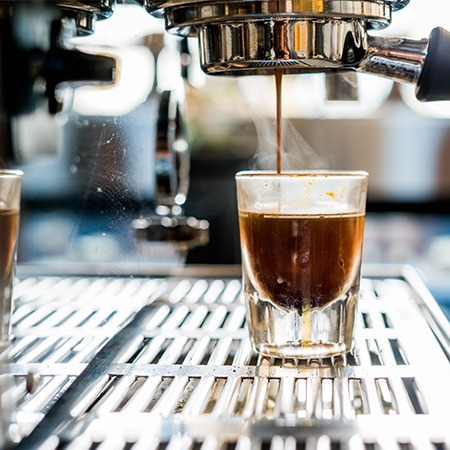 While juice is one part of what they offer, it is a major focus. Lisa's culinary background has helped her to craft a menu that nourishes the body and the soul, and juice is a wellness powerhouse. As Lisa explains, "Raw, unfiltered, unpasteurized cold-pressed juice gives us a vitalizing array of vitamins, minerals, and enzymes. These live nutrients are disrupted and destroyed in conventional juicing methods. Cold-pressing preserves the original nutritional value of the fruits and vegetables we use."
The ingredients themselves are also selected for their high quality, with many sourced locally. Berries from Cascadian Farms, chèvre from Gothberg Farms, and honey from BeeWorks are just some of the tasty and nutrient-dense local ingredients you'll find on the menu. Employees will also be happy to explain to you the benefits of superfoods such as their bright blue spirulina that comes from Klamath Lake in Oregon.
If you're on the fence about trying the juice, smoothies, or food, take the advice of employee Jolaina: "You really just have to try it and you'll be convinced." She recounts the story of a recent customer who said he came in as a skeptic but left a believer. Customers like these have become regulars at one or both of the locations, and Jolaina loves developing these relationships.
To help make that first taste even easier to attain, Big Love focuses on convenience and making things accessible. You can always have a taste, and they keep some prepared ingredients on hand so you can get a smoothie that's ready to be blended right away. Three-day juice bundles also allow guests to boost health, rejuvenate, or pump up their nutrient balance. You can  choose off the menu or customize your order depending on how involved you want to be in the process.
Whatever you choose, the aim is to have a customer leave feeling truly satisfied. Elisa, Social Connector, explains it best. "Food is incredibly cool when it can fuel you in the right way." She mentions a common refrain from owner Lisa: fuel the love. The whole business is designed to satisfy the entire body, mind, and soul. From the simple delight of tasty food to the long-term satisfaction of health, vitality, and community, it's the heartbeat that moves love through the community.
Big Love Juice
360-383-5336
1149 North State Street, Bellingham
1144 10th St, Fairhaven
Website
Facebook