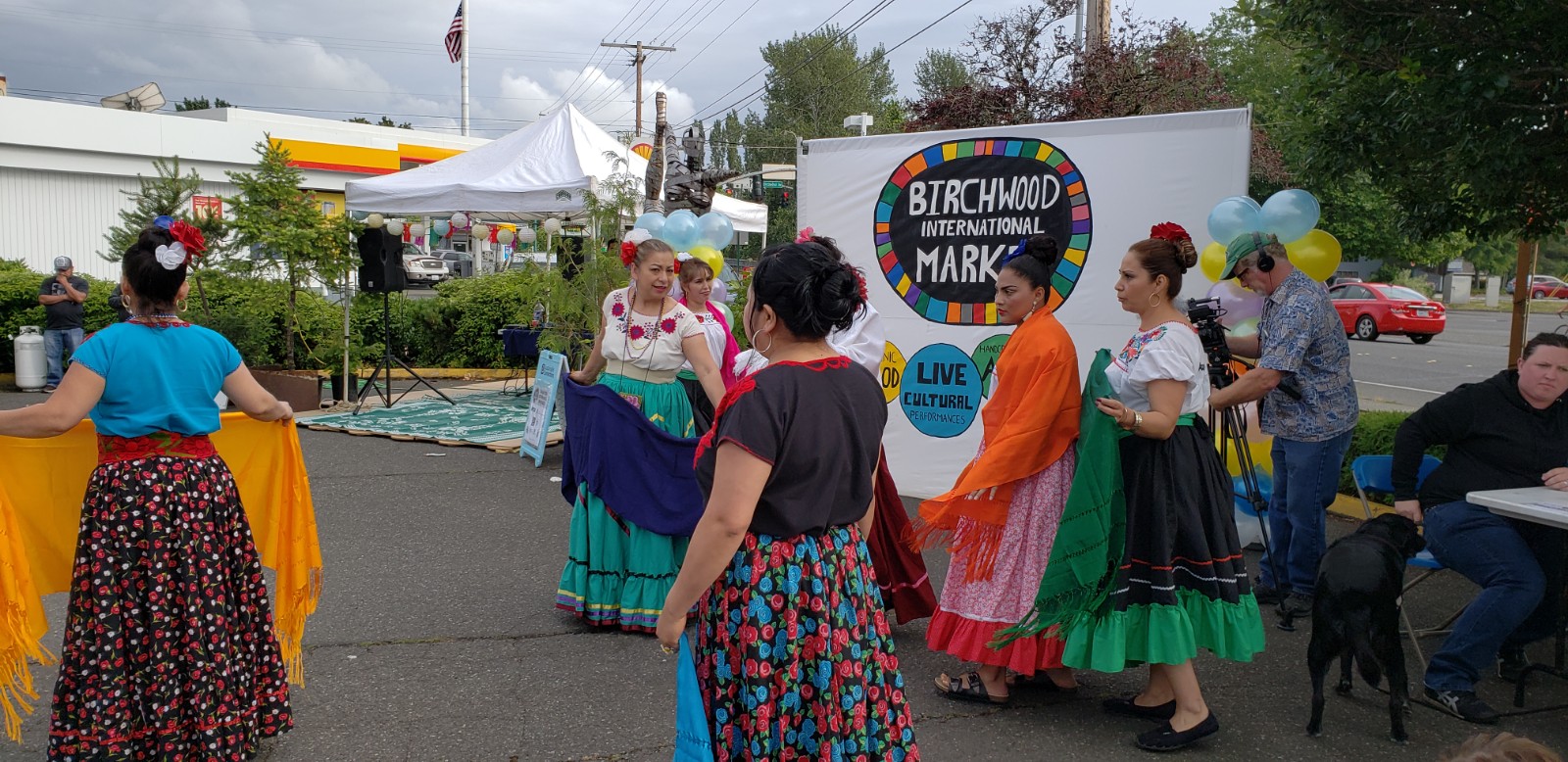 Press Release
Contact: Diana Meeks, Media & Communications Specialist
Phone: (360) 647-7093 x110
E-mail: diana@sustainableconnections.org
FOR IMMEDIATE RELEASE
Building on Birchwood International Market Momentum!
BELLINGHAM, WA, July 5, 2018 | Sustainable Connections is calling the first-ever Birchwood International Market, held on June 29th, a great success and is now in the process of planning the next market that will take place on Friday, July 27th from 6-10pm.
The June market brought together nearly 1000 local residents to celebrate the rich cultural diversity of Birchwood, Bellingham, and the Pacific Northwest. The Latino Summit Dancers kicked off the evening with several performances of varying styles of dance. Attendees enjoyed mango lassi, empañadas, and ice cream. Other entertainment included Batucada drummers and the LuChrist African fashion show. Families danced, children played, and attendees perused booths with clothing designed by kids, handwoven baskets, local art, fresh produce, and more. The crowd was full of excitement, pride, and love for the Birchwood Neighborhood and all that its community has to offer.
July vendors and entertainment will include LuChrist African Clothing and Accessories, Miksi Goods, local artists, Que Rico, Simmering Tava, and Salish Son. Each market will be different, with new vendors and entertainment added throughout the summer. Attendees can also take part in the Birchwood scavenger hunt for fun surprises and giveaways!
"The first market was a beautiful celebration of the Birchwood neighborhood," said Rose Lathrop, Sustainable Connections' Program Director. "We can't wait to see what the rest of the markets bring and hope that they help spark a vibrant cultural retail district for the neighborhood, increase food security, and strengthen Birchwood's sense of place."
Sustainable Connections thanks the Whatcom Community Foundation, whose generous donation helped launch this placemaking effort in 2017 and has made the market possible. The Birchwood Neighborhood Association, Bellingham School District, City of Bellingham, local area businesses, and the Whatcom County Association of Realtors, among others, have been instrumental in the market's success.
What: Birchwood International Market
When: The last Friday of the month of July – September. Next market: July 27th, 6-10pm
Where: Old Albertsons parking lot, corner of Northwest and Maplewood
Cost: FREE
More Info:sustainableconnections.org
                                                                        ###