Spring is in the air, and with it comes gathering, celebration, and connection. And there's no better way to welcome in a new season than by eating a delicious meal in good company – all while learning about the folks who grow and produce our food. 
This year, Alluvial Farms is offering Edible Everson; a Farm-to-Table Dinner Series. Each dinner highlights a different producer and honors the labor and love that goes into growing, cooking, and sharing local food. Alluvial Farms piloted this series last year and received such positive feedback that they decided to expand and elevate it in 2023 – upcoming dinners will be four-course plated dinners with wine pairings. Of course, the delightful company and the mission behind the meals remain the same.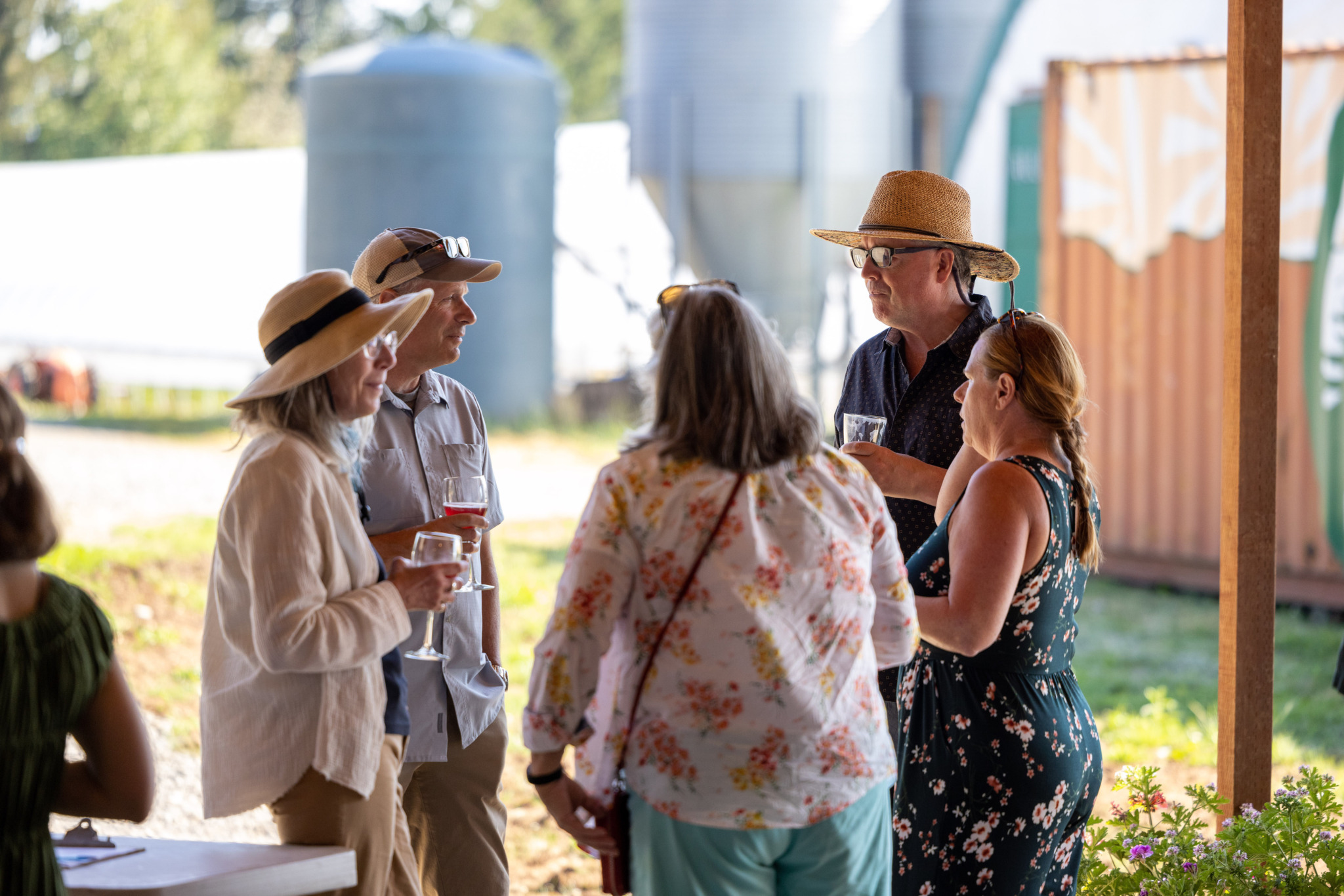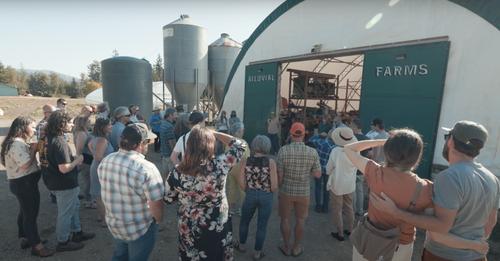 Alluvial Farms was founded in 2015, and as owner-farmer Katie Pencke puts it, "Our mission is to produce high-quality pork for Whatcom County and this region, as well as hemp and lard-based wellness products and pet treats for national distribution." 
These farm dinners were inspired by a desire to bring more folks out to farms, and an animal farm in particular. Katie explains, "It's important for people to know the people they buy their food from. Animal farms are not places that are usually open to the public. We are animal welfare approved by a third party, and we feel strongly that animal welfare is something important to include in the conversation about the meat we're eating." 
Alluvial's dinners not only provide a unique educational experience about the farm-to-table journey. They also acknowledge that it takes a community to create a thriving local food system. Each dinner features a different producer, who grows, raises, or harvests ingredients for the four-course meal. "We decided to incorporate promoting other local farm businesses through the series," Katie says. "They will be there at the dinner to help tell the story of their farm business journey." Each dinner will also feature a local fermented beverage, and a talk by the fermenter. Their May 20 kick off dinner will feature a Quince cider by brand new Everson fermenters Barmann Cellars. 
There's often a disconnect between the food we eat and the folks who grow and raise it. Stories, and shared meals, are a chance to build bridges of understanding and appreciation. And, of course, joy! Katie adds, "These dinners are also just super fun! They're a joyful way to celebrate the end of a long winter and a long pandemic, or whatever it is that you're celebrating."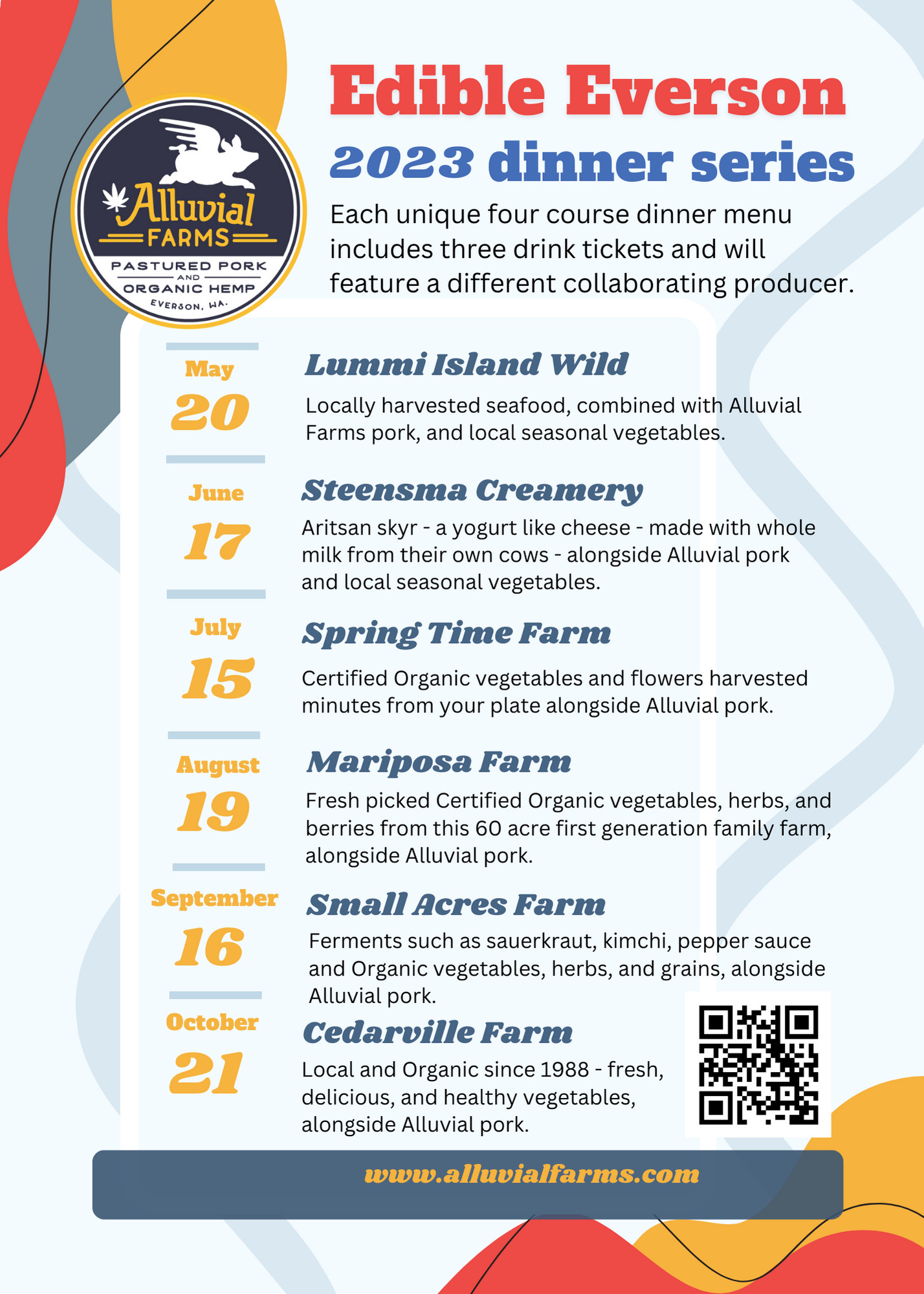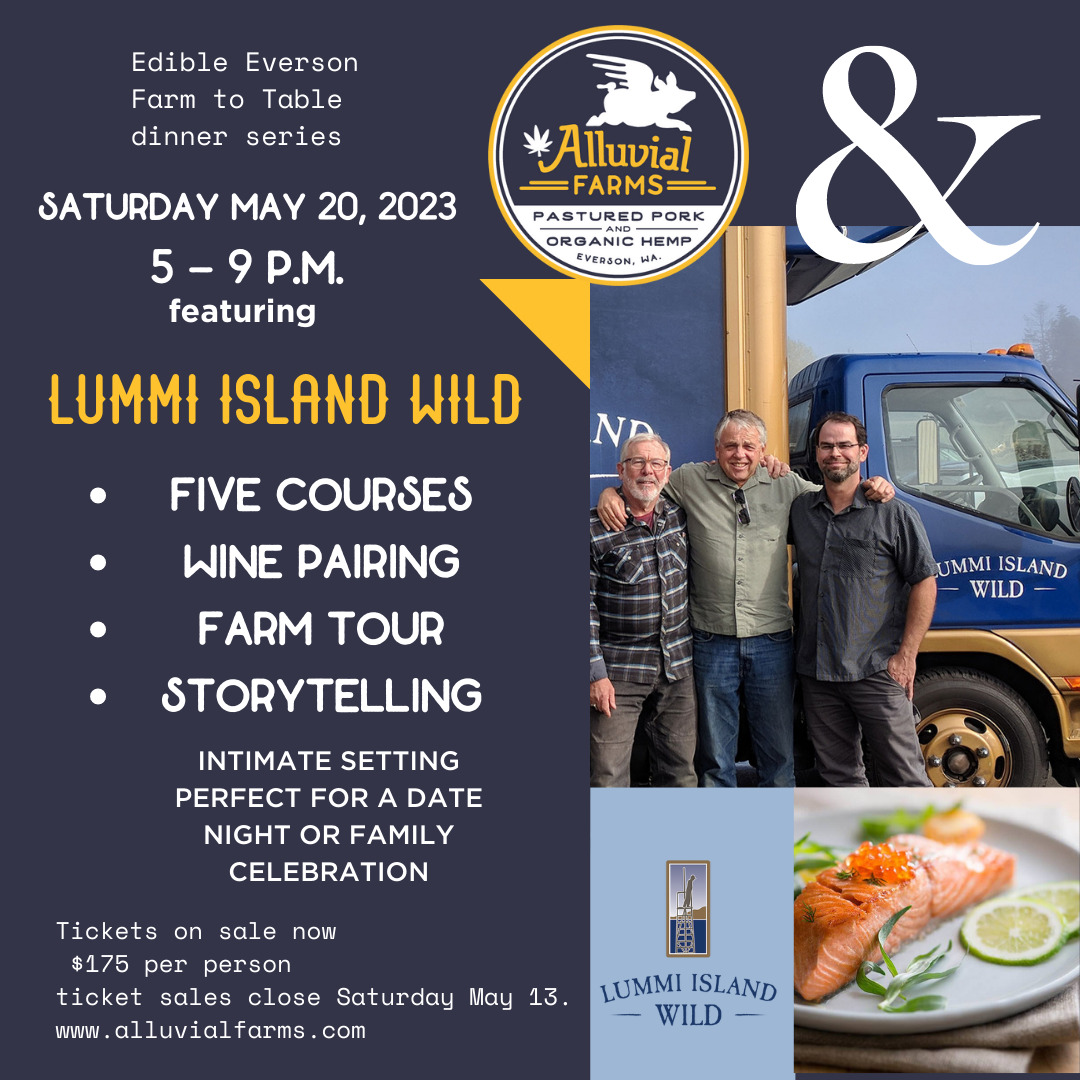 You can find joy, storytelling, and connection at Alluvial's kickoff farm dinner, held on May 20th from 5-9 pm. Lummi Island Wild is the featured food business – a group of reefnet fishers who have vertically integrated their salmon business to include harvesting, tendering, processing, and distributing. 
Katie says, "We'll start around 5 with a little bite and your first beverage and mingling. At 6ish, our chefs will give a presentation about how they prepared the meal and where they sourced ingredients. Lummi Island Wild will share their entrepreneurial story and talk about what the season looks like for them, with real-time stories from their business." Stephanie Barmann of Barmann Cellars will tell the story of the sourcing and fermenting work that went into creating each of the small-batch beverages. 
They have a beautiful four-course menu planned, that reads almost like a poem to the lands and seas of Whatcom County – crab bisque with onion, celery, cream, herbs, and lard; spot prawn salad with bacon, greens, tomatoes, avocados, lime, and herb vinaigrette; candied salmon and pork loin with mashed potatoes, corn, bell peppers, onions, and a peach BBQ sauce; and a tres leches cake with chantilly cream, chocolate ganache, and caramel crisp. 
The evening will conclude with a walking farm tour, where Katie & Matthew will invite guests to visit the pigs, learn more about what Alluvial does, and enjoy a late spring evening on the farm.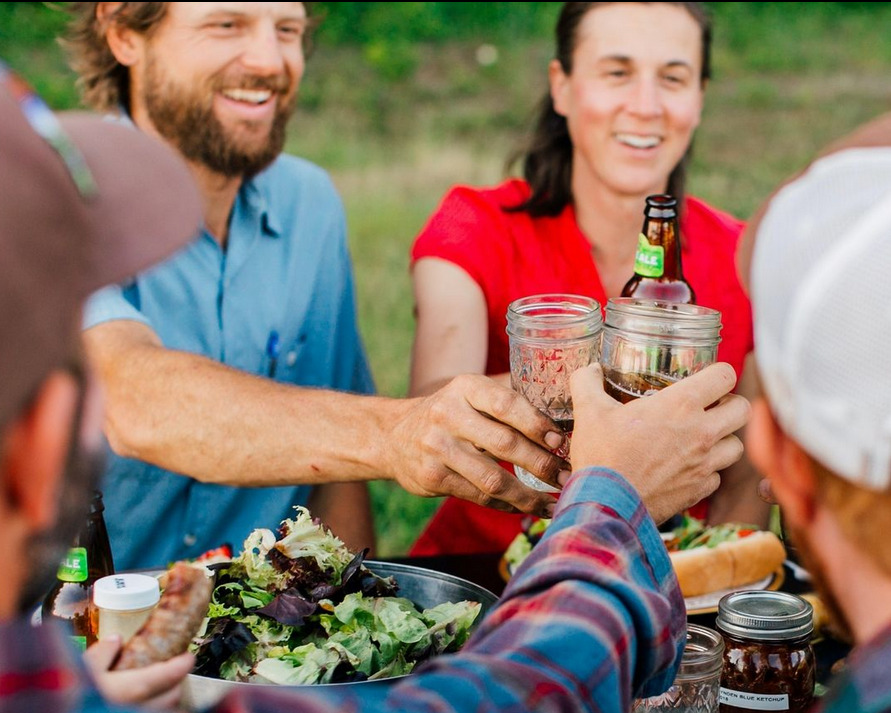 And while you'll enjoy the company, the stories, and the food, by attending these dinners you'll also participate in the local food system. "These dinners are kind of a fundraiser for our pork business," Katie explains. "They're a way for us to keep offering our high-quality pork, as well as some of the other things we offer –  a partnership with Cloud Mountain Farm Center, for example. We're working to host 200 kids on field trips to local farms this year and hopefully start a farm employment program with them."  
Sign up for the May 20th Farm-to-Table Dinner featuring Lummi Island Wild by May 13th here for an evening you'll never forget – full of food, laughter, and celebration.  
All photos courtesy of Alluvial Farms