We're Giving Away $2,000 in Prizes!
Grand Prize: Congratulations to our winner, Lorine!
Grand Prize Runners Up: 
Five additional winners were selected and awarded either a Lettered Streets Coffee or Woods Coffee gift card!
Congratulations to our runner-up winners: Benji, Gillian, Dave, Diana, and Gretel!
CSA Giveaway – Subscribe to a local farm!
To all the CSA members out there… we see you, excitedly unpacking your weekly pack of perfectly ripe, seasonal fruits and veggies!
How to Enter:
1. Like this post on facebook or Instagram
2. *Bonus* Entry – CSA Show & Tell! If you have a CSA, comment and tell us what farm you subscribe to, and what your most-loved item has been in your share this year!
That's it! You'll be entered to win a kickin' spice collection from @boldlygrownfarm worth $45 to season all your lovely veg!
If you missed out on signing up for a Spring/Summer CSA, you're in luck! We're lucky to have several farms that offer subscriptions through the fall, and some into the winter! CSA shares are the most direct way to support your local farms, and enjoy the freshest, most sustainable produce! Use our CSA Finder to find a farm to subscribe to!
*Winner will be drawn on 9/30/21
#EatLocalMonth2021 #FarmWeek #CommunitySupportedAgriculture #Bellingham #Whatcom #Skagit #spicy #locallymade #locallygrown #organicveggies #organicspices #subscribetolocal
Previous Prizes + Winners!
Farm Week Giveaway
Congratulations to Jessica for winning this prize package on 9/10/21!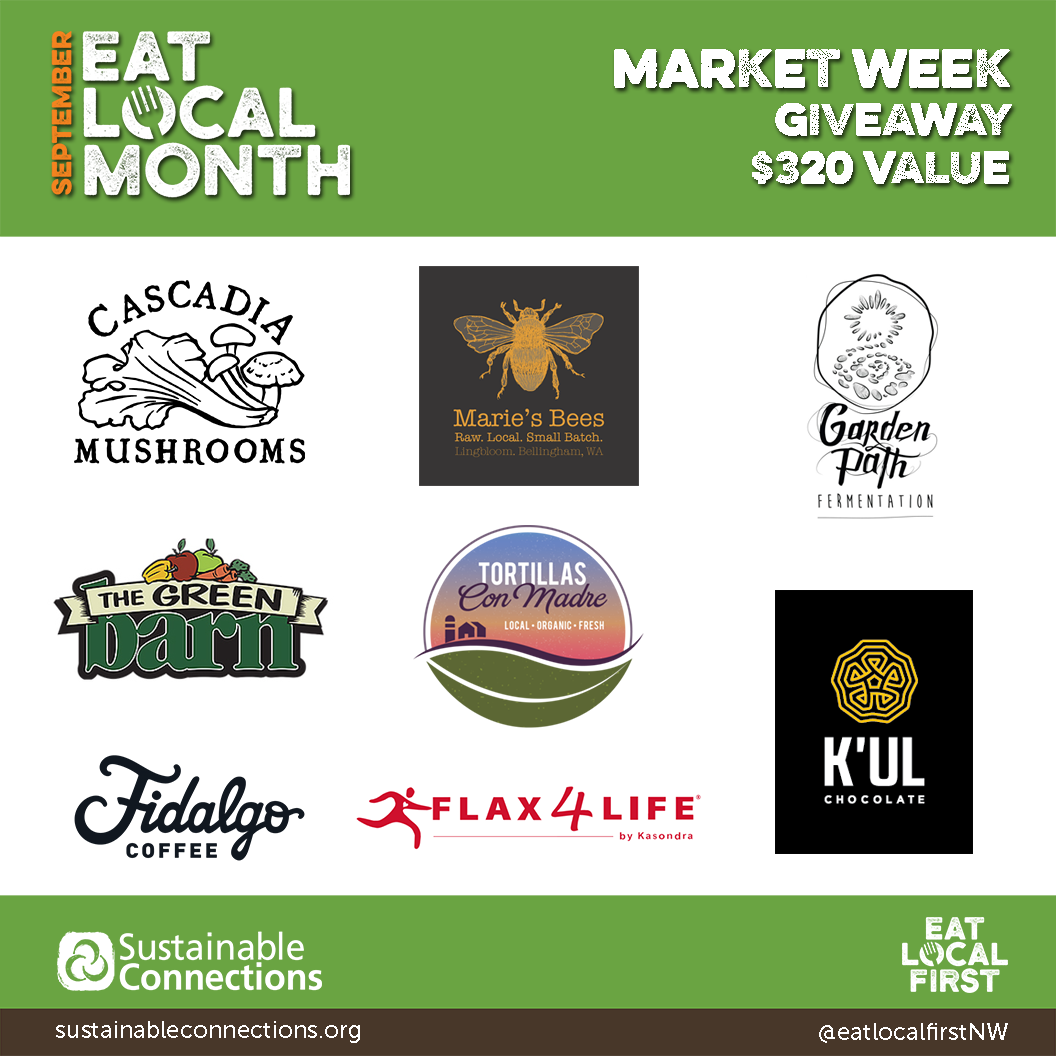 Market Week Giveaway
Who wants over $300 worth of tasty local food goodness? Here's What's Inside:
Congratulations to Jodi for winning this prize on 9/20/2021!
Seafood Week Giveaway – $400 Value!
Congratulations to Valerie for winning this prize on 9/25/21!
Restaurant Week Giveaway
Congratulations to Danielle for winning this giveaway on 10/1/2021
Check Out All The Eat Local Month Activities