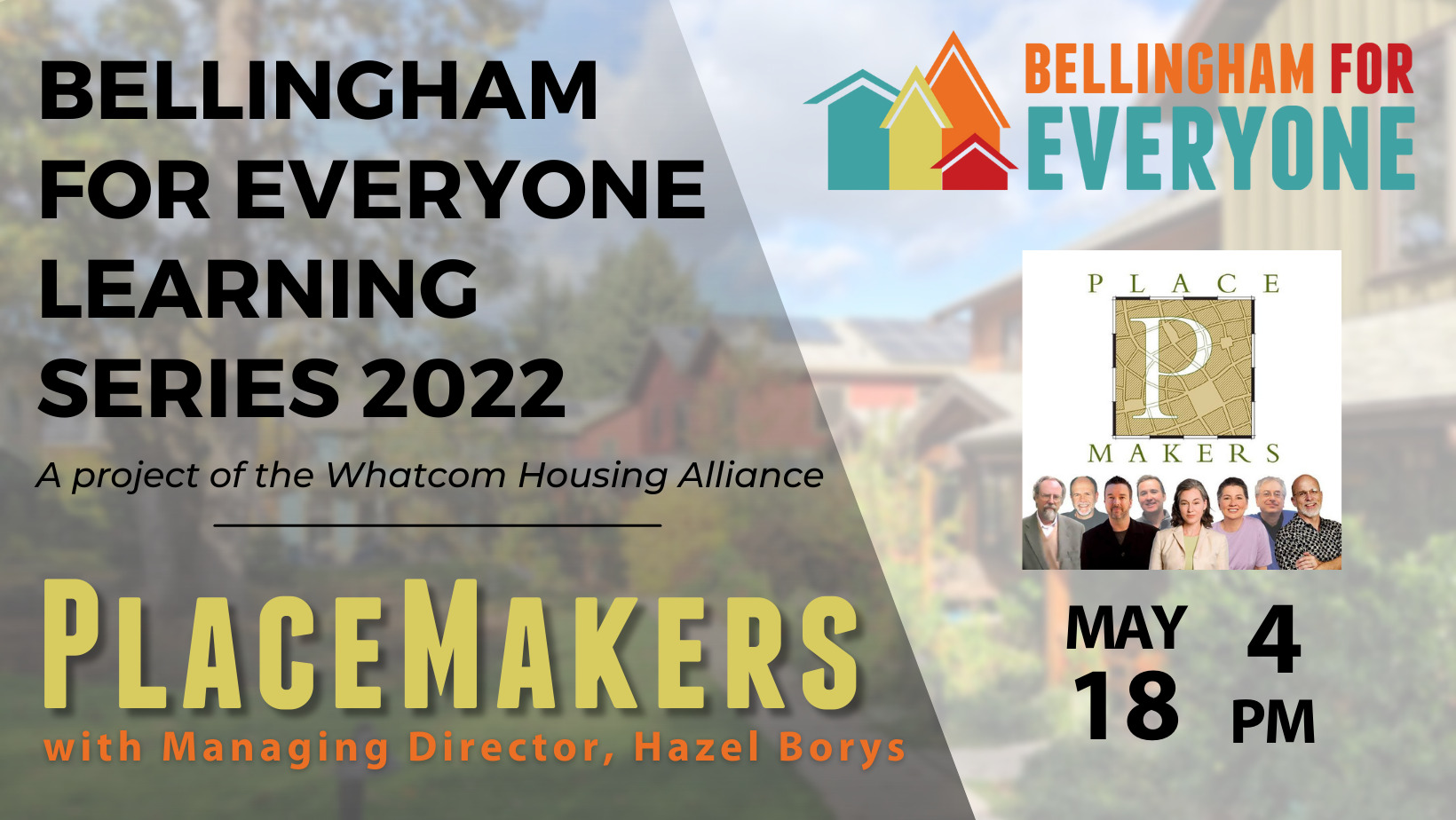 Join Bellingham For Everyone virtual events that keep our Allies engaged, educated, and mobilized! All events are virtual and great for ALL neighbors. By attending a Whatcom Housing Alliance event, you are agreeing to our Events Code of Conduct. 
PlaceMakers
In this virtual event hosted by Bellingham For Everyone, we will be joined by Hazel Borys from PlaceMakers. PlaceMakers is an organization comprised of planners, urban designers, form-based code wranglers, storytellers, advisors, and advocates. The term placemaker implies a promise. A commitment to cultivating environments that nurture human needs in all their diversity. PlaceMakers provides service tailored to the needs of communities pursuing a stronger, more connected, more livable place to share. While PlaceMakers works on many innovative projects, we will be looking specifically at a local example in which PlaceMakers was hired to help the city of Langley, WA transition to form-based codes.
Why form-based codes? Because our current laws tend to separate where we live from where we work, learn, and shop, and insist on big, fast roads to connect them all. Roads that are unfriendly to pedestrians, cyclists, and transit. As a result, North Americans spend more hours in their cars than anyone on earth, and a growing number of communities are working to do something about it. Cities and towns are using form-based codes to reverse these trends.
Learn more about PlaceMakers: http://www.placemakers.com/
About the Speaker:
Our host is Hazel Borys, President of PlaceMakers, LLC in the USA, and PlaceMakers, Inc., in Canada, city planning firms working to advance the livability conversation. Borys and her team are passionate about resilient urban and rural places, and believe that diverse, character-rich neighbourhoods can increase social wellbeing, financial resilience, and reverse the velocity of climate change. She guides governments around the world through policy and land use law reforms and helps developers get things built under the form-based bylaws. Hazel is an engineer with an MBA. She is co-author of the Pandemic Toolkit, Codes Study, and Code Score and serves on the boards of the Manitoba Municipal Board, the Transect Codes Council, and the Winnipeg Foundation.