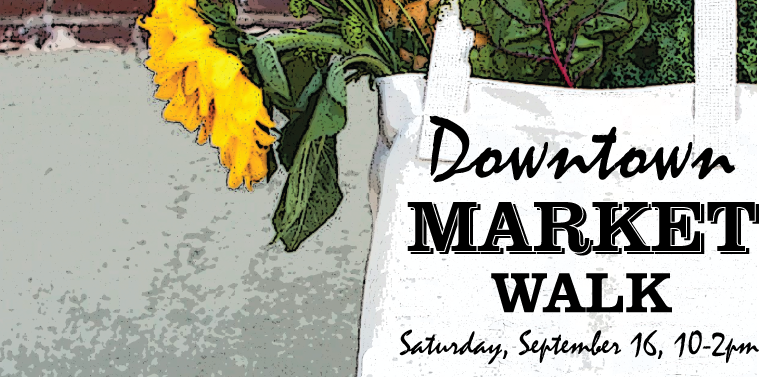 Eat local, from local (it matters!)
A FREE September Eat Local Month Event, taste your way through downtown Bellingham's unique markets and specialty food shops. Celebrate and explore Bellingham's local food scene! This self-guided tour showcases the best of downtown's local grocers, markets and specialty food shops.
Taste samples at each location and play "market walk" bingo for the chance to win local food prizes! Buying local food from local businesses keeps dollars here in our community and supports the folks who have built Bellingham into the beautiful community we all love.
The Bagelry | 1319 Railroad Ave.
Serving fresh, scratch made bagels and locally roasted coffee since 1984. Offering a wide variety of delicious options from our house made deli menu. Come sample our bagels while learning about the traditional New York style methods that we use.
The Bellingham Farmers Market | 1100 Railroad Ave.
An open-air market place to find fresh, local produce, fine crafts, and ready-to-eat foods while enjoying entertainment, learning about local agriculture and celebrating community.
Black Drop Coffeehouse | 300 W Champion St.
We're celebrating 15 years of serving the finest locally roasted specialty coffee in Bellingham! Available in-house and for retail. Stop by for a taste of our drip coffee and receive a coupon for $1.50 off a pound of coffee.
Community Food Co-op | 1220 N. Forest St.
Your locally grown, community-owned fresh foods market since 1970, with a focus on local and organic food; in-house scratch delis; and comprehensive wellness selection. Come hear great music, taste great samples and meet Puget Sound Food Hub farmers!
Music on the Loading dock:
10-11:45 – The Sweet Goodbyes – https://www.thesweetgoodbyes.com/home
12- 2pm – JP Falcon Band – https://www.jpfalconband.com/
10-2pm – Meet the Farmers from the Puget Sound food Hub farmers cooperative and demo some of their products:
Hopewell Farm
Cedarville Farm
Hedlin Farms
Boldly Grown Farm
Great Harvest Bread Co. | 305 East Magnolia
Bellingham's Great Harvest Bread Co. is locally owned by the Molyneaux's and has been stone-milling grain and scratch baking bread and sweets for 38 years. We'll be offering bites of whole grain breads like Honey Whole Wheat and Dakota Seed.
Culture Café at Kombucha Town | 210 Chestnut St.
Your source for all-natural, craft kombucha. Brewed in small batches in Bellingham, our kombucha maximizes health benefits while retailing the freshest flavor of kombucha possible. Proudly using organic sugar and fair-trade teas to brew our delicious kombucha.
Handshake Coffee | Railroad Trail, near The Hub Bike Shop
Handshake Coffee is a mobile coffee cart that serves pour over coffee roasted in small batches and other café beverages. Handshake's mission is to improve the social environment wherever it is, and to build a vibrant and supportive community around mobile vending.
Old World Deli | 1228 N. State St.
The quintessential deli experience, Old World Deli offers house-cured meats, house-made sausages, specialty foods like pastas, olive oils, salts, drinking vinegars, and let's not forget the thoughtful wine selection. Stop by and sample our unique products!
Opera Pastry & Coffee Shop | 1206 Cornwall Ave.
Opera Pastry & Coffee Shop was created by Parisian-born French Master Chef Eric A. Truglas, owner of EAT. This is our humble contribution to the Bellingham food scene, we hope you will enjoy our savory and sweet creations!
SAKU Tea Bar | 833 N State St.
Bellingham's first tea bar proudly offering specialty superfood lattes and a thoughtful collection of the world's best loose leaf teas. Come share our love of tea! Sample our superfood latte blends and receive 20% off of your next drink!
Seifert & Jones Wine Merchants | 19 Prospect St.
We will be pouring 3 wines that have something in common. It's your job to try to figure out how they're connected. Removing all the marketing "BS", it comes down to just one thing: Do you like it? Tasting 12-4.
Terra: Organic & Natural | 1530 Cornwall Ave.
TERRA is Whatcom County's organic grocer and the anchor store in the Bellingham Public Market. The Market is also home to a variety of other great local businesses, including Electric Beet Juice Co, Ambo Ethiopian Cuisine, Makizushi, Wild Whisper Café, Living Earth Herbs, Film is Truth and Mt Baker Books.