Farmers, restaurateurs, food business folks, and food system enthusiasts – mark your calendars for the 2022 Virtual Farm to Table Trade Meeting! Hosted by Sustainable Connections in partnership with Business Impact Northwest and Seattle Good Business Network, this virtual event is a unique opportunity to build business relationships across the food sector, learn about the latest food and farming news in Washington State, and celebrate the incredible work that your community is doing. Spanish translation service available | El servicio de traducción en español disponible.
What can you expect to get out of attending:
Meet new food buyers and producers
Get new ideas for diversifying market channels
Hear stories of producers and businesses in this region adapting to change
learn how to access free technical assistance
Registration is still open for our Farm-to-Table Trade Meeting! We have partnered with the Seattle Good Business Network and Business Impact NW to make this a special event during Food Biz Week. Your Free registration will not only include access to our half-day programming lineup, but also the option to attend any Food Biz Week session and additional networking events.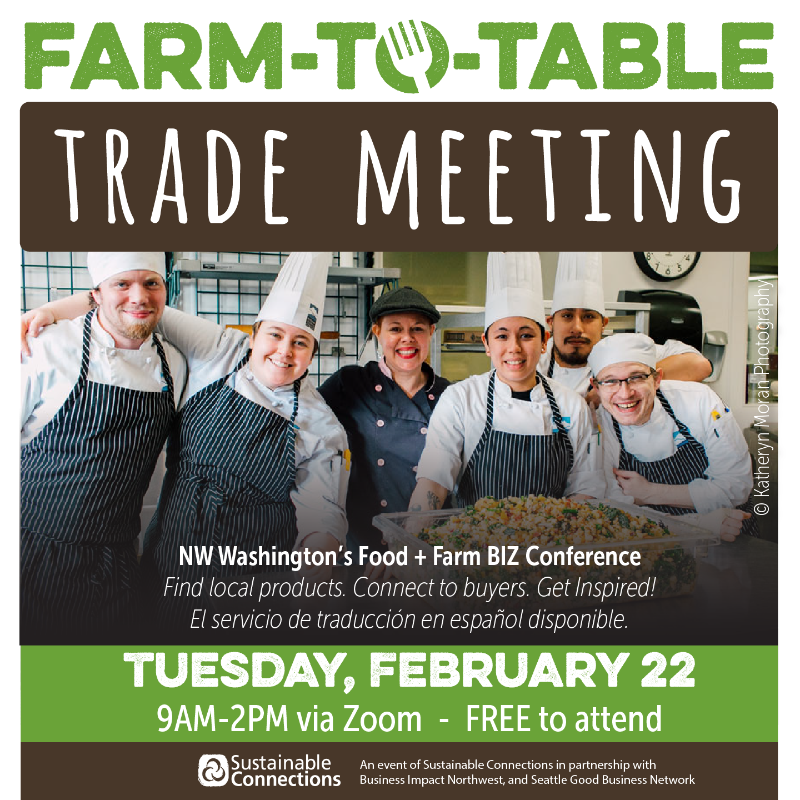 Day Of Agenda:
9:00- 10:15 AM: Essential Links – Upcoming Food Infrastructure Projects to Connect Our Local Food System
How can we help local restaurants and even institutions source meat more locally at the scale they need? How can we preserve the harvest to make sure we can source from local farms year-round? How can we ensure there are equitable entry points into the wholesale market for BIPOC- and women-led businesses? How can we provide more fresh and nutritious food access to our communities, especially those facing food insecurity? How can we better organize our food recovery efforts to ensure that food makes it to our tables instead of becoming waste? All of these questions can be addressed with solutions in the often-overlooked middle of the supply chain. Hear about exciting new food processing and infrastructure projects being developed in the Pacific NW to help our locally grown and harvested food get from the soil and sea to your table. 
Panelists:
Hannah Kullberg, Business Development Director for Community Co-Pack
About Community Co-Pack
Community Co-Pack NW is a low-barrier contract manufacturer that incubates and scales BIPOC- and women-led businesses. We are activating a community-oriented production facility that flips the narrative on the co-packing experience and centers it on the maker. Through this work, we foster a more equitable and inclusive consumer products industry.
Yamila Sterling, Program Manager at Solid Ground, Emily Penna Program Manager at Meals Partnership Coalition: "South Seattle Community Food Hub"
About South Seattle Community Food Hub Project
The goal of the South Seattle Community Food Hub is to develop an economically self-sustaining facility capable of achieving three core objectives: 1) Increase the capacity, resiliency, and collaboration between hunger relief agencies across the region through shared infrastructure; 2) Expand access to aggregation, packing, storage and processing infrastructure for regional growers to increase the quantity of locally grown food used by the hunger relief sector and to facilitate market access to other institutions and; 3) Support and promote a more local, just and sustainable food economy by prioritizing food hub resources, services and infrastructure to BIPOC, Immigrant and Refugee -led and -serving growers and community-based organizations that have not traditionally had access to such infrastructure.  
Christeena Marzolf, Owner of Falling River Meats: USDA Meat Processing Project
About Falling River Meats: USDA Meat Processing Project
Marzolf Meats/ Falling River Meats is owned by Darron and Christeena Marzolf. This husband and wife team do custom meat processing along with USDA retail meats that they sales, online and soon from their new store front in Downtown North Bend. Their operation includes on farm slaughter, WSDA custom cut & wrap and soon USDA slaughter and cut & wrap, in addition to processing they make value added products like hotdogs/corndogs and a raw pet food line. Darron is a fourth-generation butcher who helps local farmers harvest their animals. He is also on the King County Ag Commison and sits on the advisory board. Having spent many years as a board member of SnoValley Tilth and chair of its Livestock Committee, Christeena continues to sit on multiple SnoValley Tilth committees. They are both passionate about local meats and making sure not only that farmers have access to processing but also that consumers are educated on its true cost and the value that local meats and a resilient local food economy will provide.
Linda Neunzig, Agriculture Coordinator for the Snohomish County Conservation and Natural Resources: "Snohomish Food & Farming Center"
About the Snohomish Food & Farming Center
The Snohomish County Food and Farming Center is a centrally located facility that will provide access to resources for the processing, distribution, aggregation, valued added production, direct and wholesale sales of locally produced agricultural products. These components were identified by farmers as key infrastructure to the viability of their business's.Through the support of Washington State and Snohomish County the first phase is currently underway. 
Matt Gurney, Chief Innovation Officer at FareStart: "Kent Valley Food Entrepreneurship Center"
About Kent Valley Food Entrepreneurship Center
FareStart, acting as an anchor tenant looking to secure approximately 30,000 square feet of production space primarily for a regional food security commissary which would receive, and process recovered and purchased food providing a valuable need for food pantries, meal providers and other hunger relief organization to utilize to offset labor shortages, minimize duplicative work and support economic mobility training through warehouse, driving and enhanced processing. Additional production and processing activities would complement FareStart also believes that there is power in community and is seeking to collocate existing food entrepreneur programs in an additional 20,000 square feet of space to foster mutually beneficial relationships and deepen capacity to integrate culturally relevant food into hunger relief meals.  These organizations would also benefit from the commissary services FareStart intends to deploy.
10:30-12:00 PM: Facilitated Networking
Zoom link to join session
(you will need an extra minute to fill out your name + business info to join)
This is a highlight of the Farm-to-Table Trade Meeting each year! Adapted for digital meeting space, our meetups will use Zoom breakout rooms to maximize the buyer and producer connections. Past attendees reported an average of 6 new sales connections as a result of the event, and the Farm-to-Table Trade Meeting in total has generated more than $500,000 in new sales each year.
12:00-1:00 PM: Break
1:00-2:15 PM: Wholesale Opportunities for Local Producers
A consistent barrier many food buyers have in sourcing locally, whether it's a restaurant, a grocer, or an institution, is a lack of information about what producers are out there and what they are selling. This is a particular challenge for smaller and emerging producers who may not have the marketing resources to find new customers. Join us to learn about the work being done to support new and existing wholesale producers while building resiliency into the fabric of our local and regional food supply chains.  
"The way we see it, buying food from our local growers and producers is part of ensuring our collective food security and a vital step in emergency preparedness. We believe local buying is a 'must do,' not a 'nice to do.' The pandemic has brought this point home. Because we buy locally, we have been insulated from the supply chain disruptions others have contended with. We are so grateful for our local growers and producers!" – Erica Lamson, co-owner of Pizza'zza
Join us for a conversation with the following experts in their communities about the changes to operations, funding, and learn about opportunities to access a variety of wholesale markets with new statewide digital infrastructure.
Panelists:

Annette Slonim, Farm to School Purchasing Grant Specialist at WSDA
Read Annette's Bio
Annette is the Farm to School Purchasing Grant Specialist with WSDA's Regional Markets Farm to School program. She joined WSDA in August 2022 after graduating from the University of Washington with a Master's in Public Administration. Annette has over 7 years of farm to school and local food system experience, including work for a local food hub doing outreach and sales to schools and other institutions.
Erica Lamson & Will Annett, Owners of Pizza'zza
Read their Bio
Will Annett
Will has spent his entire 30-year career in restaurants. He has owned and operated Pizzazza, a pizzeria in Bellingham, for the past 15 of those years. He is passionate about making and serving delicious, accessible and scratch-made food for everyday people. Over the last 15 years, he has increased Pizzazza's local purchasing from a handful of ingredients to spending between 60-80% of the business' total food dollar with local growers and artisan producers.
Erica Lamson
A nutritionist and food lover, Erica joined Will in the business in 2015. In her professional and personal life, Erica's work centers around connecting people to nourishing, delicious food. While she has diverse experience within many facets of the food system, from government to nonprofits to small business ownership, at the end of the day, she simply enjoys feeding people and feels fortunate to have the opportunity to do that in partnership with her husband, Will.
Lupita Nava & Gerardo Quiroz, Co-Founders, Functional Foods | Owners & Operators of Tortillas Con Madre
Read their Bios
Lupita Nava:
Lupita obtained a degree in Informatics from The University of Nuevo Leonin Monterrey, Mexico. She has worked for corporations like Coca-Cola as a systems analyst. Lupita and her husband owned and operated a CornTortilla factory in Monterrey, Mexico prior to relocating to Washington State in 1997. While caring for her young family, she worked in the Nooksack and Lynden school districts as a Teacher assistant until opening functional Foods where she wears many hats: from Bookkeeper to production coordinator, and what she loves the most SALES. Lupita has held the value of nutrition at her core, and as she has done for her family for many years, she now wants to do for the community.
Gerardo Quiroz Castro: Obtained a degree in BSc Systems from The University of Nuevo Leon, in Monterrey Mexico. Gerardo has worked in many different industries ranging from chemical to mining, to commercial aerospace, and currently works in the organic industry. He has extensive experience in project planning, facilities design and construction, and Installation & Operation Qualification. Gerardo supports Functional Foods in regulatory compliance and acts as the representative with FDA and WSDA. He is their PCQI under FSMA and ensures all processes and procedures align with Government expectations. Gerardo's participation has been very valuable while designing and strategizing the business startup and expansion.
Mark Bowman, Bowman Farms & North Olympic Development Council (NODC)
Read Mark's Bio
Mark is the Sustainable Agricultural Coordinator for North Olympic Development Council (NODC). He works with farmers in Clallam and Jefferson counties helping them overcome hurdles to growth. Additionally, Mark manages several consulting contracts through NODC helping non-profit loan funds train lending staff, work through credits, and strategic planning. Prior to joining NODC, Mark was a rural economic development and lending consultant for 7 years having worked with 14 small businesses, non-profits, Native CDFI's and farmers.
Mark has lived and worked in rural communities his entire life. He has a Bachelor's of Science in Agricultural Business from Cal Poly, San Luis Obispo. Agricultural, rural business, and first nations' lending was his focus for 17 years with the Farm Credit System and Craft3. Mark likes to work one-on-one with clients identifying risk points and finding creative solutions to promote business stability and growth.
Mark and his wife, Nancy, have lived and worked on the Olympic Peninsula since 1999. In his spare time, Mark owns and operates a goat ranch in Port Angeles selling meat to restaurants, grocers, and individuals.
Developing Regional Wholesale Markets for Farmers on the Olympic Peninsula (noprcd.org)
Patrick Durgan, Director of Food Services and Executive Chef at Bellingham Public Schools
Read Patrick's Bio
Patrick Durgan began his role with the Bellingham School District in January of 2016. He was hired as the Director of Food Services and Executive Chef to lead the food service department in building a centralized kitchen and transforming the program to scratch-cooked meals for all schools in the district. His work experience involves working over 10 years in Higher Education at Portland State University and most recently at Western Washington University. His passion for providing kids healthy and delicious food options truly embodies the vision statement of the Bellingham Good Food Promise, "Real Food Made with Love".
Bellingham Public Schools Central Kitchen
Facilitated by: Maressa Valliant, Sustainable Connections | Eat Local First and Mariah DeLeo, Seattle Good Business Network
Thank you to our partners:
       
Thank you to our sponsors!