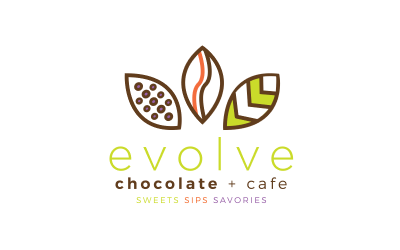 (360) 220-1898
evolvechocolatecafe@gmail.com
evolvefairhaven.com/
Christy and Shannon Fox, co-owners and founders of Bellingham's Evolve Truffles (circa 2011-18) are both madly passionate about chocolate, local food, and flavors. With just 30 years of experience, classically trained Chef Christy along with creative muse wife Shannon Fox, and her own catering background, expanded the chocolate menu and opened their flagship cafe in the summer of 2018. Evolve Chocolate + Cafe; deliciously perched on the mezzanine level of Village Books in historic Fairhaven Village.
In April 2020 Evolve Chocolate + Cafe pivoted to curbside pick up weekend dinners then to bbq + patio on the Fairhaven Village Green and will stay on the green as long as the sun permits, Then in the fall (once allowed) will re-open with a new dessert + drink menu with small sweet treats!
Woman-owned;LGBTQIA+ Owned
Sustainable Practices: Bank Local First;Community Energy Challenge;Eat Local First;Toward Zero Waste;PSE Green Power Purchaser;Salmon Safe Certified;USDA Certified Organic
Sales Methods: Online Store;Wholesale
Neighborhood: Bellingham: Fairhaven
Return to Main Business Directory or View ALL Business Listings