TC Legend Homes worked with owners, John and Carrie Trax, to design and build their vision of a modern farmhouse. Having the home fit the site was a priority, and TC Legend's design achieves this by orienting the home to maximize solar potential as well as meadow views. The farmhouse style features a wraparound porch and easy walkout access to the planned orchard and garden. Clerestory windows on the south are a departure from the classic farmhouse style, but provide excellent daylighting to the interior of the timbered, open-floor-plan home.
The design maximizes passive-solar gain in winter and minimizes it in the summer. The large south-facing roof includes a 12.5kW solar array sized to power the home and future electric vehicles as a net-zero home. An HRV provides excellent indoor air quality, while an innovative heat exchanger tied to the HRV along with an air-to-water heat pump provide heating to the home.
Structural Insulated Panels (SIPs) and Aerobarrier sealing give this home a super insulated and airtight building envelope, while reducing construction waste. An Insulated Concrete Form foundation and 5" of under slab insulation keep the radiant-heated concrete floors warm and comfortable. Triple-pane Vinyltek windows and doors help keep the home cool in summer and warm in winter.
Designed with aging in place in mind, all necessary functions are on the first floor. An attached heated shop and garage are on the same level and provide additional working space. A timbered staircase leads to guest rooms and a well-lighted home office on the second floor.
This home is a modern interpretation of a farmhouse using the latest materials and construction techniques for energy efficiency.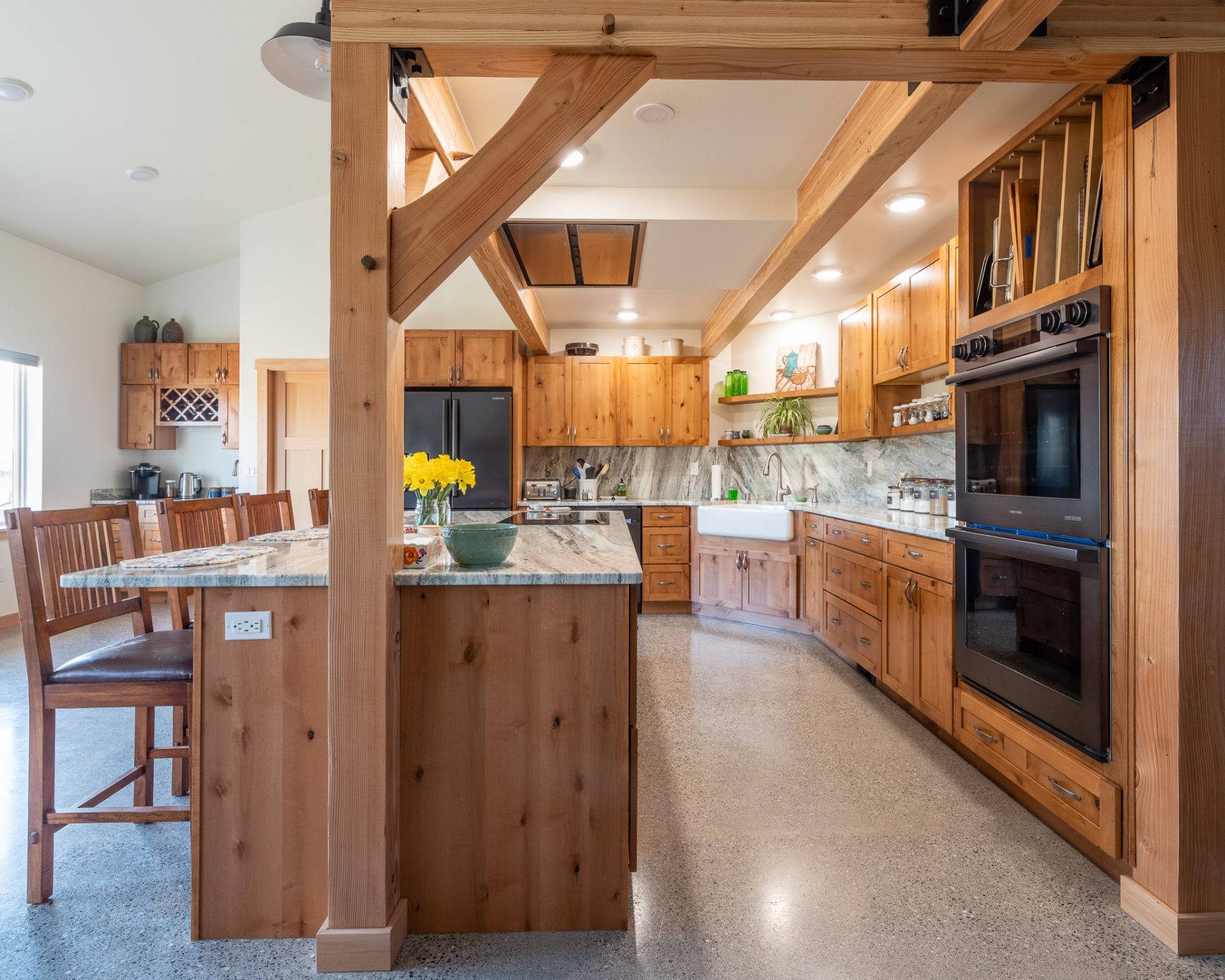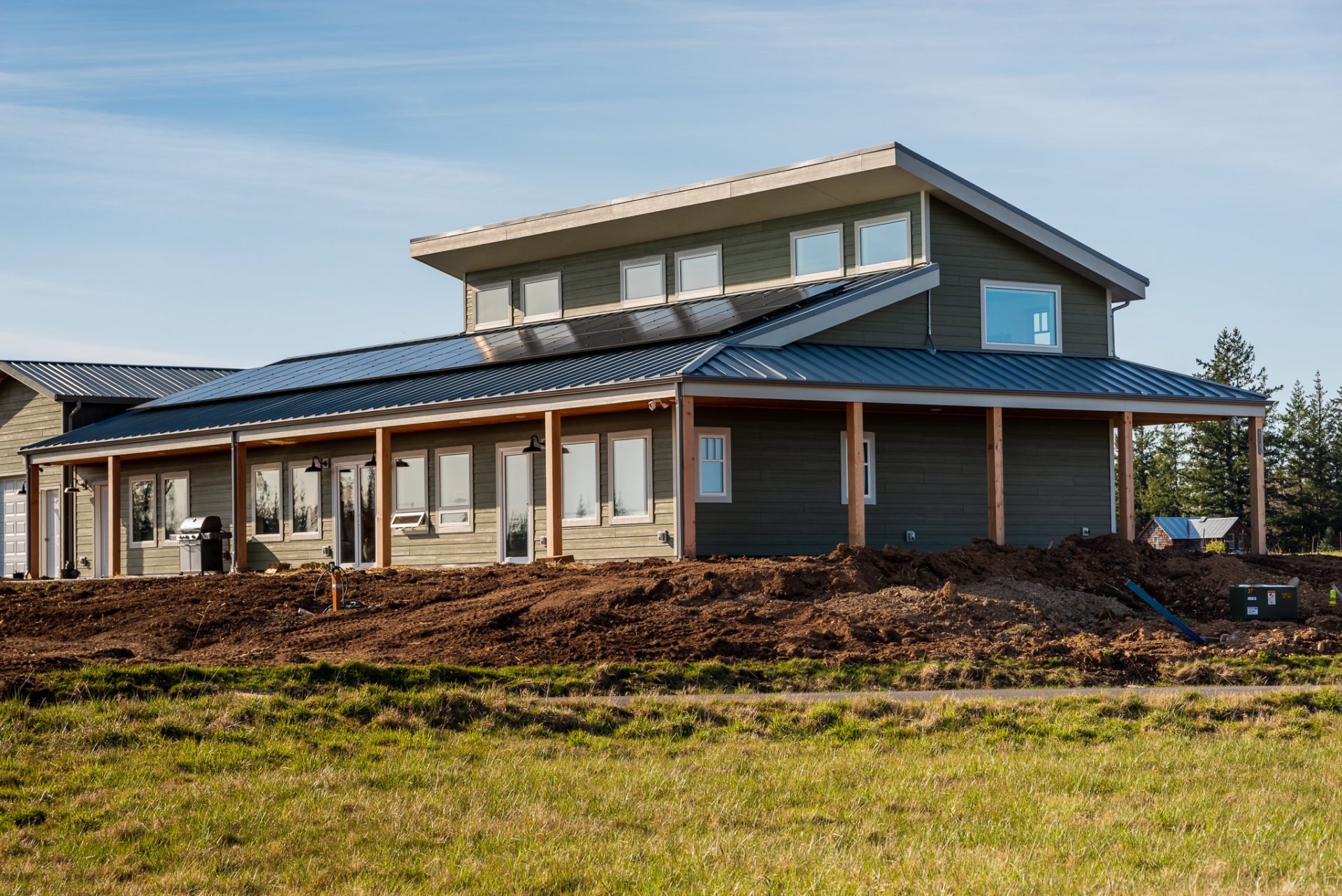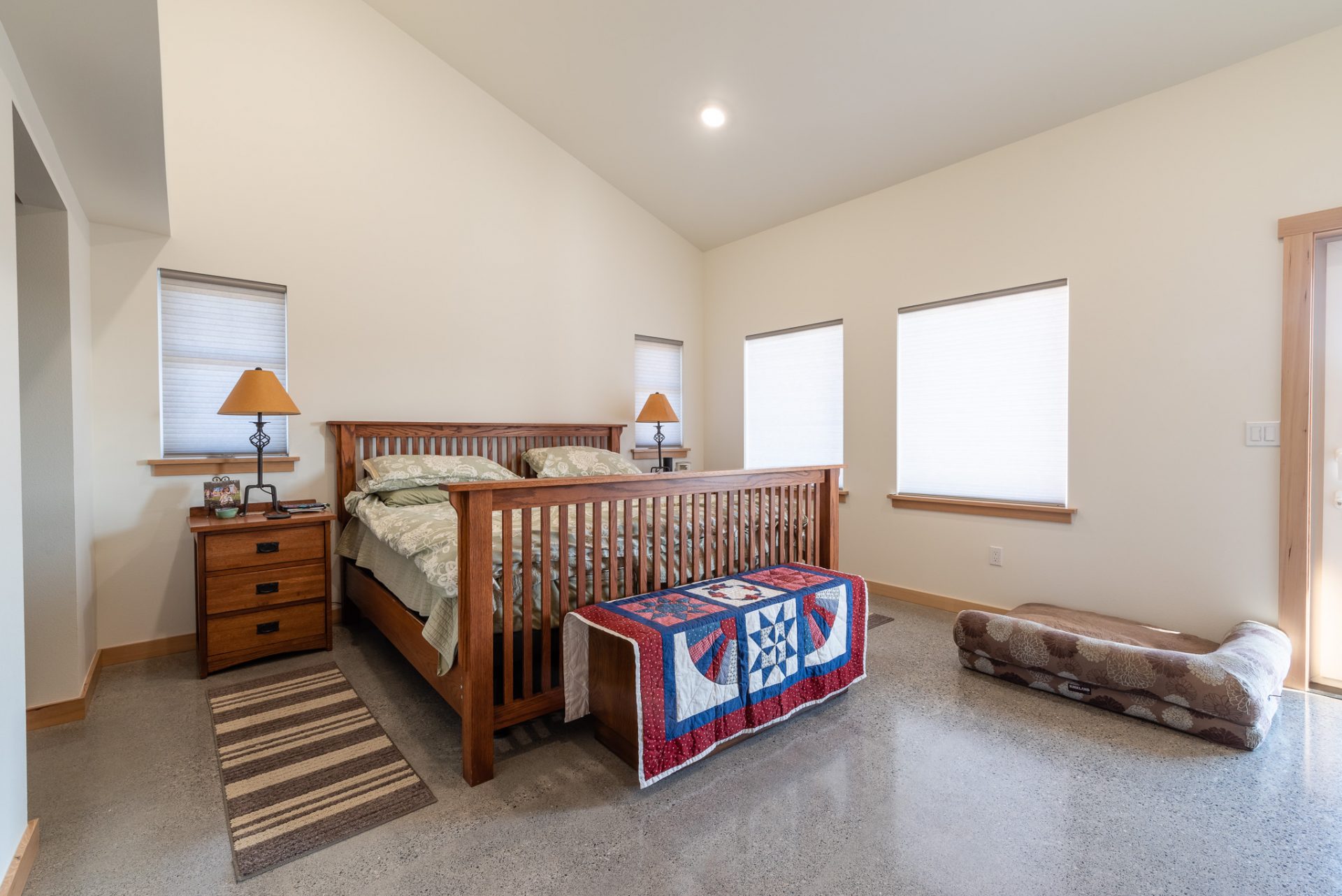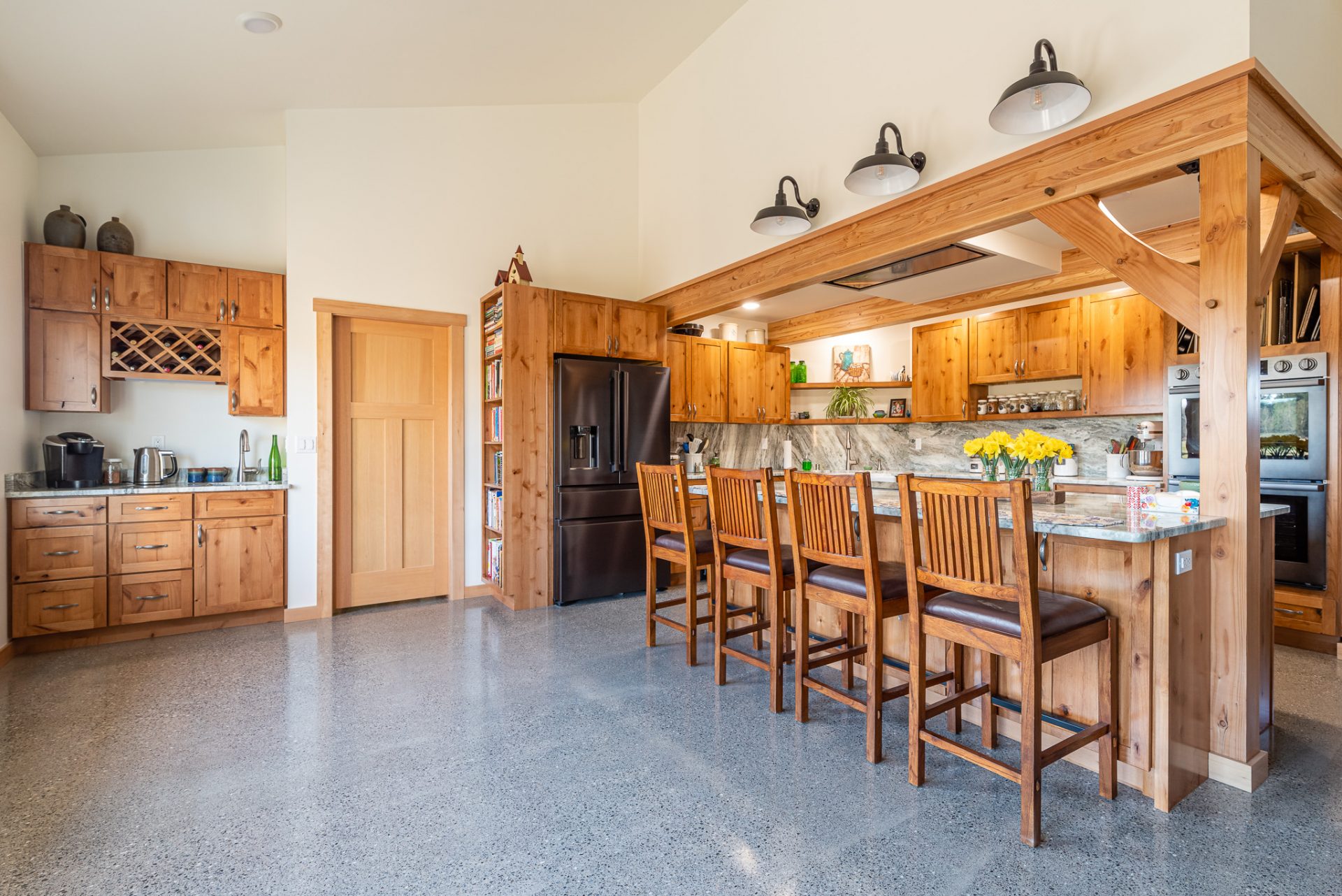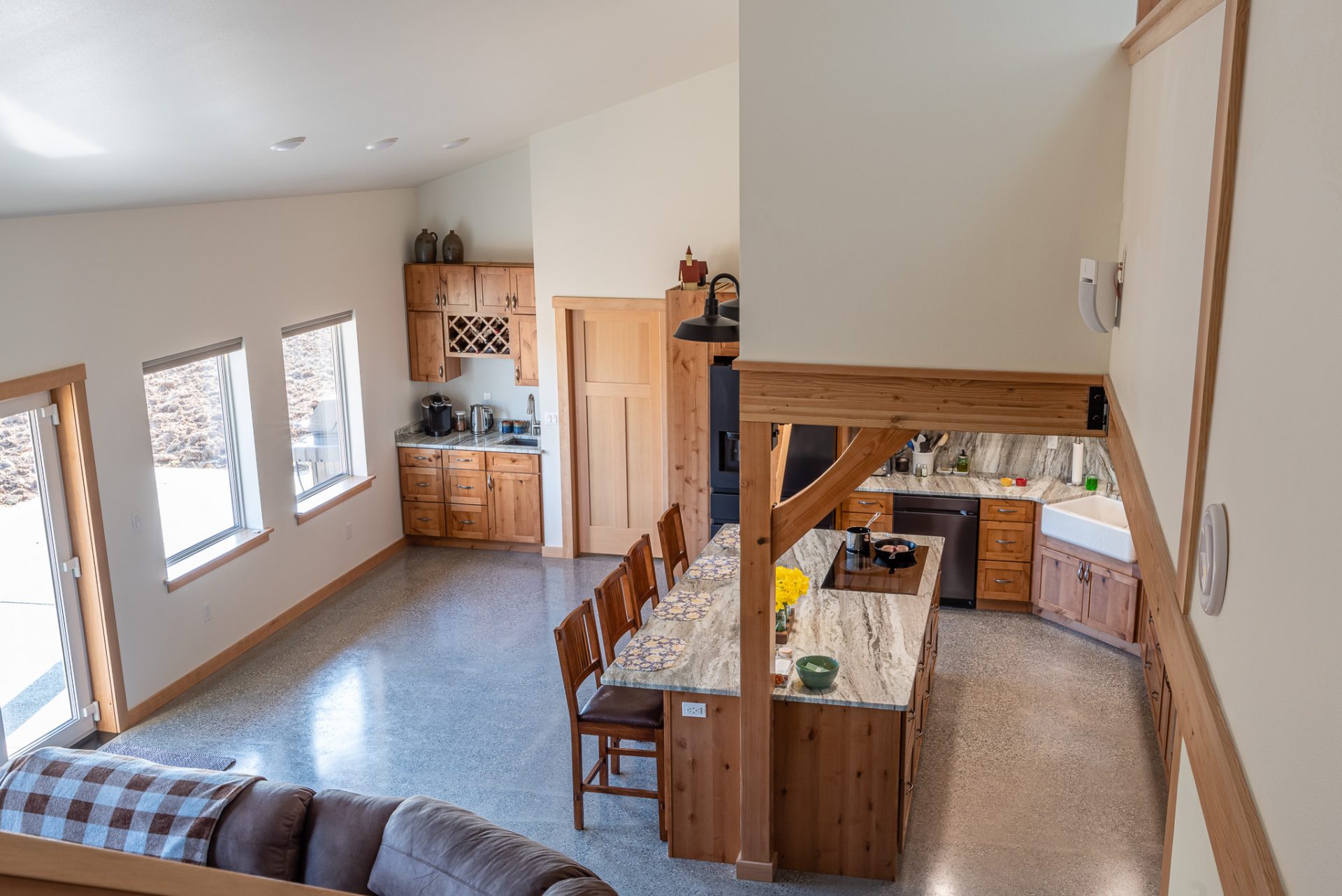 Design

Passive solar design

Aging-in-place features

Wraparound porch

Orientation and roof design maximize active solar potential

Resilient Home features for seismic, storm, and fire protection

Location

South facing site with excellent solar potential

Building designed to integrate with slope and features of the property

Site

Balanced cut and fill to minimize material moving;

Drought tolerant and native landscaping combined with an orchard and vegetable garden

Wetlands and wildlife consideration

Water Efficiency

Low-flow fixtures

Hot-water recirculation system

Heat pump hot water system

Energy & Atmosphere

Chiltrix air-to-water heat pump

Zehnder Q600 HRV

All LED lighting

Natural daylighting

Energy-efficient appliances

Triple-pane windows

12.5kW solar array

Smart-home features for energy management

HERS: TBD

ACH: TBD

Materials & Resources

Locally sourced Structural Insulated Panels building envelope

Insulated Concrete Forms foundation construction improves floor insulation

Form-A-Drain footing system reduces waste and improves foundation drainage

Indoor Air Quality

HRV, Low VOC materials, MERV 13

Certifications & Education

Will be: Built Green 5 Star, Net Zero Energy, EPA Indoor airPLUS, Energy Star, CRRC Cool Roof