Greenwashing – Stretching the Definition of Sustainable
Imagine my surprise when yours truly, the supposed Toward Zero Waste expert, fell victim to my own personal definition of "sustainable" leading to my purchase of the wrong product. As we work to reduce food waste and increasingly divert organic material from landfill, contamination is the bane of a commercial composter's existence. Yet, here I was, contributing to the problem. I've written in this space before about the challenges of proper separation of waste streams and how the lack of consistent labeling in addition to suspect practices make it problematic for the Toward Zero Waste professional to make the right choice–not to mention the average consumer.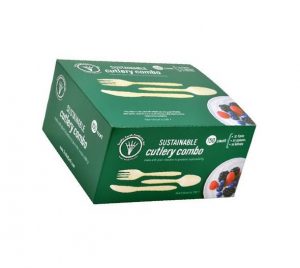 So, I have a bit of a bee in my Toward Zero Waste bonnet about plastic disposable cutlery labeled all over in big bold letters as "sustainable" but in little, tiny letters (if at all) on the back indicating for landfill use only! Take for example the pictured box of "sustainable" cutlery sold at many retailers. At first, second, and likely even third glance, we feel we're making the right choice by picking items labeled "sustainable" for our Toward Zero Waste event, food truck, or restaurant to-go ware.
In this case, I suppose if you stretch it, there is some value to the fact that this particular brand is reducing the amount of petrochemicals used in manufacturing their plastic by incorporating plant-based bioplastics in the mix. Nevertheless, the fact remains that it is disposable, single-use cutlery designed for the landfill and sold to you as "sustainable". Maybe the intentions are good, but the packaging is unquestionably misleading; and consumers unknowingly purchasing a product like this specifically based on characteristics that it does not in fact have is definitely not good.
I admit it, the flashy packaging fooled many, myself included, and despite our intentions, those "sustainable" plastic forks are not going to turn into compost. We are partly to blame in a good way I suppose, because in our community, where composting is widely available, many assume sustainable means compostable. But when it comes to labeling, biodegradable does not necessarily mean compostable and sustainable does not inherently mean compostable. The end result is that our local commercial composter, Green Earth Technology, who handles and composts Whatcom County's food and yard waste, has to do their best to screen this plastic out so it doesn't end up in your vegetable or flower garden.
Many businesses have been trying to do the right thing, but unfortunately, greenwashing in the form of suspect labeling creates challenges. Anything can be labeled sustainable–but what you are really looking for are products accepted by your local compost facility. Cedar Grove located in King County is one of the leading compost facilities and does extensive testing on products for compostability to determine what can actually be successfully composted. They maintain the most up-to-date list of items accepted for compost here locally or look for the ASTM 9000 Compost Labels.
Compostable alternatives are available from your food service vendors and this is an increasingly common requirement of businesses. A good sales representative will help you purchase the right stuff. And, by all means request compostable products be carried by your local retailer, and clearly labeled – the Community Food Co-op is a good example of a retailer that does this well. Finally, if you are looking to go the extra mile and must provide single-use cutlery check out this edible option!