Located in the Columbia neighborhood, just a short walk from the heart of downtown Bellingham, The Heliotrope Hotel celebrated its grand opening last weekend! Once a 1950s motel, the Heliotrope is exemplary of a beautiful transformation of a weathered historic property in need of some love, providing a much needed addition to the Bellingham community. The Heliotrope is truly a one-of-a-kind hotel, offering a sense of place unique to the Pacific Northwest, with a modern twist, setting it apart from the lack of individuality of larger, corporate-style hotel chains in the area.
We sat down with one of the partners, Bellingham local and Western alumnus Dylan Green, who has played a key role in the Hotel's interior & exterior design, marketing and communications, and asked him a few questions about the Heliotrope and its Think-Local-First attitude.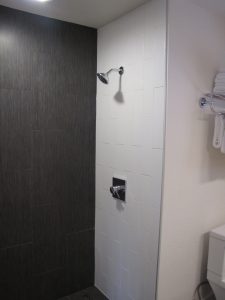 The main goal behind the creation of the Heliotrope was to not only create a lodging experience, authentic to the culture that exists in Bellingham, but to also provide a personalized experience for its guests, and to enhance the community as a whole. The owners have done precisely that, with rooms named after local mountains and trails, such as Mt. Shuksan, Mt. Baker, Twin Sisters, and of course, Heliotrope Ridge. With 18 rooms, the Heliotrope is able to provide its adventurous guests with ample storage space for skis and snowboards, mountain bikes, etc., as well as offer local knowledge regarding mountain bike tours, skiing, snowboarding, and hiking at Mount Baker, kayaking and paddle-boarding tours, and special deals at local breweries, restaurants and coffee shops.
The Heliotrope is dedicated to supporting local businesses and sustainable practices, participating in Sustainable Connections' Community Energy Challenge, utilizing eco-friendly chemicals in cleaning practices, enforcing strict recycling & composting standards, and sourcing as many building materials as possible from local businesses in the Bellingham community. Additionally, the Heliotrope is in the process of making plans to install a massive solar power system.
We can't wait to tell all of our friends about this awesome hotel!
www.heliotropehotel.com
2419 Elm St Bellingham, Washington 98225
booking@heliotropehotel.com