If you look up "pasty" in the dictionary, you'll find an entry that reads something like this:  
Pasty (pass-tee) n. | Savory hand pie originating in Cornwall England. A hearty meal miners took down to the tin mines. 
Holly Bevan-Bumford, owner of Holly's Meat Pies, would agree with this definition. She'd also add something more. After all, for this business owner, baker, and local food champion, a pasty isn't just a pie. It's also a way to nourish, comfort, and care – for individuals and for her community.
I met with Holly in her Everson kitchen, where she's been cooking, baking, and sharing food for almost eleven years. The smell of a slow-cooking pot roast filled the air as her talented employees chatted and prepared the pies. Holly visited with local farmers who stopped by to drop off their wares, offered a smile to the teenager whose first job is in this kitchen, and shared her story.  
"Cornish pasties are a working-person's food," Holly explains. "I make a hearty meal! I love to feed people, so I'm combining that love with my passion for sourcing sustainably-raised food as much as I can."  
Holly's love of food and local sourcing took form eleven years ago. "I decided I really wanted to have a food-based business," she recalls. "A friend had taught me about pasties, and I thought they were the perfect food for busy working families. Having raised kids and known what it was like trying to get them to their events and to school, I thought it would be cool to have something that was a healthy, hearty meal that wasn't just pizza. Love pizza, but you don't want it every night!"  
That kind of care and consideration is woven into every aspect of Holly's business, and has shaped the many ways she's sold her pasties over the years. She has sold her pies at the Bellingham, Lynden, and Everett Farmers Markets, saying, "What better place than to be next to the farmers who are growing the potatoes, carrots, and onions!" She's had physical locations in Lynden, Everson, and now downtown Bellingham.  
But as Holly approaches 11 years in business, she's looking to simplify and prioritize what truly matters to her – feeding people food that nourishes their bodies, spirits, and the local community. One of the ways she does that is by focusing on local sourcing. 
"From the very beginning, I've worked to get local grass-fed beef," Holly explains. "I've been in business almost 11 years, and for 10 of those years I've been working with Todd and Michelle of Meadow Fed Farms. I've also been with Appel Farms from the very beginning, and Dusty from Broad Leaf Farm, too. Working with Dusty is so great – I still marvel at being able to meet someone at the time I started my business who could grow enough potatoes and onions to keep me going for 8-10 months out of the year! And Spring Time Farm is now supplying my carrots, and I'm so excited about that."   
Not only do these local ingredients make her pies taste fantastic and build relationships, they also communicate the values behind the business itself. As Holly says, "When I started Holly's Meat Pies, I realized I could use my purchases to highlight the things that are important to me. At that time, I was obsessed with Michael Pollan's The Omnivore's Dilemma. I grew up on a small hobby farm, spent some years around a dairy farm, raised goats and horses, and did 4H and FFA – which all gave me a unique perspective on farming. When I read his book, I laughed, I cried, and was inspired."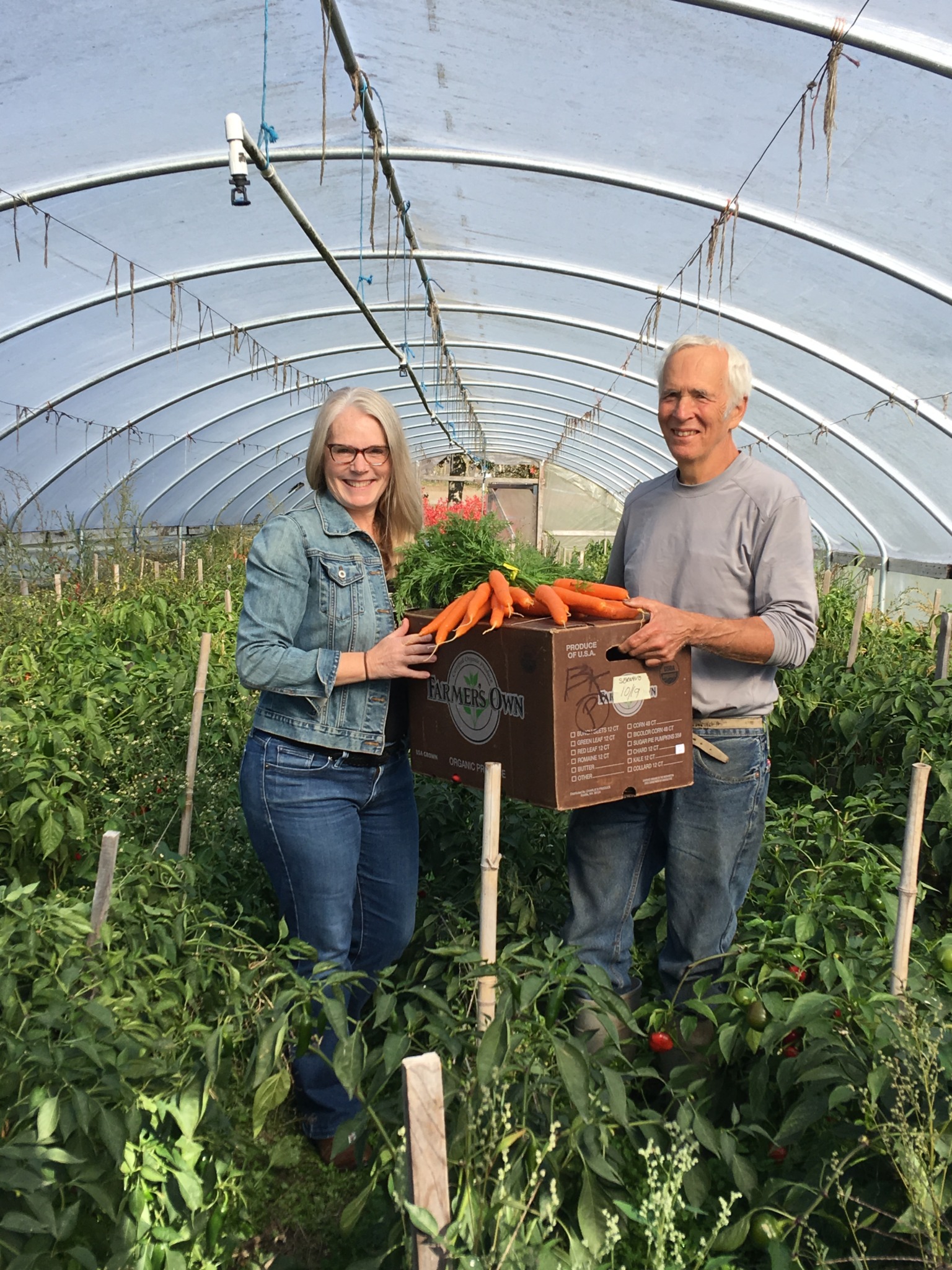 Holly and Dusty of Broad Leaf Farm
Holly recalls the challenges of starting a business that prioritized local and sustainable food. "When I started the business, I had people tell me, 'Don't say it's organic, it kind of turns people off and they'll roll their eyes.' But I need to stand for something. I work with local farmers and I work with Sysco. The person I work with at Sysco knows how important sustainably raised meats are to me, and I kept pushing him, saying, 'I'm not going to buy commodity meats.' What's important to me is pork raised well. I've raised pigs and I care about how they're raised. Sysco helps me get that, and also makes it more affordable. It's important for big companies like that to hear that people care about their food and they care about sourcing."  
And care is at the heart of Holly's Meat Pies – it shows in the quality of the food and the way Holly shows up for her community. While running a food business is challenging in so many ways, it is also deeply rewarding. "I get so many stories about how much people appreciate my food," Holly shares. "Truly, everyday people thank me. During Covid, people were totally isolated and they could leave pies with their parents or people who were housebound. It was comfort food in a time that was really tough." 
Holly's pies have provided comfort through many tough times, including Covid and the devastating floods of 2021. She provided food to frontline workers throughout the pandemic, those affected by the floods, and tireless workers who helped rebuild.  
And it's not just food Holly has shared – it's the opportunity that comes from a decade of employing local people. "I can't tell you how many young people I've had come work with me for their first job, their first connection," she says. "As of this summer, I've employed 65 people and paid out $900,000 in wages. I can tell you about every single person, there are stories for every one of them."   
With these values at the heart of her business, and her own personal beliefs, Holly is moving her business forward by adding shipping. "I feel like over the past 11 years, I've gotten my Ph.D. in pasties," Holly says, laughing. "And now I'm ready to put my education to good use!"  
With the support of a WSDA infrastructure grant and mentors like the team at Lummi Island Wild, Holly's Meat Pies will focus on integrating shipping into the business, sharing the meat-pie-love throughout Western Washington.  
But no matter how they get to your plate, Holly's Meat Pies exemplify what it means to put love into food – love of community, love of the planet, and a love of comfort food that really can get us through the tough times.