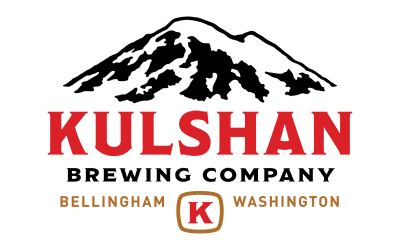 Sunnyland – 2238 James St
Roosevelt (K2) – 1538 Kentucky St
Trackside – 298 W Laurel St Bellingham WA,
(360) 389-5348
info@kulshanbrewing.com
www.kulshanbrewery.com
Founded in 2012 by Bellingham-born David Vitt, we are one of the fastest-growing breweries in Whatcom County, highly regarded for making delicious and well-balanced ales and lagers. Just one year after opening, we doubled the size of our brewhouse to 15 barrels in order to keep up with demand. In 2015 we opened a second brewery, affectionately named 'K2', in Bellingham with a 30-barrel brewhouse. In the spring of 2021 we opened Trackside, our seasonal beer garden, located on the redeveloping downtown Bellingham waterfront. We have a strong following for our extensive line of award-winning beers, including Sunnyland IPA, Bastard Kat IPA, Red Cap Irish Red Ale, Heliotrope IPA and much more, plus a host of seasonal, specialty and limited-release beers.
Sustainable Practices: PSE Green Power Purchaser;Whatcom Smart Trips
Sales Methods: In-Store;Wholesale;Vending
Neighborhood: Bellingham: Alabama Hill
Return to Main Business Directory or View ALL Business Listings