Located on 40 acres of Sauk-Suiattle, Upper Skagit, and Stillaguamish lands, Long Hearing Farm grows food to nourish their community and neighbors, listening to the past as well as to the future. As farmer-owner Elizabeth Bragg puts it, "Our mission at Long Hearing Farm is to grow food as if the lives of the kids in our community matter." 
That ethos is woven through the origins of Long Hearing, as well as the way it continues to grow into uncertain and unpredictable times. Long Hearing Farm's namesake is Elizabeth's grandma's grandma, whose name translates from Blackfeet into English as Long Hearing Woman.  
"According to my grandma, [Long Hearing Woman] was the sweetest human being, a generous, kind, and loving presence in her life," Elizabeth says. "She lived through these incredibly violent, incredibly hard and heartbreaking experiences – and she came out the other side of all that with so much love, her nickname was Peaches. We thought, 'Who better to use as inspiration than Long Hearing Woman?' We're all also going through challenging times, and we need a reminder to have joy as a guiding principle."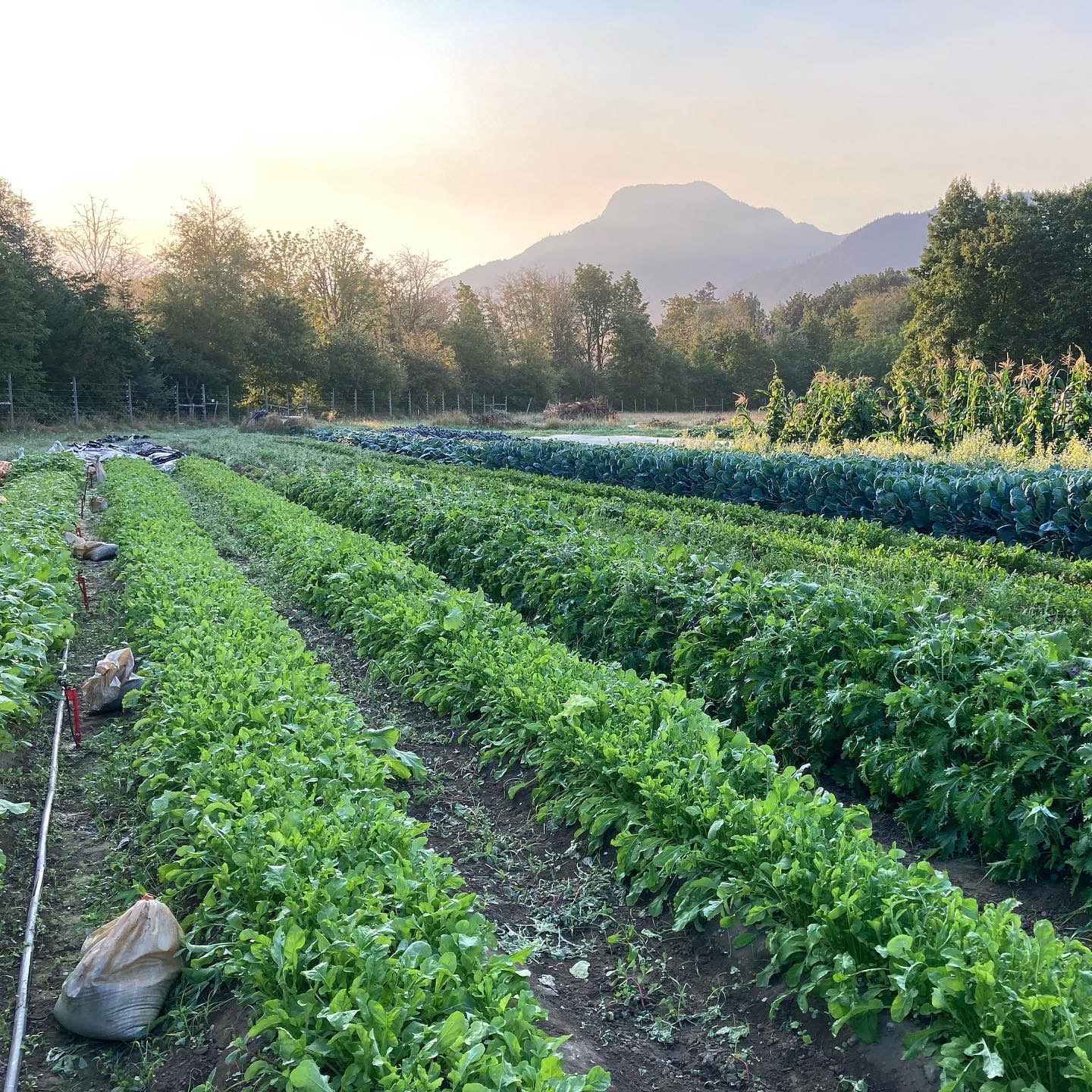 While the name is very personal to Elizabeth's family and story, it also holds deep meaning for her farm partners Kelly Skillingstead and Reed Rankin. "They were like, 'We love that name, too,'" Elizabeth recalls. "It means something different to them, long hearing into the future to listen for what's coming, long hearing into the now to learn how to be grounded, and long hearing into the past to bring our families into the present."  
Long Hearing was grown through relationships, both with the community and with the land itself. "We are lucky enough to be mentored by Anne Schwartz of Blue Heron Farm," Elizabeth says. "As she started to reduce the acreage she was managing, she sat me and my coworkers down and said very generously, 'I want this land to continue to produce beautiful organic vegetables. Would any of you like to take on aspects of the business?' I joke that I am in my own Anne Schwartz incubator program, because she really opened it up to all of us. And continues to support us every day!"  
Elizabeth had been working in the food and farming world for about ten years, and describes the beginning of Long Hearing as "an opportunity that fell into our laps. I had been a farmworker, and a field manager at different farms, and hadn't amassed a big savings account to start a farm, but it had always been my dream."  
And with the support of Anne, Kelly, Reed, and their landlord Lois, the dream has slowly, and with intention, become a reality. "We said yes to this land with the intention to change the production a little; we transitioned towards a low-till and no-till approach. We're using permanent raised beds, and only tilling the first inch of soil." 
Long Hearing Farm is a workers' coop, with Kelly running the Farmshare distribution and administrative aspects of the farm, while Elizabeth manages the plant production, crop planning, watering schedule, etc. "We also have two folks who have been with us for two or three seasons, and we've started to move in the direction of becoming a democratically-run farm," Elizabeth adds. "We're figuring out what that looks like, how we can make it as transparent and autonomous and exciting and fair for all of us."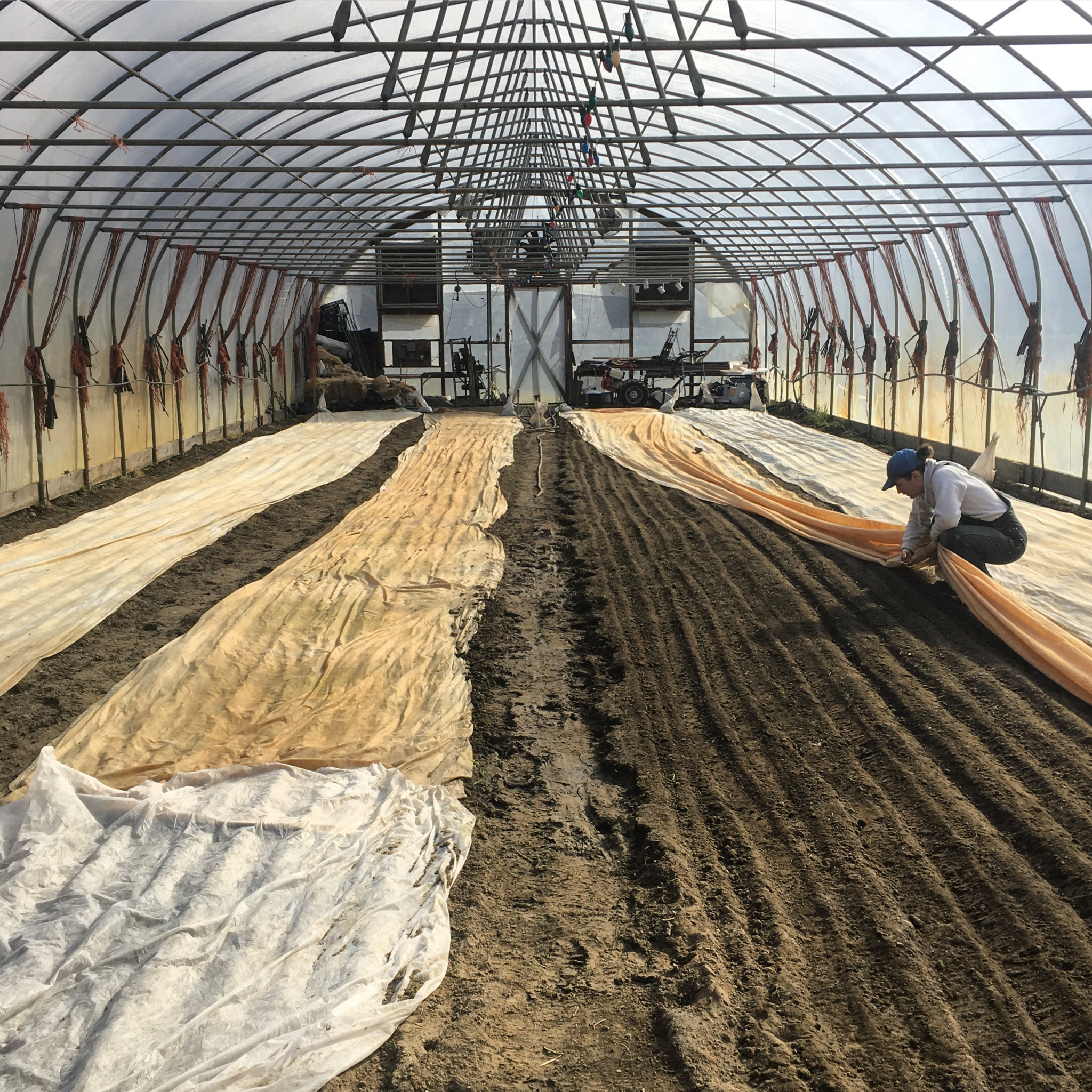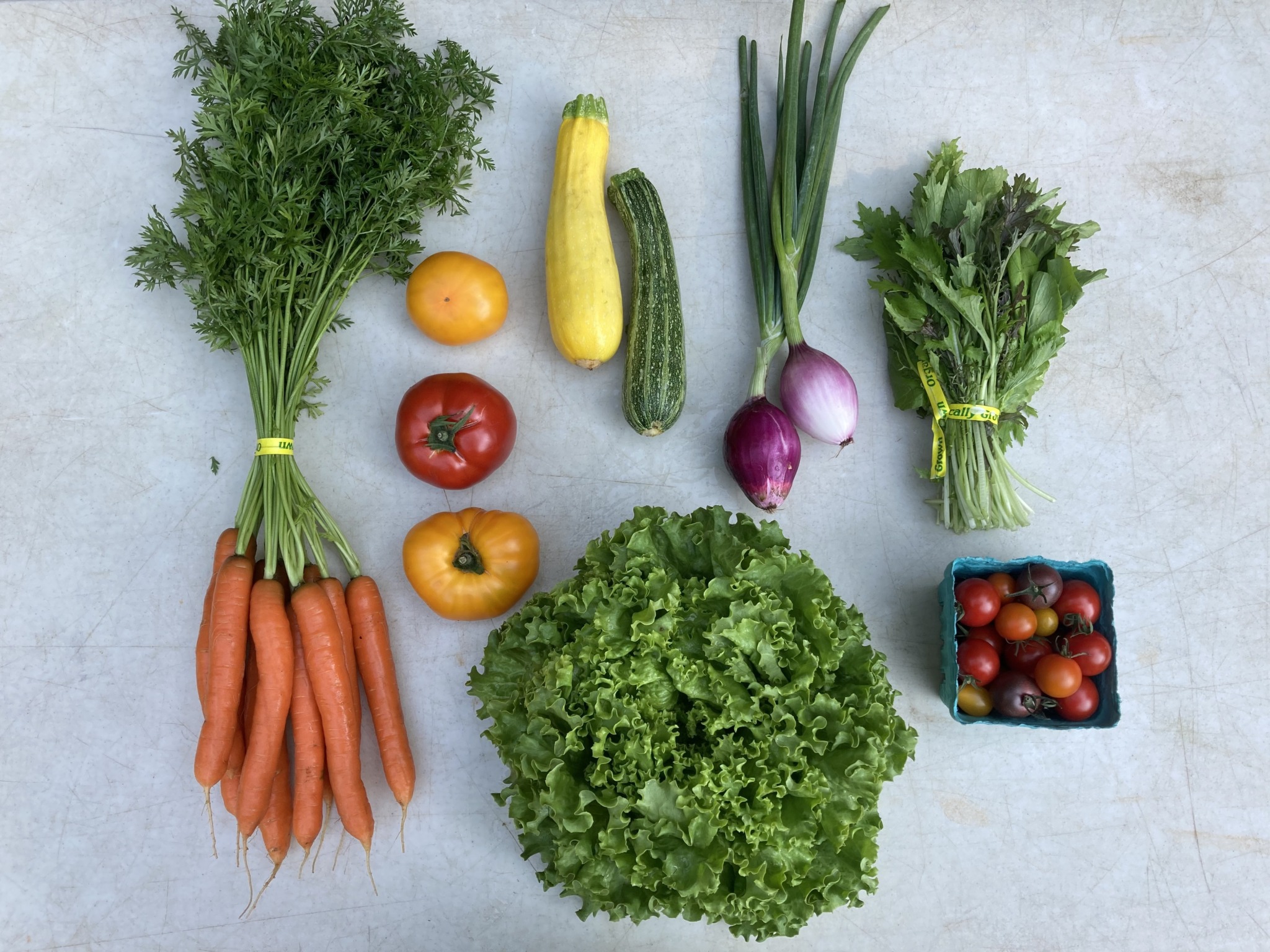 Long Hearing currently manages 6.5 acres of their 40-acre piece, with about 3.5 acres under cultivation. They grow the full gambit of vegetables, including carrots, salad greens, tomatoes, spinach, and herbs, and have a wholesale account with the Skagit Valley Food Coop to provide their arugula, salad greens, and other items like snacking peppers and bunched carrots.  
Long Hearing's food reaches a wide variety of neighbors and community members, primarily serving the upriver communities of the Skagit and Stillaguamish Valleys, including the towns of Darrington, Marblemount, Rockport, Birdsview and Concrete. "We're really lucky to have strong relationships with the local food banks, some of the tribal food programs, and both of our local school districts," Elizabeth says. "And the biggest way that we feed families in our community is through our farmshare, or CSA."  
Last year they had 75 members, with most residing in upriver communities – though Long Hearing Farm also offers pickups in Mount Vernon and Sedo Woolley. "We really are feeding our neighbors," Elizabeth shares with pride. "We've tried to innovate and make it more accessible. All our CSA sign-ups are available on a sliding scale. We have three different tiers: a community-support level; a standard price; and a lower cost share that folks can participate in. We also accept EBT benefits, and this year we're really excited to participate in the Food Rx program. We love to participate in that kind of innovation to make fresh, organic, local food more accessible; we're one of the only certified organic farms in our area."  
Long Hearing's Farmshare is a gift to their community. "Eating seasonally is such an exciting adventure for those who want to say yes to that," Elizabeth says. "We can grow great corn, peppers, and hotter crops up here, which is really nice. Our members describe it as 'Christmas every Wednesday'. And there are socioeconomic benefits. Our farm has all these big expenses in early spring and summer, and no produce to sell, so the Farmshare sales help with that."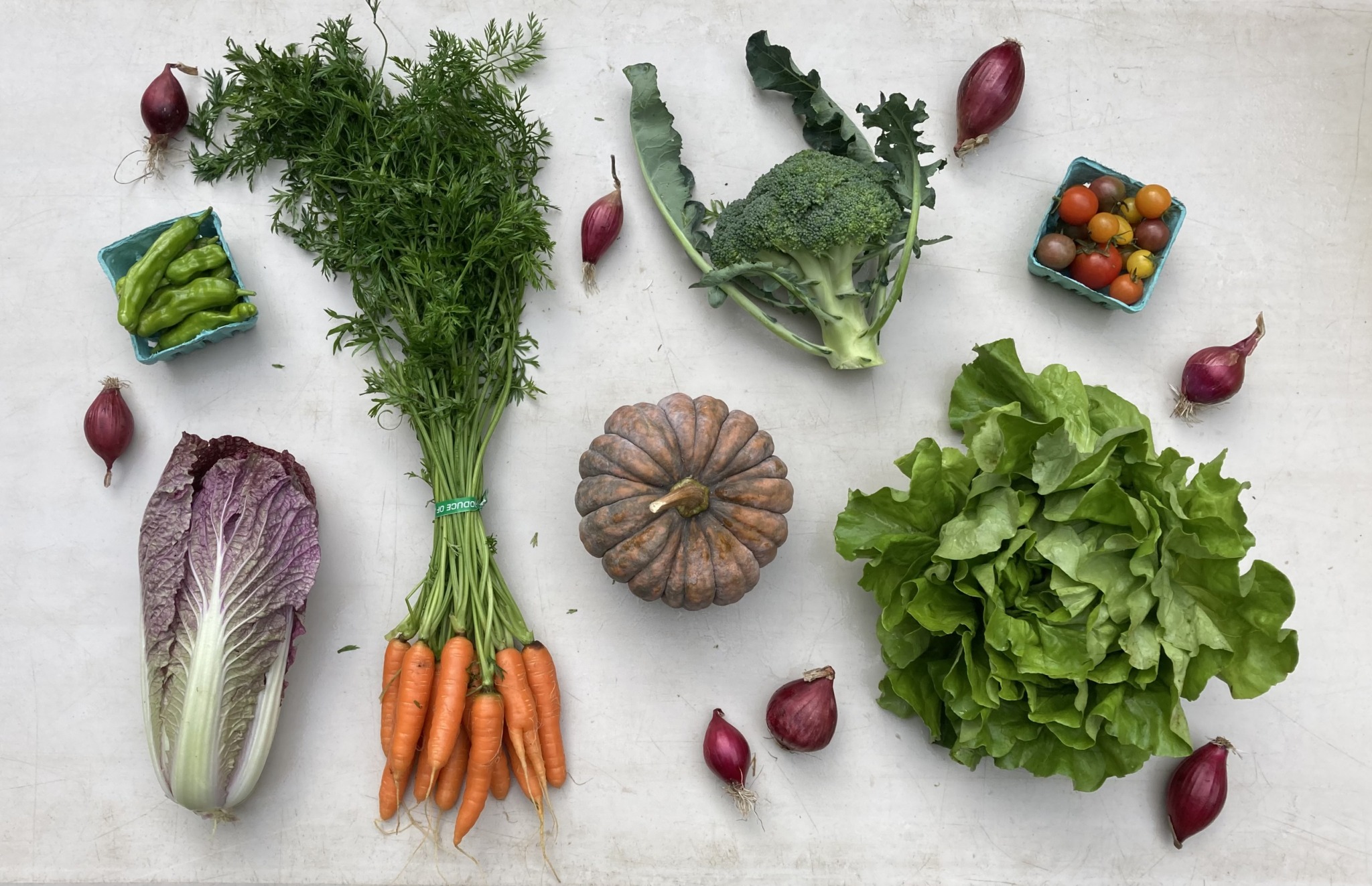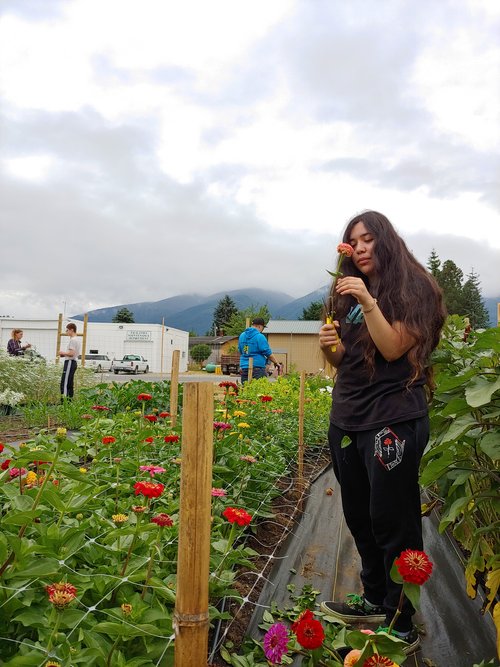 Vanessa, a student part of the Concrete Farm-to-School Program
In addition to their full-share, Long Hearing also offers exciting add-ons. They're in their second year of a spring Farmshare , which is full of delightful salad greens, peas, and other vegetables that provide a welcome introduction to the abundance of the upcoming season. Anne, Elizabeth's mentor, continues to grows berries, and Long Hearing offers a berry share with six weeks of her organic blueberries and raspberries. Long Hearing partners with the Concrete Farm to School program for a bouquet share, which is flowers grown, arranged, and delivered by high school students. And since they are so close to North Cascades National Park, they offer a share directed towards seasonal park employees. "We put a lot of love and attention towards our farmshare," Elizabeth says.  
That love shows in their produce and the way Long Hearing relates to their community and the land on which they live and grow food. "The most rewarding part of our work is this deepening intimacy with the land we work with," Elizabeth explains. "Every year it feels a little more connected, and I understand a little more about what's going on if I'm listening and paying attention. I can see that the birds are going after the blueberries since the blackberries dropped all their flowers because of the cold. I can see, with the low-till methods we've had for four years, the soil structure we've built. I can see the way the living soil has benefited from these production practices." 
And it's not just the land that's benefited from Long Hearing's love and attention. "I also find it so rewarding when I see a three-year-old that's now walking and talking and eating carrots and being like 'These are the best carrots I've ever had!' and I'm like, 'I've literally been feeding you carrots since you were a tiny little baby in your mom's belly!' We've really deepened our relationship with our neighbors as well as the land."  
The farmers of Long Hearing Farm grow food in a way which listens to the needs of their soil, their land, and their neighbors. Learn more about Long Hearing Farm here, and sign up for a Farmshare here. Long Hearing Farm envisions a future in which the lives and nourishment of children in their community truly matter. Join them on their journey of reciprocity, generosity, and joy by signing up for a Farmshare.