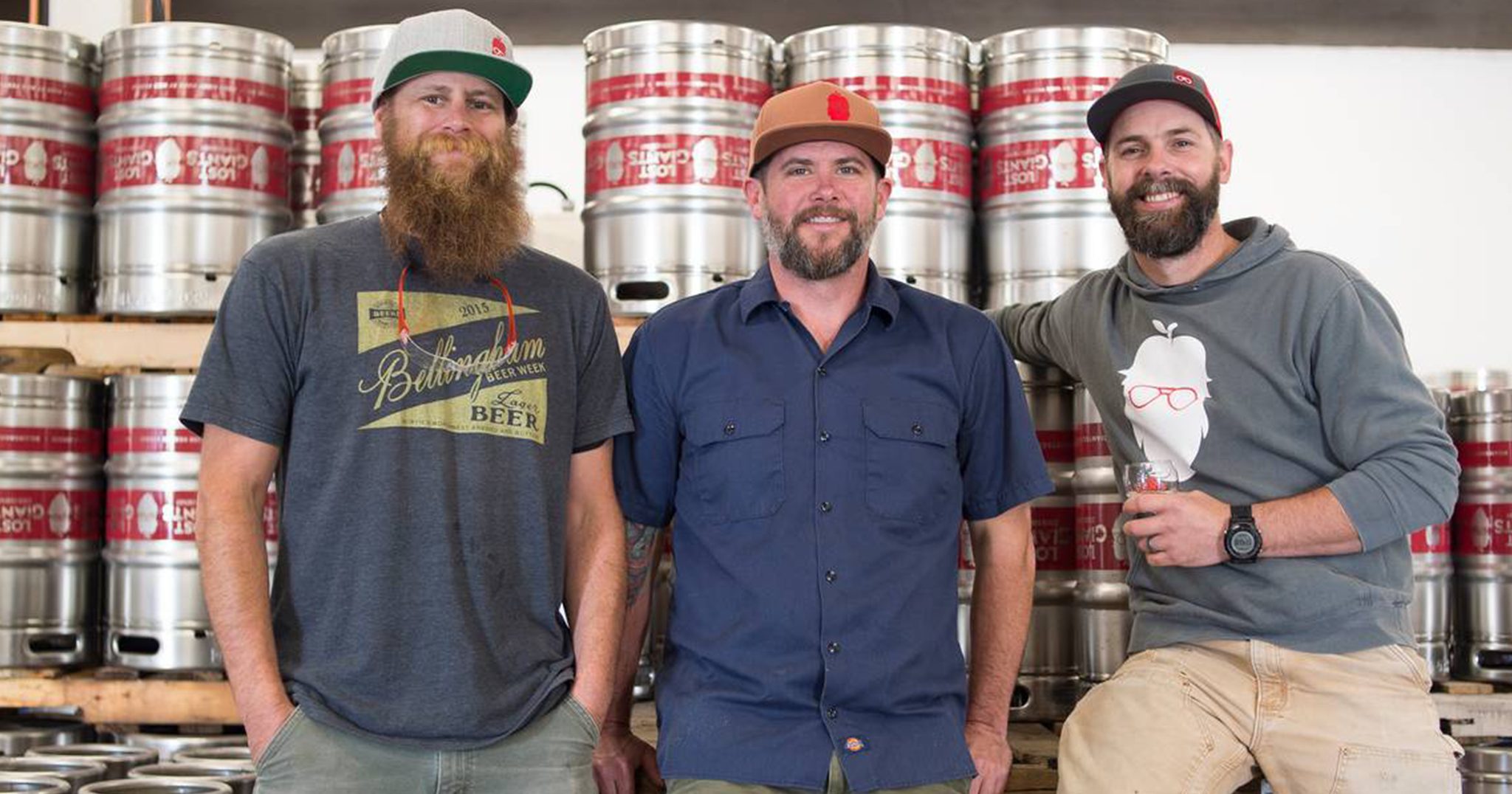 Good Cider Made By Nice People
For the love of all things Bellingham… you need to get to know Lost Giants Cider Co. Pull up a chair.
Let's start with the basics: What is cider? The universal definition is pretty simple, just unfiltered apple juice. And, lucky for us, apples are abundant in Washington State. We actually produce 60% of the apples consumed in the United States! It only makes sense that the cider business is booming. Friends and co-owners Abe Ebert, Brad Wilske, Chris Noskoff (pictured above) harnessed their passion for all things fermented, love of the Pacific Northwest, and desire to cultivate community through a business of their own. The trio founded Lost Giants, started production in early 2018, and opened their taproom shortly after – and Whatcom County has welcomed them with open arms and minds.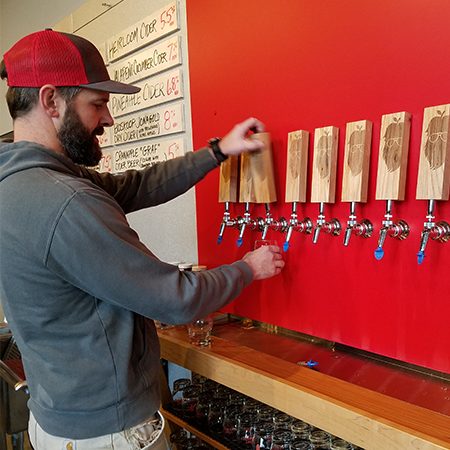 As our beer community knows well, the possibilities for brewed beverages are limitless. Lost Giants is a wonderful example of how delicious creativity can be. They are constantly experimenting and combining flavors with delectable results. One of Brad Wilske's favorites is to pour a half pint of their pineapple cider with the jalapeno cucumber for an unexpected party in your glass. Chris served us one to try: a hint of sweet, a dash of spice… Its good cider – made by nice people.  A fitting tagline, indeed!
Sitting with the owners of Lost Giants always brings a smile, and a sense of comradery; the kind with deep roots and connection. These entrepreneurs didn't just jump into the cider business unwittingly, they did so with an intentional vision and have brought something new to Bellingham that honors and respects the land, community, and relationships that they hold near and dear.
As part of their research and development process, Chris and Head Cidermaker, Abe, drove across the state visiting cideries, knocking on their doors, and humbly picking the brains of Washington cider makers. They recount how open and welcoming these businesses were, noting that every single cider maker they visited agreed to speak with them and show them the ropes.  In turn, Lost Giants hopes to become a community leader as well and create a local cider culture that mirrors the beer brewing scene here: open, accessible, and supportive. In addition to helping to educate the community, they also want to create more accessible resources for other cider makers in the future.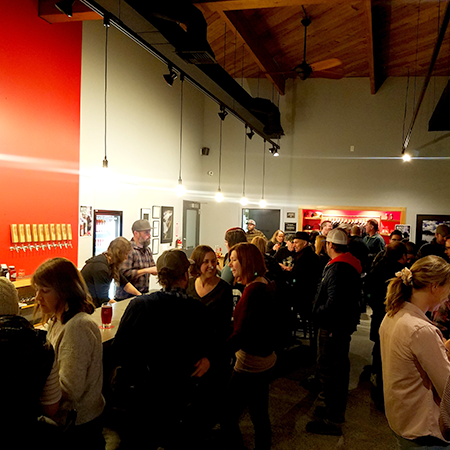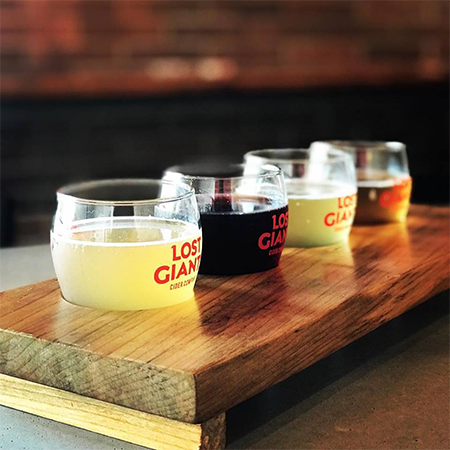 When asked how they landed on the name "Lost Giants," Noskoff recalls the challenge of trying to capture their love of the land and outdoors, while exhaustively searching names, which more often than not, ended up being spoken for.  Interestingly enough, when they were deliberating on the name 'Lost Giants' they discovered that it was already in use by local pillars of the Bellingham beer community, Boundary Bay.
Boundary had produced the "Lost Giants CDA" (Cascadian dark ale) as part of their Galbraith Mountain Series. The hopeful cider entrepreneurs approached Boundary with an ask to use the name, and true to the collaborative nature of this town, Boundary agreed to share. These two companies prove that being generous and supportive of each other builds strength that is measured in something more than dollars and cents – true community.
Boundary Bay's support of Lost Giants didn't end with sharing a name but has continued to be a valuable partnership for the cider company. They were the first customer to bring Lost Giants Cider in as a guest tap, and the first to ask to collaborate on a cider graf – a half beer, half cider beverage that is quite rare, just like this special relationship. Both the head brewer from Boundary and the head cider maker from Lost Giants were excited to collaborate (photo courtesy of Boundary Bay), and the resulting brew was delicious!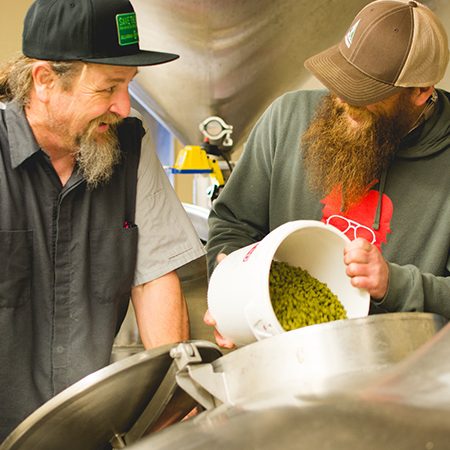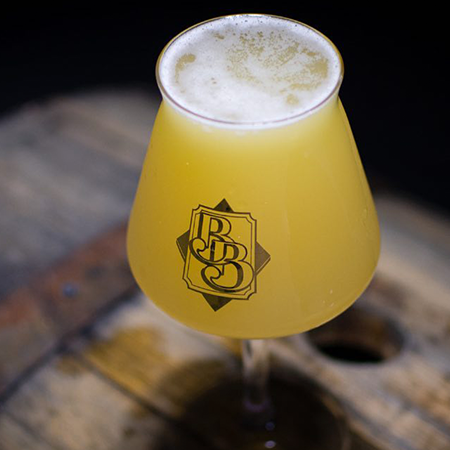 The crew at Lost Giants wants to invite people to experience cider in ways they didn't know were possible. "People often come in expecting something akin to an 'Angry Orchard' and they're shocked to see that there are so many variations in ciders; different flavors, aromas, and levels of sweetness," says Chris. This is not your mass-produced, syrupy sweet apple flavored beverage that many people think of when they hear the term 'hard cider'.  Lost Giants does not add "any sugars, sweeteners, coloring, additives or chemicals to our products, just the highest quality juice, and yeast that the earth can supply."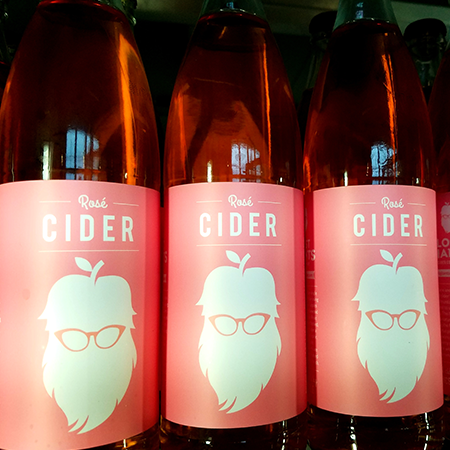 Their latest project with Bellewood Farms is the perfect example. Made from Bellewood's Mountain Rose apples the Lost Giants traditional Rose cider is the most beautiful shade of pink, crisp, and perfectly dry. A marriage of local apples and progressive craft cider, Chris hopes for more local farms to grow a larger supply of apples that they can buy, and keep money here in our local community.
"How great would it be to have a local farm like Bellewood need to hire more staff to produce the raw ingredients that we need to make our cider?" Noskoff says. He would love to be buying 25% of their apples from right here in Whatcom County.  Lost Giants has also drawn upon the wealth of orchard expertise from Cloud Mountain Farm Center, which produces hundreds of varieties of apples and other fruit trees, and serves as the go-to community education resource for growing fruit in Whatcom County.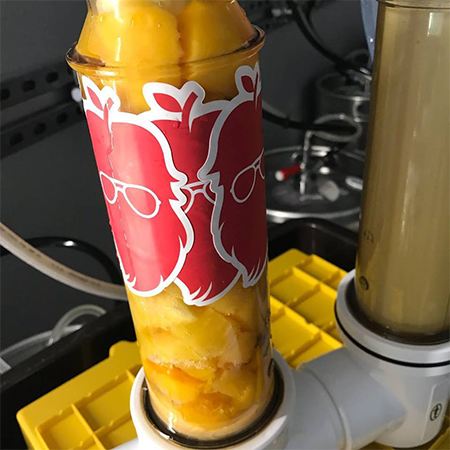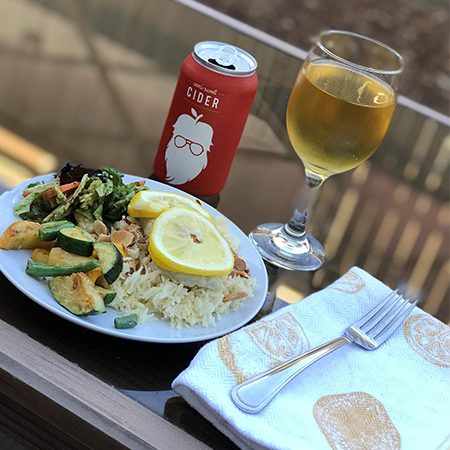 In addition to sourcing local apples, the Lost Giants crew enjoys seeking out other unique infusion opportunities for their weekly Infusion rotation. The Infusor is custom built and holds fruits or other ingredients, which is then hooked up to kegs behind the bar (pictured above). When they pull cider it mixes with the ingredients in the infuser and viola! you have wonderful flavor combinations that compliment your cider. Because of this, there is always something new to try in the taproom. Whether it is fresh cranberry rosemary in December, blood orange in January or a Habanero grapefruit combination in February, infusions are always seasonal and exciting.
Visit their cider page to see all the infusions they have featured thus far! We're also looking forward to the annual 'Sippin' on Cider' event coming up this fall – you won't want to miss it, and we'll be giving away a couple of tickets during September Eat Local Month, so stay tuned.
Good Cider made by nice people! It's true, y'all! Go grab a pint, and meet some nice people.
Lost Giants Cider Co.
1200 Meador Ave., Bellingham
Website
Facebook
Instagram