Low-Waste Libations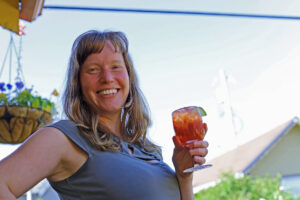 Doing good tastes good. At least, it can when you're drinking some low-waste libations that use ingredients that might otherwise head to the compost or even the *gasp* trash. 30-40% of food in America is wasted. Not only does this significantly contribute to climate change issues, it also takes a toll on the health and well-being of ourselves and our society. While a delicious beverage can't remedy that, it is a small and joyful step in the direction of a more sustainable world. Plus, it tastes 30-40% better than any other drink!
One-Size-Fits-All Recipe
Ingredients
Sparkling water
Ice
Optional fun add-ins: squeeze of lemon or lime; herbs to garnish; berries, 1 oz liquor of choice
Directions
In a 16 oz glass, add ice and syrup, saccharum, or shrub.
Top with sparkling water.
Garnish with whatever strikes your fancy!
Cheers!
Sustainability Syrup (Recipe credit: Punch Drink)

Ingredients
A handful of herb stems – mint, thyme, parsley, or basil work particularly well
Snap peas
Simple syrup (a 1:1 ratio of water and sugar boiled together, stirred, and then cooled until the sugar has dissolved)
Directions
Blend all ingredients together and strain into a jar/container using a muslin cloth.
Oleo Saccharum (Recipe credit: Food52)

Oleo Saccharum is a sweet and zesty syrup that lets your citrus peels shine. Instead of throwing away those used-up lemons, give them a new life in this delightful mixer.
Ingredients
1 cup citrus peels, stripped with a vegetable peeler (you can use a mix of whatever you have… oranges and lemons are common!)
3/4 cup sugar
Directions
Combine citrus peels and sugar in a bowl, measuring cup, or container. Mash vigorously with a muddler or spoon.
Leave for at least 5 hours and up to 24.
Strain out the citrus peels through a sieve. Really press hard, to extract the oil, and store it in the fridge for up to a couple of weeks.
Strawberry Stem Shrub
Been nibbling on all the glorious strawberries you've picked up from local farms and farmers? Use the leftover stems in this simple shrub.
Ingredients
Strawberry stems
Apple cider vinegar (ACV)
Directions
Soak strawberry ends in ACV for a few days. Strain, keeping the ACV/strawberry infusion.