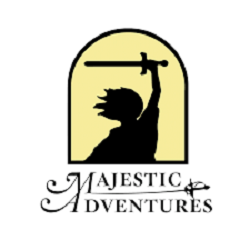 info@majesticadventures.net
questnorthwest.com
Majestic Adventures offers outdoor summer camps, birthday parties, and after-school enrichment programs in Adventure Quest – a live action roleplaying (LARP) program for kids ages 6-17.
In Adventure Quest, the children become the heroes of an incredibly fun and dynamic quest, working together in a mythical and magical world. They experience the excitement that comes from banding together to defend their village, solve a perplexing mystery, or negotiate a peace treaty.
Wielding safe foam swords, the kids play dueling games and act out challenges like fending off a bullying ogre or a band of pirates. Then they exercise their minds as they try to piece together the clues in a coded riddle and follow a map to buried treasure. Each program is a unique "Quest" – an interactive story that engages the children's imaginations while teaching them the fundamental principles of responsible empowerment, creative problem-solving, and cooperative conflict resolution.
Throughout each Quest, many opportunities arise for experiential education through the context of imaginative, interactive, and engaging play. And it's more fun than video games!
Staff of Majestic Adventures have been leading kids on Quests since 2003, and have been running Adventure Quest programs in Bellingham since 2013.
Sustainable Practices:
Sales Methods: Services
Neighborhood: Downtown: State/Chestnut
Return to Main Business Directory or View ALL Business Listings