By Mark Peterson
It's no secret that I get a lot of joy out of the game of soccer. There are so many facets to the "beautiful game" that keep me enthralled as a referee, a soccer parent, and fan. I love the fluidity of the game that flows with relatively few stops in play and no commercials. This makes it fun a fun sport to watch especially for those of us that are planners and don't enjoy the ambiguity of game duration like American football or baseball. I also love the international aspect too. My team is the Seattle Sounders and their starters hail from all over the world – USA, Sweden, Uruguay, Suriname, Peru, South Korea and Spain. Recently, I found even more joy from the game especially since the Seattle Sounders are leading the charge.
Two years ago we had the distinct pleasure of having Kevin Wilhelm of Sustainable Business Consulting as our keynote speaker for the Smart Business Summit. Turns out he is a big Sounders fan too and he mentioned somewhat coyly that he does a bit of work with the Sounders. Well, it turns out this "bit of work" was to help the Sounders organization be one of the most sustainable clubs in all of soccer.
The Seattle Sounders are now the first carbon neutral soccer club in North America. "We're incredibly excited to announce that our club is officially carbon neutral," said Sounders FC Owner Adrian Hanauer. "The Sounders have always been committed to investing in our community, and that includes recognizing the immense responsibility we have as environmental stewards. Sustainability is a key pillar of our club and this new step is a logical extension of the efforts we have already had in place. We were pleased to work with Sustainable Business Consulting and Forterra in achieving carbon neutrality and look forward to continuing our partnership going forward."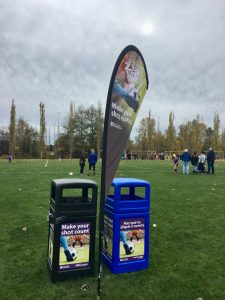 This accomplishment makes me happy to be a Sounders fan and in fact, some of the conversations I had with Kevin made me wonder what we may be able to do here locally. Phillips 66 Soccer Park in Ferndale, WA is a first class facility which is operated by Whatcom Sports & Recreation and also happens to be one of the most used athletic facilities in Whatcom County.  We were thrilled when Whatcom Sports & Recreation was equally enthusiastic as we were for helping to make their venue more sustainable. With some ideas in mind we applied and were awarded a Waste Reduction and Recycling Education Grant from the Washington Department of Ecology to help make our local soccer park a Toward Zero Waste facility.
As a result of the grant, we were able to provide new color-coded waste bins that will be labeled in both English and Spanish, additional Toward Zero Waste signage, and banners to help soccer park attendees find the centralized waste stations. Another key facet of this effort is the educational campaign encouraging soccer park attendees to "Make Your Shot Count" and to learn and understand the reasons why waste stream contamination and wishful recycling hamper efforts to divert waste from landfill. Depositing your waste in the appropriate bin helps make your shot count and achieve the goal of increasing recycling and reducing waste!
As the spring recreational soccer season gears up in mid-April we will be back out at the soccer park with our educational booth, fun sorting games to play and informational materials. Due to an unfortunate act of arson and a fire that destroyed the club and referee offices they are in rebuilding mode. Soon a new building will be going up that will be more energy efficient and provide better amenities. We would like to thank Whatcom Sports & Recreation for being a willing partner in efforts to reduce the impact of their facility and become the first Toward Zero Waste outdoor athletic venue in Whatcom County.