MIX employees are knowledgeable, cheery, and helpful!
Abundantly Delicious
By Alex Smith
November 2018
It's rare these days to find something that truly defies our expectations. We've been exploring the edges of absurdity for so long that things we might have once thought crazy have become normal and even expected. Food is no exception, and we've certainly seen the boundaries of what's possible to eat. From edible foam to bacon-wrapped turduckens it's safe to say that if you can eat it, we've created it.
Despite the abundance and variety of food, there are still some things that seem far-fetched or even a contradiction in terms. The rise of fusion cuisine, vegetable-based diets, and gluten-free baking have dispelled some of these myths, but there's still one that persists: good food has to take a long time to prepare. The slow food movement has taught us that a good meal can take hours to prepare. But who has time for that?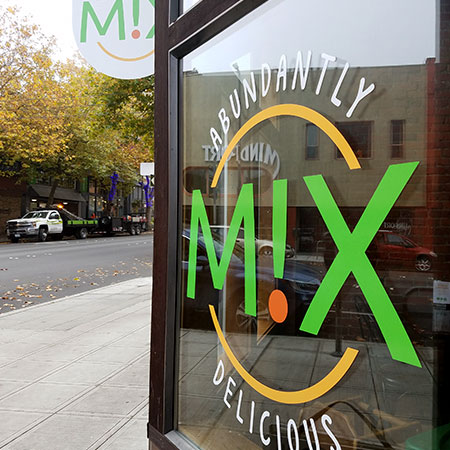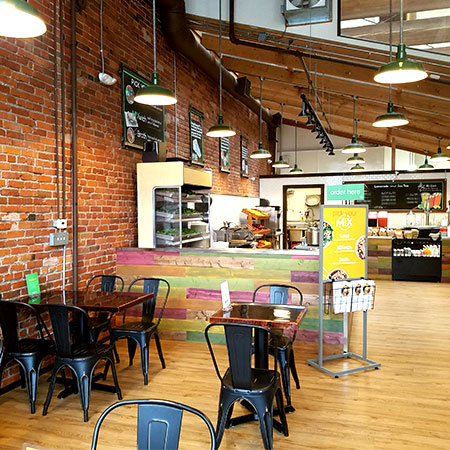 I should be clear that I often do. I enjoy cooking elaborate meals. But I also have a job, play soccer some nights, enjoy socializing and don't always have time to spend as long as I'd like on dinner, much less lunch or breakfast. What am I to do when faced with this dilemma? High quality locally sourced food that you can also get quickly seem to be akin to the idea of star-crossed lovers; Montagues and Capulets at odds with one another.
Because of this internal struggle, I was especially thrilled to discover the Romeo and Juliet of delicious/healthy/local/and fast: M!X. Their first location is open near the corner of Holly and Bay Street, while another in Barkley Village will be opening November 28th. A third location is planned for early next year They use clever techniques to make it easy to get quality food quickly. While the focus is first on flavor, they also prioritize providing truly nourishing meals and making it easy and quick.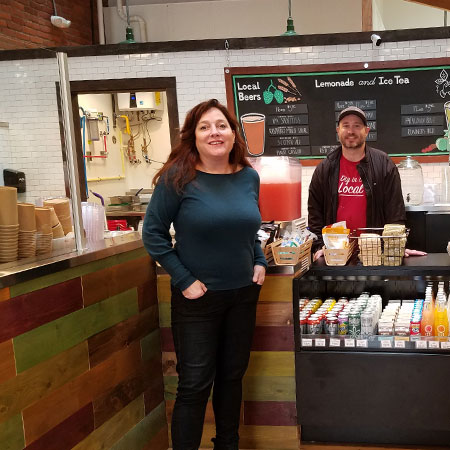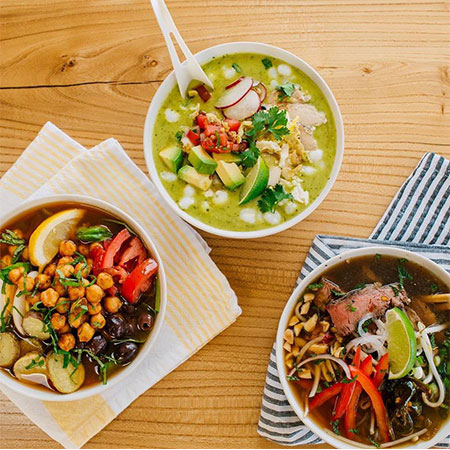 I had the chance to speak with Helen (pictured above with Ian, the head chef), their bubbly and charming owner with an infectious energy. She speaks quickly and if you mentally pause for a moment, you're left in the dust. Explaining the restaurant, she describes it as a "compass" to guide customers into eating well without having to think too much or make compromises. "As a small business, it's easier for us to make that choice," she explains.
Helen uses her experience from working at grocers in the region to help establish strong relationships with producers. Combined with the clever techniques of Executive Chef Ian, the restaurant makes great dishes that are ready in minutes. An example is the Boat Noodle Beef soup. Locally-made Cauldron Broths are kept hot and combined with fresh vegetables and noodles when you order – so you get a freshly made soup almost immediately.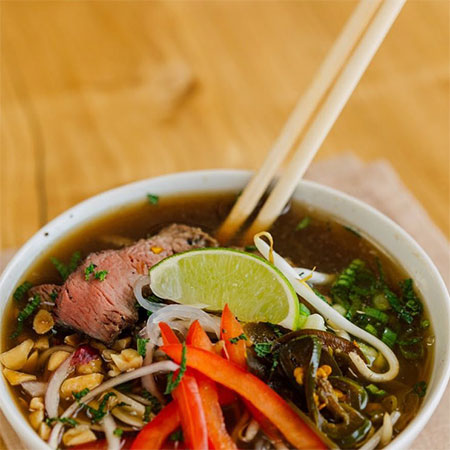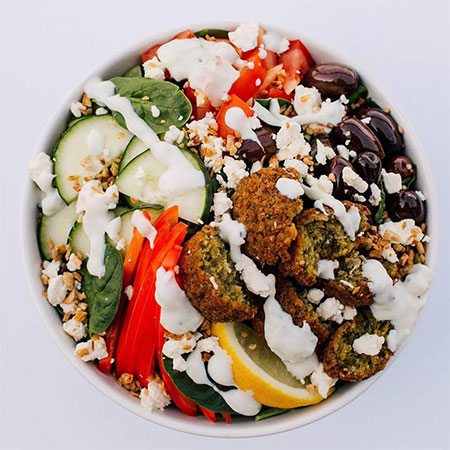 Local sourcing doesn't stop there, though. M!X has even gotten other businesses to create new products specifically for them. For example, Lopez Island Creamery created a frozen custard specifically for them. If you haven't had frozen custard, it's somewhat like ice cream or gelato but incomparable in terms of flavor and texture. "It's something you just have to try," says Helen. The mixture is so thick that it broke their ice cream machine, and customers have been anxiously awaiting its return.
This decadence is a good example of another value that M!X has. Put simply, food is joy, and combining energy and joy makes you en-joy your food. Their culture is one of transparency: they're proud of where the ingredients come from and how they're prepared. New employees are schooled on this culture of pride and openness from day one, with what's referred to as "Culture Camp." They quickly learn the restaurant's values are and get a chance to discuss what resonates most with them. This level of care and value for employees is refreshing to see in a restaurant, where workers often compromise beliefs in an attempt to make ends meet.
The name M!X is perfectly fitting of the concept that the team is creating. Food that is delivered quickly and conveniently, created from good ingredients sourced from local producers and served by happy employees. It's an uncommon combination, but that's exactly why it's important. The luxury of cooking a meal from scratch using quality ingredients is something we can't all expect to do 3 times a day. Adding this type of diversity to the dining options in Bellingham gives us another choice.
I've heard a saying that when it comes to restaurants, you can have tasty food, affordable food, fast service, and social responsibility. But you only get to choose two or three. M!X seems to have found the intersection of all these options. This synergy makes it easy to skip over the mental task of choosing where to eat and focus on the most important question for a hungry person: what to order.
M!X Restaurant
Website
Facebook
360-922-0663
Locations:
Holly Street
Now Open!
Mon-Sat: 11-7, Sun: 11-4
215 West Holly Street, Suite 103, Bellingham
Barkley Village
Open in November!
Daily: 11-8
2925 Newmarket Street, Suite 107, Bellingham