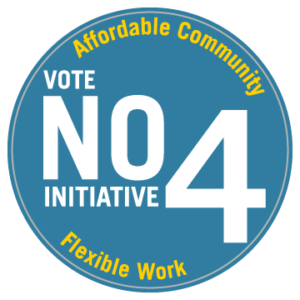 Dear Community Members,
We all want a thriving community. We know that to build a healthy future for our community and economy we need to work hard and take care of each other, and it is not always easy. We are facing some huge challenges and the People First Bellingham Initiatives 1-4 are trying to address many problems our community is facing. There are four separate initiatives Bellingham residents can vote on through this campaign, and we encourage everyone to look at all of the initiatives individually in order to make an informed decision on how to vote on each one.
Unfortunately, Initiative #4 is very concerning to Sustainable Connections. We believe it is important to acknowledge that the way initiative #4 is written would be detrimental to our whole community and have unintended consequences. Many small businesses and nonprofit organizations have spoken up and advised that if it passes, it would inevitably lead them to cut back hours or close permanently, having the adverse effect of the intention. Many nonprofits, including Sustainable Connections, would need to cut programming, limit the number of staff employed, and/or pass on increased costs to the community who benefit from needed services such as child care, hunger relief, and shelter.
As an organization, we want nothing more than to make sure that all community members are thriving. We do not want to lose sight of what is important and believe we can achieve more by working together to build a healthy future for all. Unfortunately, we do not believe Initiative #4 will enact the change we want to see, and we urge you to vote no. We agree with the intentions of this initiative and will work with community partners in the future to create policies with solutions that have appropriate language to address the inequities workers in our community are facing, and we encourage you to do the same.
Thank you,

Derek Long
Executive Director
Sustainable Connections
Board of Directors
Amy Robinson
Brian Rusk
Cameron Miller
Claire Bogle
Dave Brogan
Jared Keller
Rachel Vasak
Sarah Hutton
Stephanie Ashton