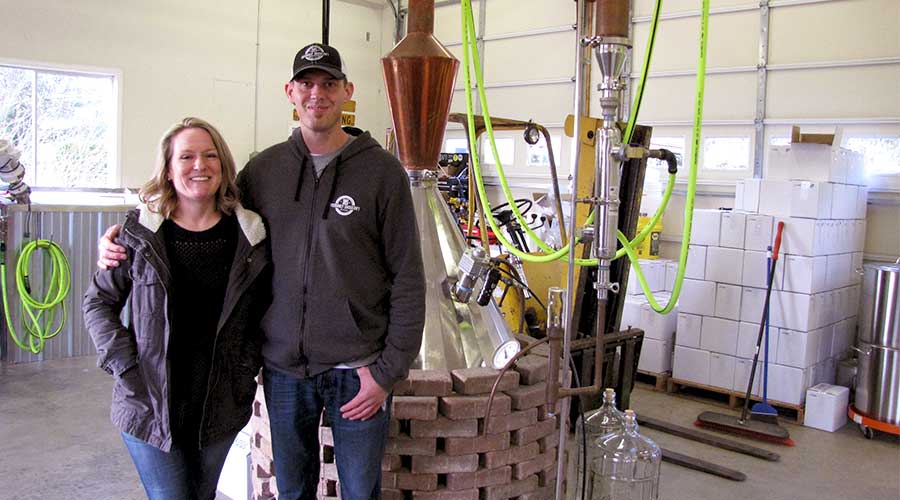 What Happens When you do it anyways
By Alex Smith
When advice comes from friends, conventional logic states that it's a good idea to follow it. But sometimes we have a tendency to eschew the best intentions of our trusted companions. Sometimes there are good reasons for this insubordination. Other times, we just want to be independent and learn our own lessons. A good example of the latter option comes to us from a distillery in rural Whatcom County named for the defiant nature of its owners.
Owners Shawn and Mariah didn't initially intend to start a distillery. In fact, the whole idea of buying land in the county was out of character for the school teacher and her diesel mechanic spouse. This land purchase was the first time they were advised that they "probably shouldn't." But looking out onto their fields, the foothills of the Cascades in the distance, a bald eagle making its way down into the valley below, it's easy to see why they decided they should.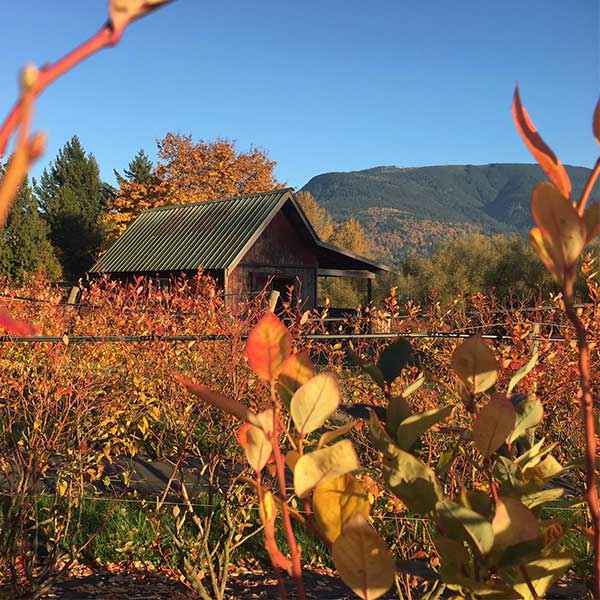 There were still some questions to be answered, though. Minor questions like what they would actually do with their 5-acre parcel. A colleague and berry grower gave them some advice. "If I were your age, I'd plant blueberries," Mariah recalls him telling them. Another round of advice from friends and family stating this was a bad idea provided the motivation needed to start planting.
Preparing the soil and planting was grueling. I see the trauma deep in Shawn's eyes as he describes the process of tilling the soil several times and exposing a new round of large rocks each time that had to be removed by hand. "We just about got divorced over the rocks," he says, and it's clear that his joke has more than a grain of truth embedded within.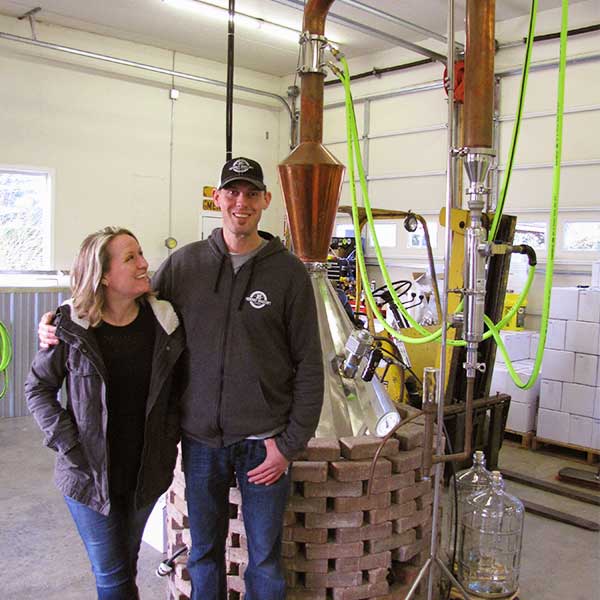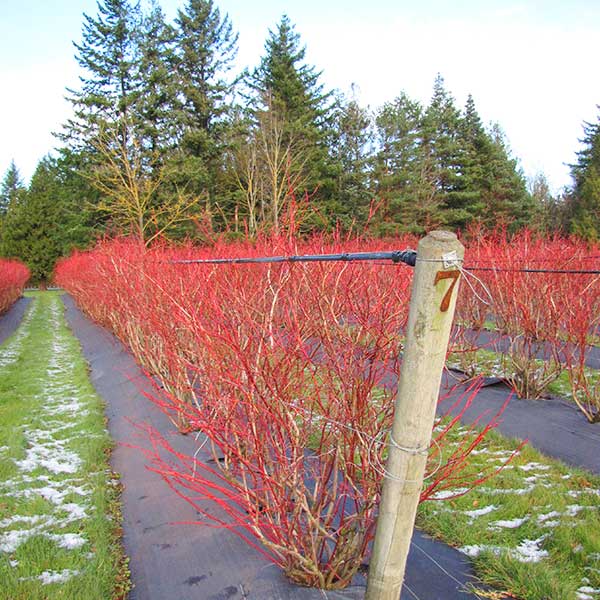 And those rocks were only the beginning. They still had to plant the berries, mulch, and set up irrigation. Luckily they had some hard-working neighbors whose efforts to chip in were rewarded with big pots of chili and cold beer. Eventually, the land was been transformed into a farm, and they thought the hard part was over. Their U-pick operation began once the plants were mature, and finally, they began earning a bit of money. But, there were still a huge number of berries left to harvest. Selling the berries to a processor wouldn't even pay the wages of a person hired to pick them. They had to find another way to make money off the bounty that was left over.
At this point you can guess the advice they got when considering starting a distillery. But despite all the hurdles they've vaulted over, from learning to farm and distill to the regulatory process for organic certification and distilling, they've succeeded. And the name of the distillery, "Probably Shouldn't" is an homage to the advice they repeatedly ignored.
What sets this distillery apart is the control they have over their products. Many distilleries, even smaller craft operations, don't actually ferment or distill. They buy cheap grain alcohol and process it to add flavor. At Probably Shouldn't, they do it all. Starting from concentrated apple juice, they add yeast to make essentially a hard cider. Next, this is boiled in a custom-made still and the alcohol that steams off is collected. It took many batches of awful-tasting liquor before they learned just how much of the "heads" and "tails" (the first and last bits of alcohol) to leave out of the final product. It's a science, after all, and the beakers and graduated cylinders on the walls are a reminder that this is a chemistry lab of sorts.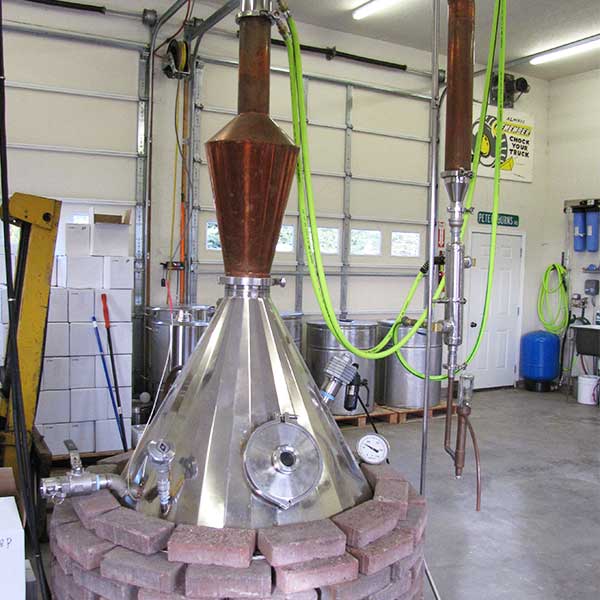 Once the alcohol is distilled, their apple brandy is placed in oak barrels and allowed to soak up the flavor and color. Although their products are brandy-based, this aging gives them a character almost reminiscent of a good whiskey. Just a hint of slightly sweet apple flavor shines through in their brandy. For another product, they add their own blueberry juice to give it a slightly sweeter and more complex flavor without sacrificing any of the punch.
On the sweeter end of the spectrum is their blueberry pie liqueur. Although not cloyingly sweet, this slightly thicker beverage would be well suited as a digestif, or mixed into a desert or whipped cream. In any event, it's a decadent treat while still maintaining an authentic blueberry flavor.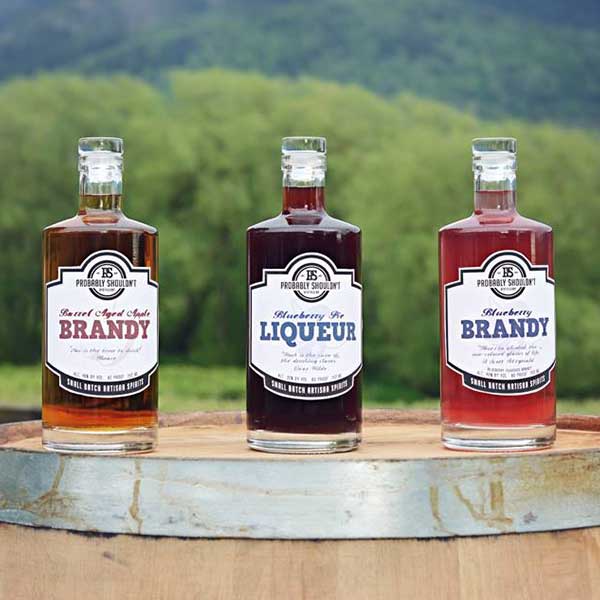 The range of flavors from just three products is impressive, and not one of the products fits my definition of a traditional brandy. It's tough to imagine how many batches and how much time it must have taken before the right formula stuck out. And beyond that, how much more it must have taken in order to replicate that recipe with any regularity. But in doing so they've redefined my understanding of brandy and opened my eyes to what it can taste like.
Crunching around in the frost among dormant blueberry plants and a farm stand that seems to long for the sunny days, I wonder what could have been. All of this was created because one couple couldn't resist trying new things. Despite being told no several times, they persisted. And now having created something truly special and unique, they can rest assured that their decisions were the right ones. The label on each bottle sends a playful yet cheeky message to everyone who cast doubt on them. With products now for sale direct from the farm, in the Ferndale Haggen, and in several bars in the region, it's not clear what the next major project will be. But when the next wild idea does come up, I plan to be on the right side of history and tell them "you probably should".
Probably Shouldn't Distillery
Everson, WA
Website  
Facebook