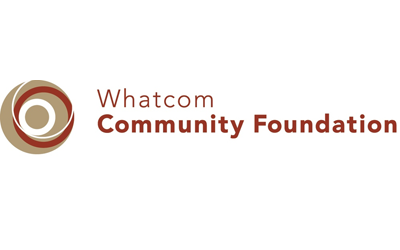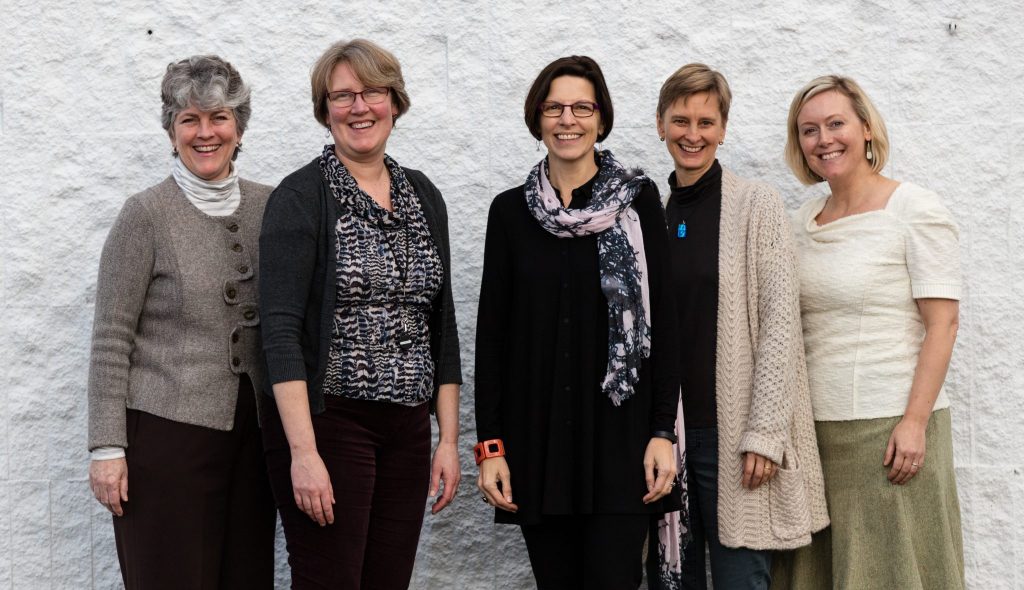 Recently, we were lucky enough to chat with President and CEO of the Whatcom Community Foundation, Mauri Ingram (pictured in the middle above).
The Whatcom Community Foundation is one of three community philanthropy organizations in our county and has made an immense impact since opening its doors, over twenty years ago. To date, they have given 8,955 gifts totaling over $47 million to a variety of non-profits and other organizations, including hundreds of scholarships! They have been partners and supporters of many beloved projects including the Bellingham Skate Park, the Fairhaven Village Green, The Whatcom Farm to School Initiative, Depot Market Square, Ferndale Library and the Blaine Pavilion. In total, they have funded 582 different programs and projects, including many of Sustainable Connections.
They are wonderful partners in our work and we are incredibly grateful for the support they give our Food & Farming Program and the Green Building & Smart Growth Program! Our chat with Mauri was enjoyable and enlightening – we hope you think so too…
 Tell us a little bit about the history of the Whatcom Community Foundation:
The great thing about the way the Community Foundation got started was that the people who got it off the ground were initially just a small group of friends. They were aware of community foundations and thought, "you know, maybe Whatcom County would benefit from a community foundation." They didn't come at it with a predefined idea of exactly what this should look like or be, which is the greatest gift the founders gave us, a sense of responsible risk taking and possibility.
One thing I value most about the Community Foundation is the legacy our founders left for us to steward along the way, including a real sense of humility around the organization. They believed the Community Foundation didn't know better than anyone else about what should happen here, and that we always need to be listening to the community, talking with the community, and being a part of the community. It's weaving the fabric of the community together so that everyone feels like they can rely on each other, fail together, and learn together.
 How has the Community Foundation's mission evolved over the years and how has its approach to giving changed?
It's always been about making life here better for everybody, that everyone who lives here thrives. A fundamental tenet of our work, and of what we believe, is that we are a part of making this community better for folks who have less opportunity, and that if we can do that together, life will better for everyone in the community.
I think the main change is that we talk about it a little bit differently, hopefully in a more concise way!
  What has the Community Foundation found as the most important ingredients for community health?
One of the main things is that people feel welcomed and safe. This is the absolute basis of community health. It's ground zero and where we have to start. Absent that, there is so much to unpack. All of the social challenges we face as communities are intertwined, and complex, so when we peel back the onion to the absolute core, this is where we land. People must get their basic needs are met, and they need to feel safe and welcome in their community.
Sometimes it's hard and uncomfortable to talk about creating more welcoming and safe spaces. We are trying to get better at having those uncomfortable conversations and it's hard for different reasons for different people. If you're a person of color you're just tired of having or not having the conversation. If you're white you can feel guilty, or feel like you're being attacked. But it's good to be uncomfortable sometimes. These are some of the messy things we are trying to dig into and even though there is discomfort, everyone at the Community Foundation is committed to the work.
Do you have any favorite initiatives, programs or projects?
Project Neighborly is making me unbelievably happy for a lot of reasons. For one, we made an intentional effort to reach beyond the nonprofit community, to include them, and to reach out to the broader community. There were so many creative ideas, we would have loved to have been able to fund everything we got a proposal for. Also, while there are some incredibly powerful things happening, there are also big learning opportunities occurring. Sometimes things don't go the way people had planned, but then the next question for those communities is "well, what would you do next?" Is it about trying a different approach, or does it make you want to do something else to try to create more connections? This really helps us to see where the challenges are in the community.
One of my favorite Project Neighborly's to talk about is the Beach School on Lummi Island. They created a pen pal initiative with a club that has existed for more than 100 years on the island, the Lummi Island Civic Improvement Club. It created a connection between the students and women who are long-time residents – many have been there for generations. They didn't know the newer families and similarly the newer families didn't have grandparents or other extended family in the area, so these wonderful relationships got made through the pen pal arrangement. Recently the club members threw a tea party for the kids. So, there is that lovely intergenerational project, and there are others where people have said let's just roll up our sleeves and deal with something messy like natural resource management. Let's talk about water, or how to prevent wildfires in an area that is particularly prone to them – contentious issues. We didn't want to tell people tackle the really tough stuff, we've just said, "what do you want to do?" and beautiful things have come out of it.
There are so many amazing things that we get to do, to have some small piece of investment in, but what I love about Project Neighborly is that it gets back to that core of having people first see each other as humans before they see anything else.
What's the best way for someone to get involved with the work the Community Foundation does?
There are many ways to get involved, but the place we like to start is with the broad idea of giving here matters – whether you are giving to the Community Foundation or any of the resourceful organizations working hard to make Whatcom County a better place for everyone. We love to see donors and residents feel connected to making a difference here, with local organizations.
We are lucky to have great partnerships with the nonprofit sector and think that we are even luckier to have a community full of nonprofits that embody an entrepreneurial spirit. It is great to get to chew on ideas and challenges with the organizations is this community because people here are interested in getting to the solutions, they are willing to collaborate and dig deep. In that regard, we are always looking for more partners and collaborators. Consider our Board Match program which connects people with little or no nonprofit board service to organizations that align with their passions.
If you are a donor who wants to learn more, just come on in or give us a call. It's all about relationships for us, we want to be connected to donors – whether they are donors to the Community Foundation or not – and to add value to their philanthropy. We just need to get to know them and learn about what matters to them. We try to give context to the things that people are interested in and help them connect to work that they find meaningful. That's why it's about the relationship first.
 In general, how can each of us help create a thriving Whatcom county?
Just be neighborly, think of neighboring as a verb. That is something each one of us can do, and there are many little things we can each do over the course of a day. The other thing is to think about the things that really matter to you, whatever your passion is. Think about how you can be a part of what is happening around that topic in the community. We each have gifts to give, whether it is attending nonprofit events, or donating your writing and editing skills, or volunteering time to make a difference in the life of a child. Just showing up and being compassionate is highly underrated.
We see cultural values in this community that you can't buy, people being willing to come to the table and truly show up. That's why we are hopeful about neighborliness, and why we're hopeful about achieving the vision that everyone who lives here thrives. We believe the community shares this vision, and the more people we can get engaged in it the better!