In early 2016, Amy Robinson, the owner of 3 Oms Yoga, worked with Chuckanut Builders to remodel her new studio on Cornwall Avenue. A year later, her family hired them to remodel their kitchen and bathroom. Built in 1908, their home is a classic Craftsman style in Bellingham's Sunnyland Neighborhood. Though the scopes of the two projects were quite different, the overarching goals were the same: to build healthy and durable spaces that can be used and loved for many years to come.
Chuckanut Builders firmly believes in an integrated project team. From start to finish, Chuckanut Builder's projects are highly collaborative, drawing on the knowledge and expertise of everyone involved. As a result, the Robinson Remodel now has more natural light in the space, more sensible and accessible kitchen storage, and a lovely new en-suite bedroom on the main level.
Amy, her husband Cam, and their designer, found creative ways to re-imagine the existing space instead of building an addition, which reduced the overall cost, shortened the construction period, and minimized the overall carbon footprint of their project (and their home). It was a win on every front!
Within the footprint of the project, the team focused on one other key aspect of green building: healthy indoor air quality. They added ventilation in both the kitchen and bathroom, and made improvements to the building envelope, reducing the potential for moisture and mold in the future. All finishes were zero VOC (volatile organic compounds) so the home was ready for dinner parties the day it was done.
The original layout of the kitchen was…awkward. The bathroom was off the kitchen, there were six doorways leading into and out of the kitchen, and it was tiny to boot. Michelle Banks of Spiral Studios redesigned the kitchen and main floor bathroom, opening the kitchen to the dining room and removing three of the doorways to maximize space.
The original bathroom also needed an update. While the overall footprint stayed the same, it looks and feels much bigger even though they added a shower! The combination of bold, fun floor tile, a glass shower partition, and built-in niches for both the bathtub and shower resulted in a beautiful, super functional bathroom. They were even able to reuse the vintage cast iron tub by relocating it and updating the color. Clustering the sink and toilet also helped increase the feeling of openness in the space.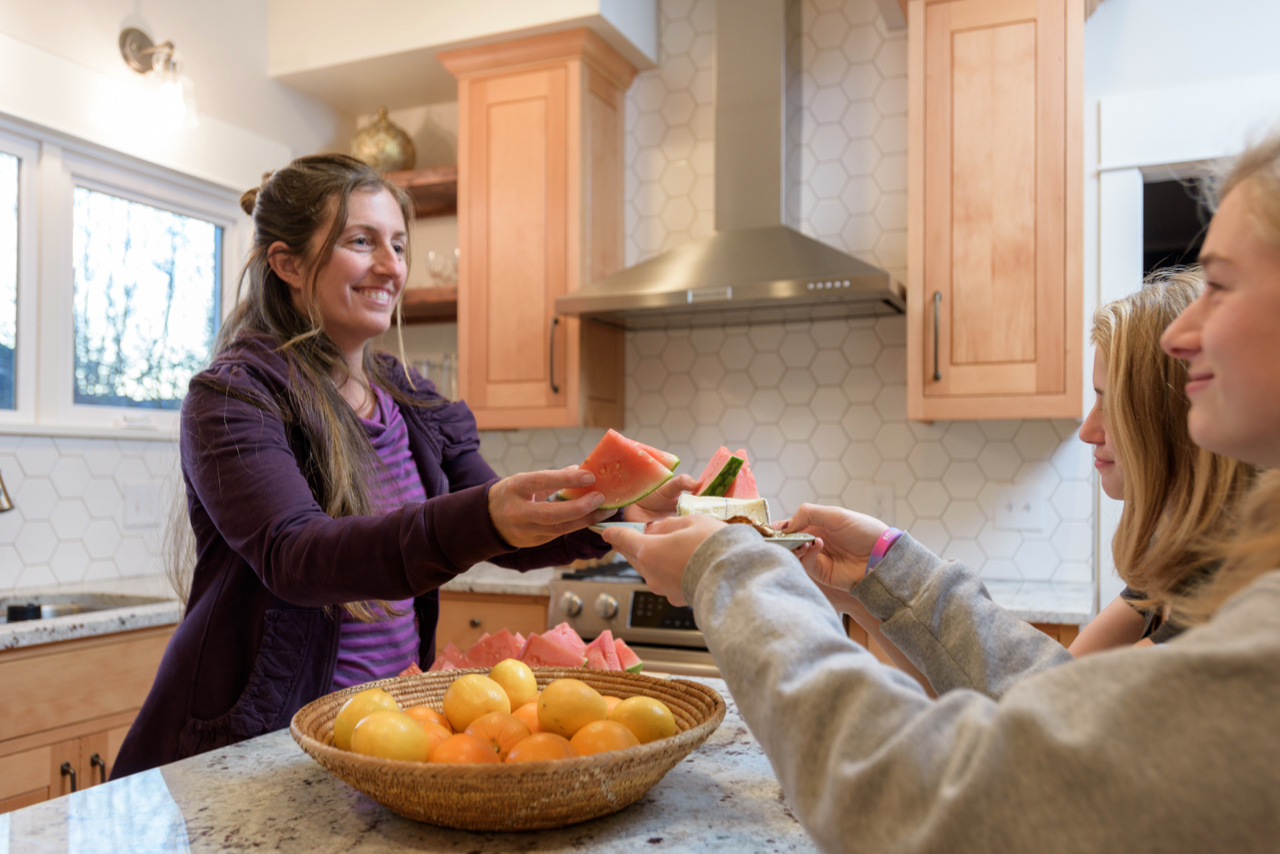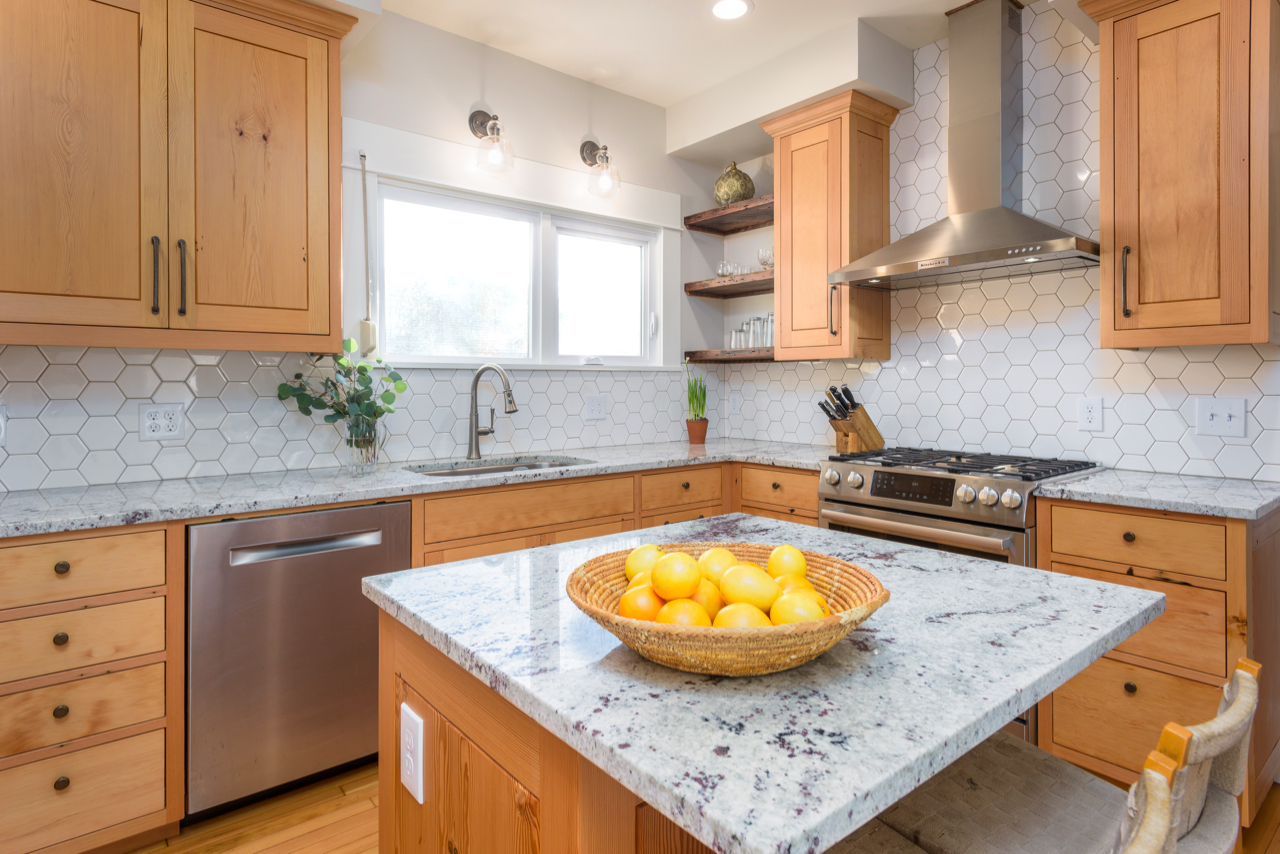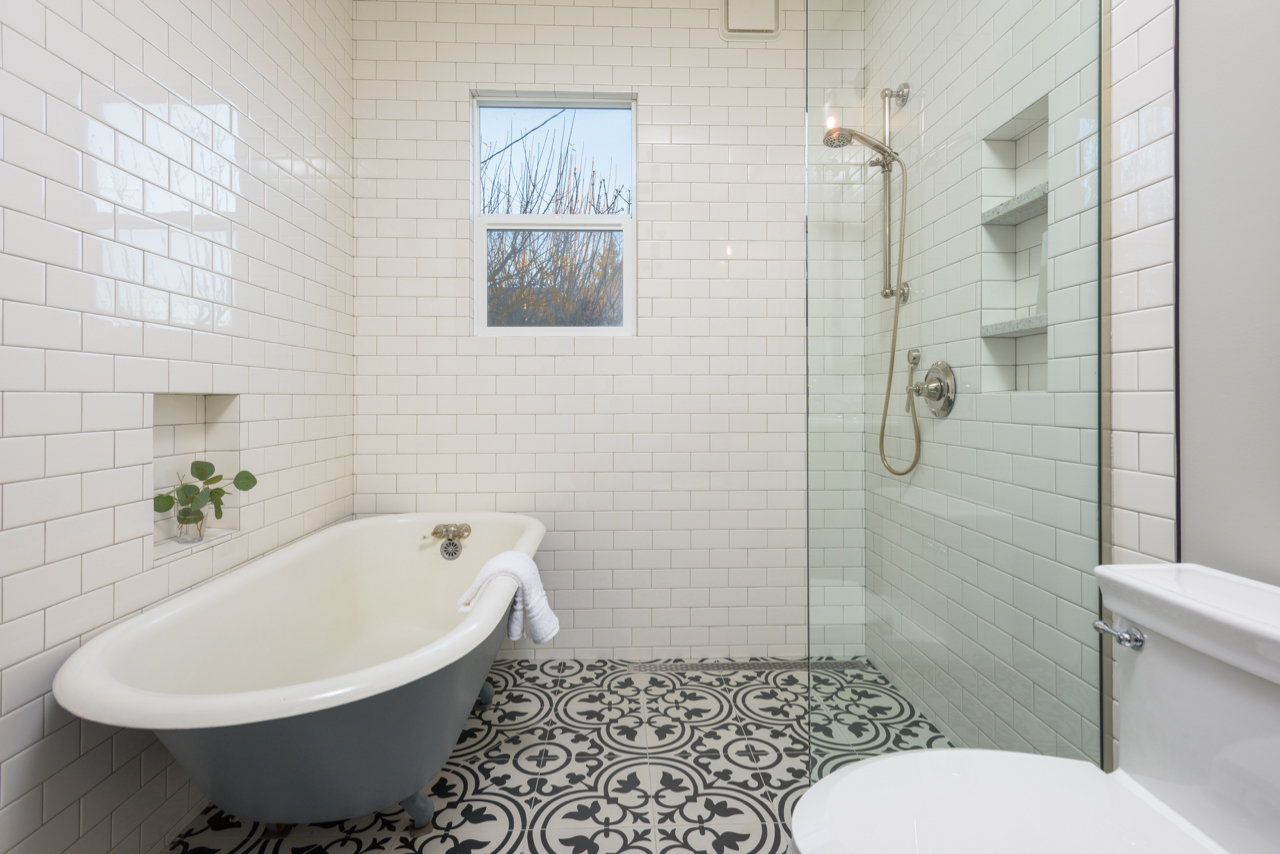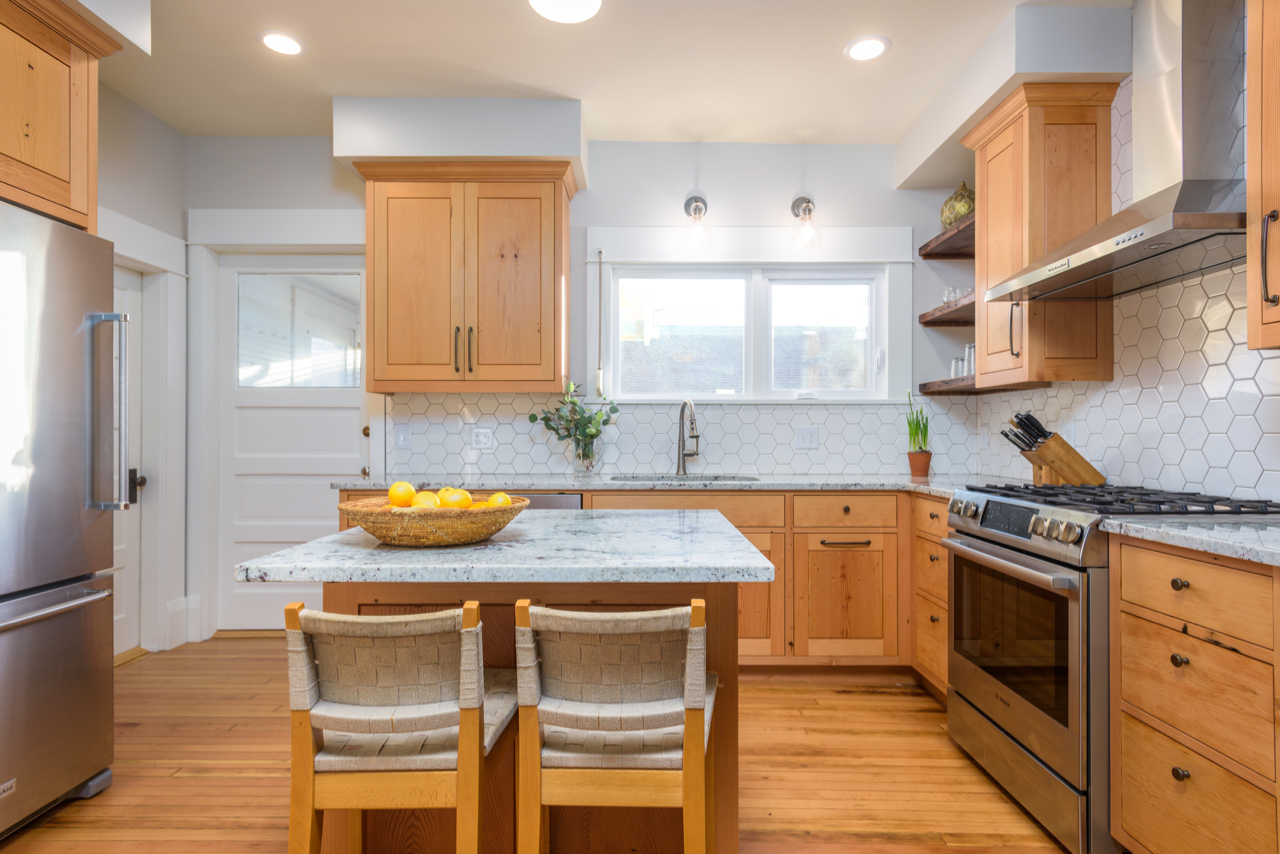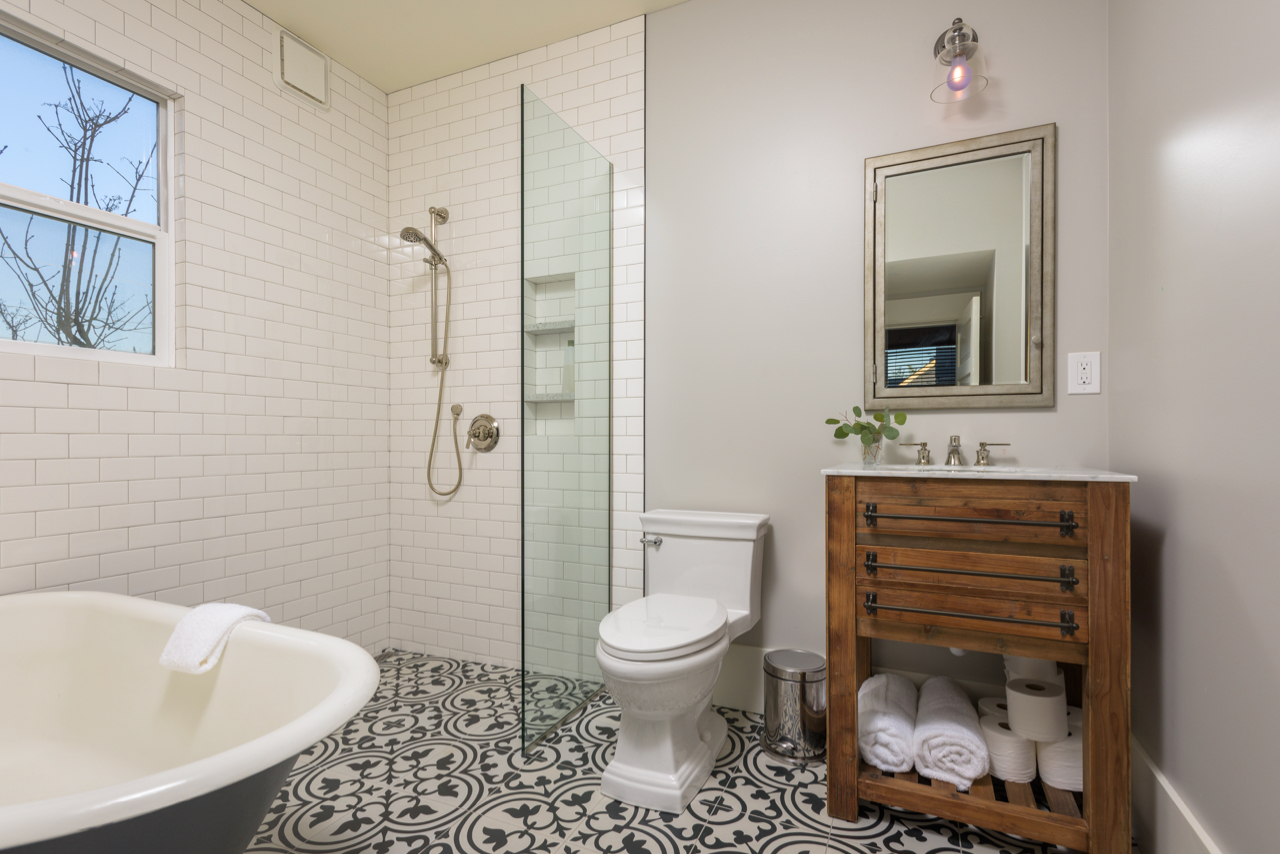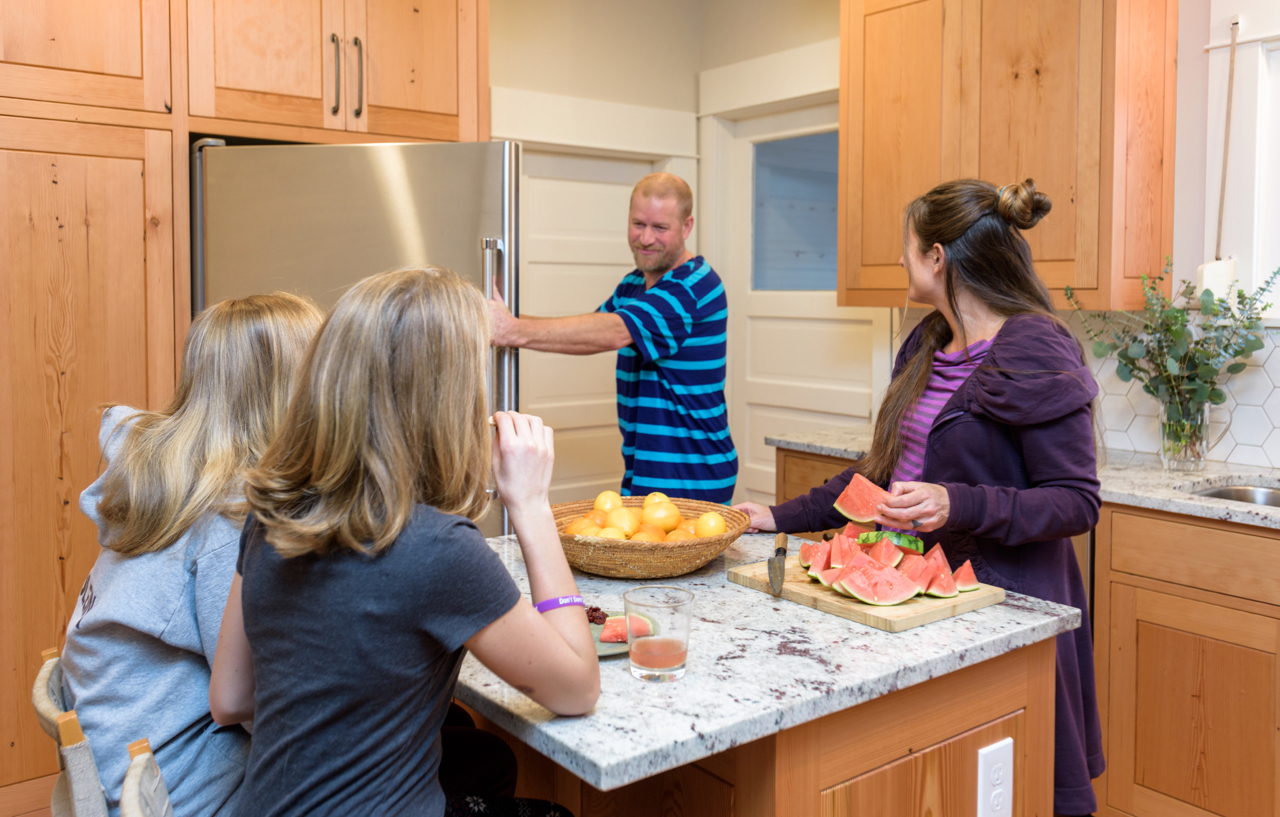 Design

Aging-in-place features

Adaptive reuse

Reconfiguration of existing space rather than adding on

Location

Walkable, core neighborhood close to amenities, public transit, and parks

Water Efficiency

Low-flow fixtures

Energy & Atmosphere

Building envelope improvements

Materials & Resources

Reclaimed fir cabinets
Reclaimed fir floor
Durable finishes (engineered quartz countertops, tile flooring in the bathroom)

Indoor Air Quality

Improved ventilation in both the kitchen and bathroom
Low-VOC materials, no carpet, and building envelope improvements to reduce the potential for moisture and mold in the future