A lot of things in life are best shared over a beer, so why not a CSA share? Signing up for a CSA (Community Supported Agriculture) share is a great way to support your local farmer and ensure that you'll have a box of delicious, locally grown products week after week. As the demand for CSA grows, businesses like Structures Brewing, Boldly Grown Farm, and Viva Farms are coming together to support each other through utilizing drop sites for CSA shares. 
How does it work? When you sign up for a share with Boldly Grown or Viva, you choose the pick-up location that makes the most sense for you. If that location happens to be in Bellingham, you can grab your share at Structures and before you go, sip on a $1 off pint of one of their incredible beers.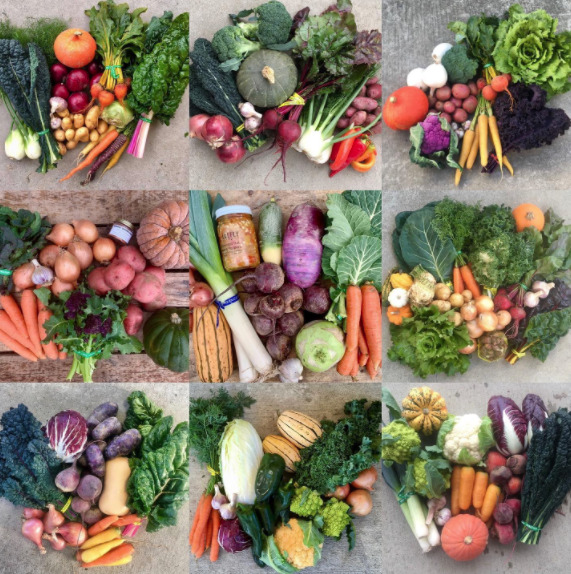 A series of Boldly Grown Farm CSA shares
As CSA grows in popularity, the need for drop sites is becoming apparent. Since many of our farmers live outside of city limits, delivering food to town is usually one of the best ways to engage customers. Delivery, however, can be very cost prohibitive, especially for new farmers. Time spent delivering food to multiple locations or managing a pickup location is time not spent completing farm tasks which, as you can imagine, are never ending.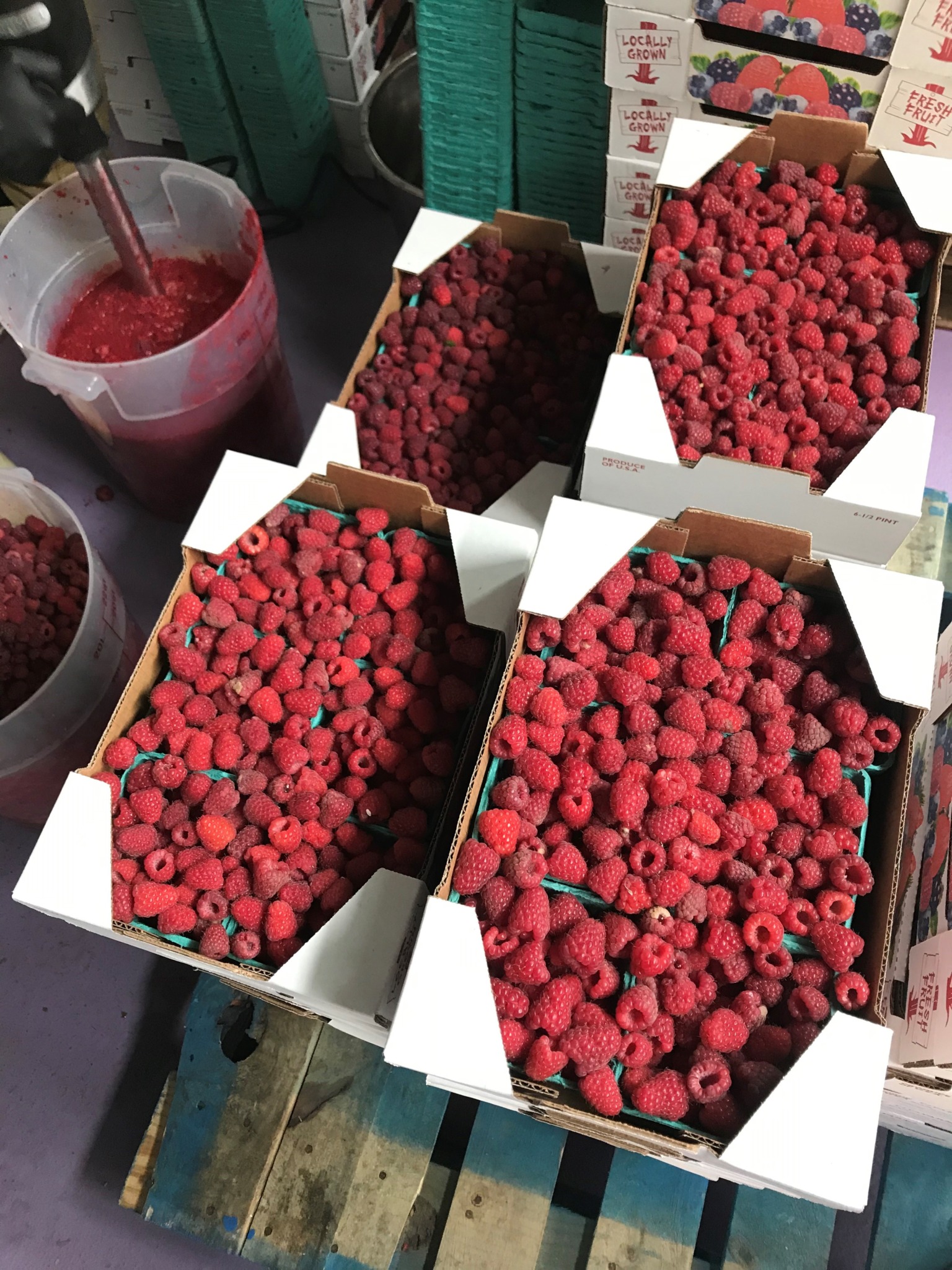 Viva Farms' raspberries on their way to becoming Raspberry Fuzz
That's where businesses like Structures Brewing come in. Structures has been operating since 2015. Seizing the opportunity to take advantage of the delicious berries that come out of Skagit Valley, they connected with Anna Chotzen at Viva Farms to create their flagship IPA: Raspberry Fuzz. Johnny Wilkerson, who wears many hats at Structures, including coordinating the CSA drop site, tells us, "We got started with her, and a couple years into it, she reached out because she was doing CSA and wanted to see if we would be a drop site."  
Amy Frye, co-owner of Boldly Grown Farm and previous incubator farmer at Viva Farms, also reached out to see if Structures could host them for their winter CSA. "We started in 2015 which makes this our 8th year in operation. We've grown a lot over those years," Amy says. While growing fall and winter vegetables was the hope from the beginning, Amy mentions that "Winter CSA was kind of an afterthought," but it turned out to be a winner. "It doubled every year for the first five years, and CSA became really popular during the pandemic."  
Utilizing drop sites helps Boldly Grown and Viva expand their reach and exposure as well as bring customers into Structures. Johnny recognizes this win-win situation. "We get to meet some people who come in who didn't know about us. About half stop and have a beer while they pick up their stuff, so we all get exposure." And those folks who are just there to enjoy a Raspberry Fuzz witness the joy of CSA customers who pick up their boxes. "Customers would come in and get curious, and all of the fliers or cards for the farms we have would always disappear." The exposure for both businesses creates a beneficial relationship that allows great opportunity for cross-promotion and community building. 
Anna from Viva Farms agrees. "Having drop sites throughout the community is a great way to get brand/organizational awareness, which is obviously beneficial." So, how do farmers and businesses form a relationship that is beneficial for each other and their customers?  
For farmers setting up a relationship with a business, it's important to set expectations early. "Try to lay the groundwork for the drop site," Amy says. This means having policies in place well before the first drop so members, drop site hosts, and farmers are all on the same page about where and when boxes get picked up. And when they don't get picked up, have an agreed upon late box pickup policy. Some CSA farmers also give the drop site host a CSA share as a thank you.  
Looking ahead, Amy is seeing an evolution in CSAs. "It felt like for a while summer CSAs were maxed, the market was saturated," she recalls, "though I do feel like that changed with the pandemic. I think the overall goal is 'let's grow the pie for everyone.' Let's make room in the market for other farmers who want to do CSA."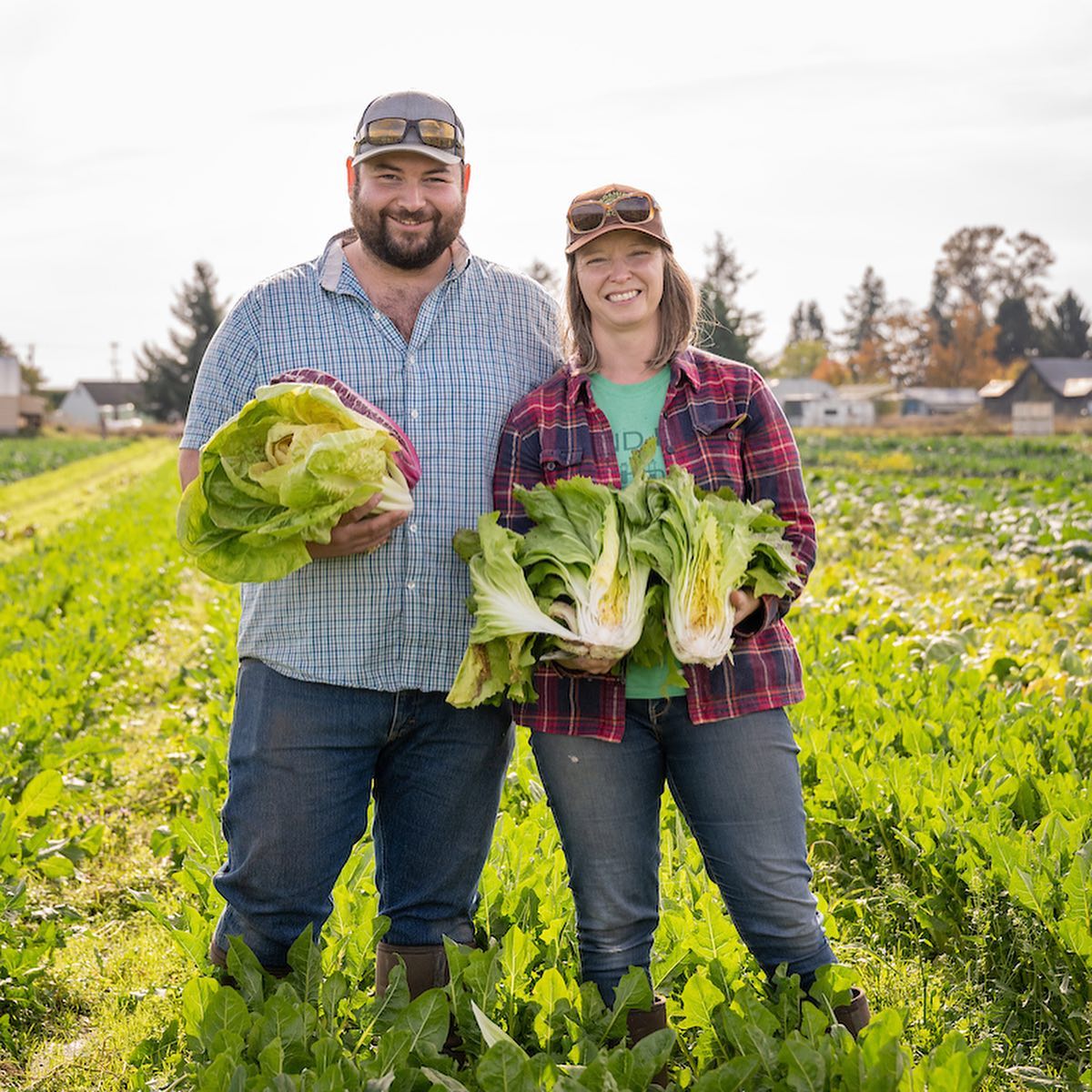 Amy and Jacob of Boldly Grown Farm
CSA is a popular option, especially for farmers who are just starting out. It's a way to guarantee some up-front capital to pay for things they need without having to wait until the first harvest to do so. With that comes a big responsibility on the part of the farmer. "Learning how to plan and grow to be able to fulfill your box targets and just doing a good job at it," Amy says, is key. Standing out among the competition is still a challenge but if farmers can expand their reach through drop sites, they can engage more customers. And when farmers are better able to reach their customers, the local food movement can grow. That means more local dollars get spent and invested here.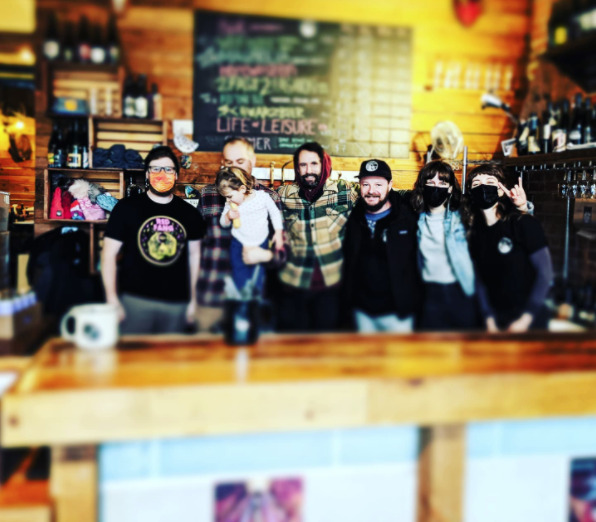 The Structures Brewing team
As Amy puts it, "Community is pretty critical; it's definitely one of our core values." When local businesses partner like this they're not only reaping the financial benefits, but also the benefits of sharing ideas, learning from each other, and providing a valuable service to their community. "We enjoy the CSA community," Johnny says, "and want to keep growing with Viva and Boldly Grown. It's an evolution."  
Over 140 farms across the state of Washington are currently accepting sign-ups for CSA (some are already sold out!). If you don't already subscribe to a local farm share, but want to, use our  CSA Finder to search and filter results to find just what you're looking for. If veggies aren't your thing or you grow enough for yourself, there are so many other options. Consider CSF (Community Supported Fishery), a bread, cheese, fruit or flower subscription, a meat share, and add on some farm fresh eggs! Collaboration is at the heart of CSA, so you'll find that many growers and producers work together to share products across their shares resulting in larger variety and diversity of products.
Do you own, or know of a business that might be interested in hosting a CSA drop site? Let us know by filling out this brief interest form.
Structures Brewing is open 7 days a week. Check their website for hours!
Viva Farms' CSA is currently accepting sign-ups, offers sliding scale pricing, and accepts SNAP/EBT benefits for shares at various pickup locations.
Boldly Grown Farm's CSA is just wrapping up for the season. Keep an eye out for when registration opens for their awesome winter CSA!
The WA Food & Farm Finder and CSA Finder are projects of the Eat Local First Collaborative. They sprouted right here in Whatcom County through generous funding from the Whatcom Community Foundation and other state and federal agencies to support our local food system.
Photos courtesy of Structures Brewing, Boldly Grown Farm, and Viva Farms