Have you had a chance to check out C•SQUARE, the new culinary adventure Skagit Valley Co-op opened last fall? There is so much good stuff going on down there! The new space showcases a handful of gourmet food counters new to the Skagit Valley Food Co-op and a restaurant & bar, the Third Street Café.
The retail counters include CURED: A full-scale charcuterie that features the finest selection of specialty meats, fresh pasta, and cheeses. CRUST & CRUMBS: A selection of the finest breads, pastries, cookies, and confections. CUPPA: A new espresso bar serving up Fair Trade organic coffee, shade-grown and always house-roasted at The Co-op and CONES: Handmade organic ice cream and other frozen novelties like hand-dipped ice cream bars and ice cream cookie sandwiches.
The Café side features fresh and seasonal local foods, with a full-service bar pouring house-infused cocktails, fine wines, and local beer, ciders, and kombucha on-tap. They are making some amazing food, sourcing hyperlocal, and have a brand new chef that is incredible. Originally from South Africa, she also has quite a story and has been delighting over ingredients from Hedlin's Family Farm from LaConner, Hi-Q Eggs from Sedro Woolley, Twin Brooks milk from Lynden, Cascadia Mushrooms from Bellingham, Penn Cove Shellfish and Blau Oysters from Whatcom County, produce from Rabbit Fields and Ralphs in Mount Vernon – and so many more! Too many to list out.
We'd love to introduce you to Maryna Frederiksen, Third Street Café's new head chef. We got to chat with her about her background, why local is so special, and some dishes to look out for on the menu!
Why is local important for your restaurant and for our community?
It gives you a purpose. It gives you identity. Otherwise, you're just like everybody else, another restaurant that ships stuff in from all over the world. It creates community. It provides us an avenue to help the farmers. There are many family farms starting to develop again in America, and restaurants are a way for them to have their products featured!
When did you start cooking?
I started cooking late in my life. I'm a teacher by trade and used to teach college history for a number of years. I traveled to Europe to work on my thesis, and I started eating again, and I fell in love with food… I discovered so many amazing food products, and I thought 'Oh my gosh, I would love to learn how to do this!' And I started there.
I also started asking a lot of questions and working with a Spaniard in Barcelona. They had tapas and they'd give me food for free, I asked him if I could participate and he taught me a few things. I started traveling more and every opportunity I had I would cook, I would learn local cuisine, and it just developed from there. I never really went back to teaching.
I mean, part of what I do [as a chef] is educating staff, educating guests. So I found that perfect marriage between something I'm really passionate about, which is food, and my education. I'm self taught, and have worked in many restaurants so I could educate myself, it's just become me.
Why is this work important to you/what are you passionate about when it comes to cooking?
I think what makes me happiest when it comes to food is we all have to eat, right? You're putting something in your body that's going to make you live. It's not just about putting amazing food on the plate, but providing something that's going to give you energy and helping to make your body work and keep you healthy.
I know it's might sounds kind of kooky, but a lot of chefs miss that. Instead it can become all about ratings. It's about ego. But to me, if you break it down to the basics, I'm feeding you so you can live, and  because I'm creative, I make it as delicious as humanly possible.
One of the reasons I left a multi-million dollar restaurant to come back here is because they've lost that, they've lost what it's all about. Coming back here I can really express what I believe it should be – a way to nourish and beautiful, delicious, and local on top of it!
Why the Pacific Northwest?
I grew up in the Northwest. I found my [inner] "chef" in the Northwest. I moved from South Africa to California, and then came up to Seattle. I was there for 18 years, and I found who I was as a chef here. I honed my skills in Seattle and eventually moved to the East Coast to cook. When I decided I had enough, I wanted to come home. This is home.
Being from South African, what is the cuisine like?
When I did move to the East Coast it was fun for me to open the Big Easy in Miami because they wanted to explore all that South African cuisine has to offer.  South Africans eat a lot of meat, there's a lot of cow and lamb, but it's the flavors that make it unique.
The different cultural influences in South Africa are vast. Dutch, French, German, Malaysian, Indonesian, and those of the native population. They created flavor profiles that are completely unique to anywhere I've been in the world because most places have their own cuisine, South Africa is a mix of all those influences. Lots of spices – it was the spice route. So curries, but not curries like we think of curries, not Thai curries. Lots of flavor, stewed, and slow braised. Which is something I love. I love anything slow braised.
Any favorite ingredients you like to work with?
I love seafood. When I think about the Northwest I think about clams, mussels, geoduck, Dungeness crab. I dreamt about these ingredients when I was on the East Coast and coming back here is amazing.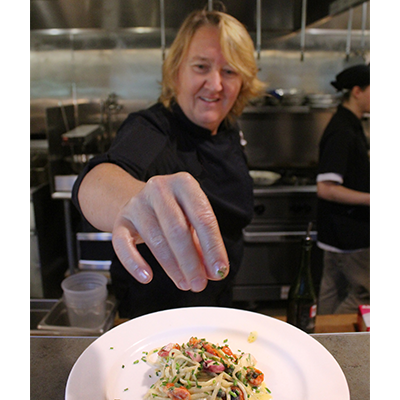 I've got littleneck clams delivered yesterday that are very sweet and briny – this is the stuff I dream about because you can do so much with it! It's fresh from our waters. That's what excites me about this area. I mean, produce is great – there's anything you can think of! But the seafood that the Pacific Northwest has to offer is unlike anything else in the U.S., and I've lived West Coast, East Coast, Gulf Coast. I've been there, and that is what sets us apart.
What's your favorite item on the menu, a standout dish?
I love the poblano gravy that we do for brunch, our brunch is good! There's some really fun stuff on there. The French Toast with the ancho-chili butter is AWESOME. I also love the crab cakes.
Enjoying food is all about memory to me. That's why chefs like to take childhood memory foods and elevate it into a dining experience. If you don't recognize a flavor your experience might be not as a good, but if you can bring a little flavor in there that you recognize, you're like, 'oh this is good.'
What do you do when you're not cooking?
I'm an avid fisher. I'm a forager. I have no shame, I'll go knock on people's door and say,  'hey, do you need all those avocados?' And they'll say 'no'  – and I'll pick them. In Florida, I would go home with bags of mangoes because people let them rot. I'm also an avid sailor, I love to sail, I sailed competitively and hopefully I'll be able to get back into it up here again. I love the outdoors. I'm a complete outdoors girl.
To visit C•SQUARE and taste Maryna's cooking:
309 S. 3rd Street, Mount Vernon
(360) 542-5022
Website
Facebook