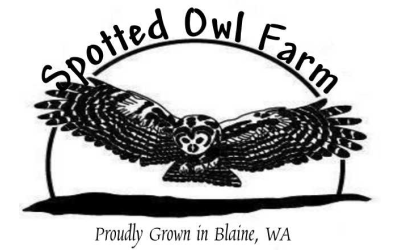 (360) 440-0847
spottedowlfarm@gmail.com
spottedowlproduce.com
Our focus here at Spotted Owl Farm is to provide our community with deliciously fun unique produce you commonly don't see in our stores. Over the past 6 years we have enjoyed working with Chefs around the county to provide the highest quality hyper-local produce. Using organic high intensity growing methods we limit the footprint we put on our beautiful land. We are a small family operated farm situated only 1.5 miles east of downtown Blaine. Of the 5 acres our property sits upon we use less than half for growing, offering the other half for nature to enjoy year around. We've mastered the Heat! The majority of our greenhouse space is packed with hot peppers of over 15 types from all over the world. We also make our own hot sauce line Underground Owl from the peppers and produce we grow right up here in Blaine which are available in all 5 Haggens and other fine establishments all over Whatcom County.
Sustainable Practices:
Sales Methods: Online Store;In-Store;Wholesale;Other
Neighborhood: Blaine
Return to Main Business Directory or View ALL Business Listings