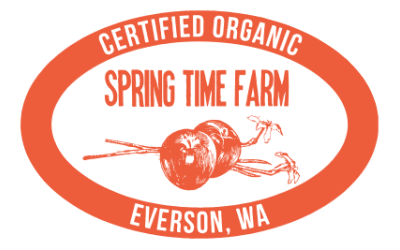 (360) 610-3700
info@springtimefarm.com
www.springtimefarm.com
Spring Time Farm is Nick Spring and Sarah Robinson, a family farm that skipped a generation. Along with an incredible crew, we grow Certified Organic vegetables and flowers with a strong focus on quality. We have farmed together in Everson since 2014, but Nick's grandparents Ralph and Margaret Spring ran the first Spring-Time Farm in upstate New York for more than 75 years. The second and current generation of Spring Time Farm is located on the headwaters of the Sumas River, on a retired dairy farm that is once again buzzing with agricultural life. Alongside our commitment to providing our community and chefs with delicious produce and beautiful blooms, we are constantly looking at how to improve wildlife habitat the farm.
Woman-owned
Sustainable Practices: Accepts EBT/Food Stamps, PSE Green Power Purchaser, USDA Certified Organic
Sales Methods: Wholesale;Vending (non-storefront)
Neighborhood:
Return to Main Business Directory or View ALL Business Listings