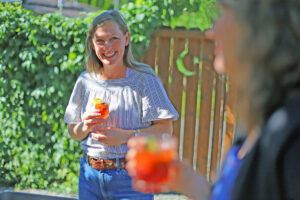 Strawberry-Basil Sparkler
This sparkler is the *royal wedding* of sweet and savory. It's fresh, vibrant, and of course, everything is made infinitely more delicious with Whatcom-grown strawberries in the peak of summer. If you're in a creative or experimental mood, feel free to switch out the basil for another herb, or add a few. A little lemon balm and mint combo could hit the spot, and you might even have them growing in your garden. Full of spirit (but alcohol-free!), the Strawberry-Basil Sparkler is best enjoyed while kicking your feet up in the sunshine.
Ingredients
A handful of basil leaves
2-4 strawberries, sliced and de-stemmed
1 oz freshly squeezed lime juice
1/2 oz simple syrup (or to taste)
Sparkling water or Kombucha Town Live Seltzer
Ice
Basil and lime for garnish
Directions
Muddle strawberries and basil in a 16 oz glass.
Add ice, simple syrup, lime juice, and ice. Stir.
Top with sparkling water or Live Seltzer. Garnish to your heart's desire, and enjoy!