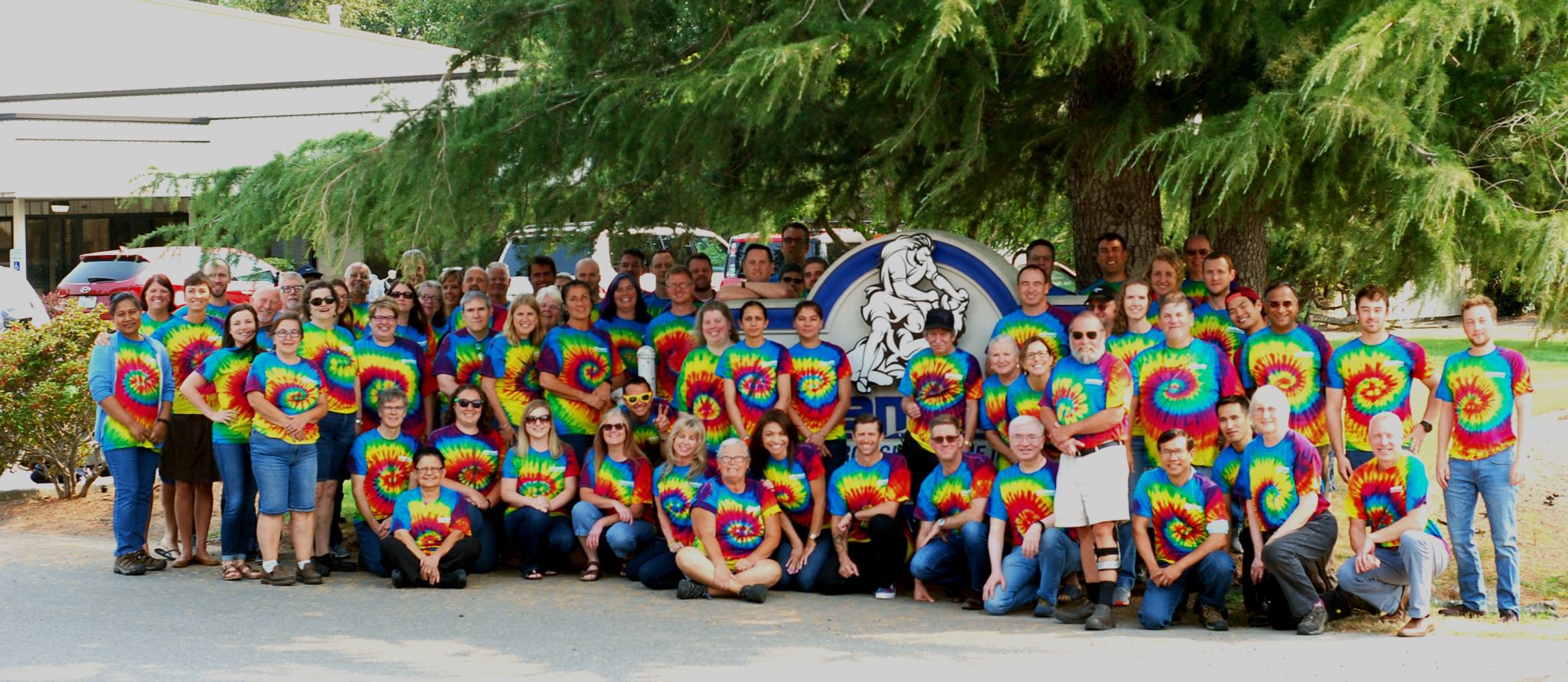 The team at Samson Rope
Three local businesses boost sustainability & see benefits
We've got great local business news! Kombucha Town, Samson Rope Technologies, and Mallard Ice Cream have completed a new sustainability reporting process and uncovered opportunities to improve business performance and our local community with the help of our Sustainable Business Development Program.
Last July, the three businesses submitted winning proposals to receive free in-depth sustainability reporting services from Sustainable Connections. After a year of meetings, measuring, and reporting, each business discovered with new information to advance their operations and benefit our larger community.
Both Kombucha Town and Samson Rope Technologies produced detailed sustainability reports to help them document performance, take stock of where they are currently at, and create a robust plan for the future. Kombucha Town has implemented a rigorous data collection system and can now measure outputs from many departments including energy use, charitable giving, and employee engagement. Since releasing their report, they've seen increased marketing engagement from the public and positive feedback from the community.
Sampson Rope Technologies, a worldwide leader in synthetic rope that employees over 200 people, was also able to establish baseline data and identify current strengths, opportunities for improvement, and specific goals for 2018 and beyond.  These include increasing charitable giving and creating a formal employee volunteer program. They have also started on an energy conservation plan, which is poised to create big impacts for their large facility in Ferndale.
Julie Fish, Sustainability Coordinator at Kombucha Town reports, "We are extremely fortunate here at Kombucha Town to have been a recipient of the Sustainability Reporting Grant. This opportunity served as the catalyst for not only beginning the process of reporting and marketing our sustainable practices, but also sharpening our overall business model."
The third recipient of the sustainability reporting service, Mallard Ice Cream, chose to focus exclusively on the social side of sustainability, zeroing in on employee well-being. Mallard's implemented and piloted a six-week philosophy course to employees on happiness and wellbeing, which was done to spur thoughts that on what employee wellness means in a holistic sense, and hopefully see benefits to the larger community. Mallard's owner Ben Scholtz shared, "the employee component of sustainability wants to fill the world with strong, capable, confident people who can connect their values with their actions, regardless of how long they remain in your particular work environment."
Sustainable Connections believes that the best sustainability reporting takes a comprehensive approach to understand business performance in terms of people, planet, and profit. Samson Rope Technologies, Kombucha Town, and Mallard Ice Cream are all now poised to perform better in all three of these areas making them stronger, more resilient, and better community members, all while increasing profitability.
To view Kombucha Town and Samson sustainability reports visit the pages below:
Samson: http://www.samsonrope.com/Pages/PR_Sustainability.aspx
Kombucha Town: http://www.kombuchatown.com/sustainability-report-2017
Sustainable Connections would like to acknowledge and thank the Whatcom Community Foundation, without whom this work would not have been possible.