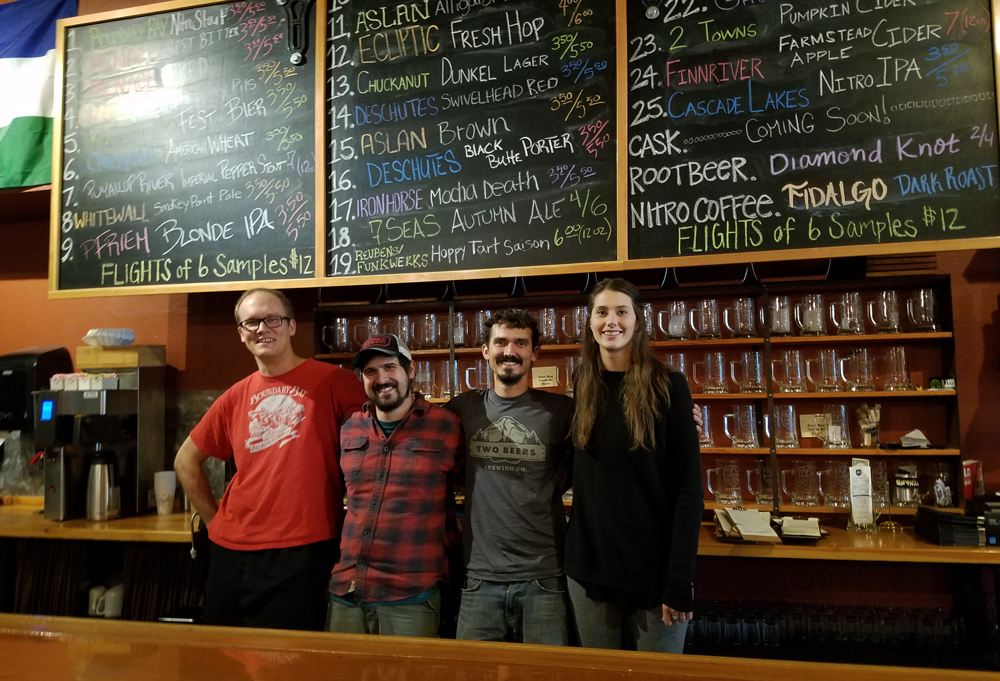 The Local crew: Head Chef Matt Hansen, Owners Ben Buccarelli and Tom Raden, and Front of House Manager Jacqueline Goddard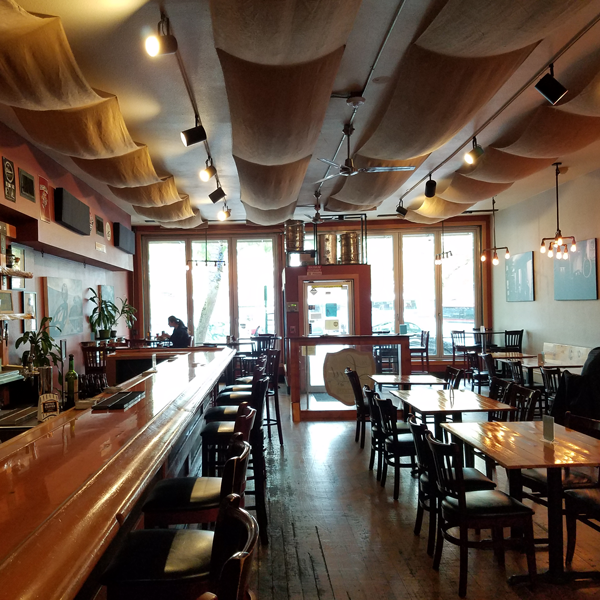 Their cozy and warm ambience is great for any occasion
Many know Menace Brewing and their small dynasty. With The Local and Annex downtown and the taproom out in the Fountain District, 2017 has been a big year for them! The taproom opened this January and they've brought on new and talented staff at the Local, they're also working to launch a project called Bellingham Beer Lab soon! They are all about the newness.
For those who aren't as familiar with each of their locations, we'll help break it down. Menace Brewing started in 2011, with owners Ben Buccarelli and Tom Raden brewing small batches in Ferndale and selling it to local wholesale buyers.
Before they met Ben was brewing tiny ½ gallon batches, applying skills he was learning while brewing for Kulshan. Tom was an aspiring brewer and accomplished welder that had fabricated his own two barrel brewing system. They bonded over beer and Menace quadrupled its brewing capacity overnight! They are still a small batch brewer, and continue to focus on high quality brews that are light-bodied but full-flavored.
In 2013 they stumbled upon the storefront downtown, what was the old Cicchitti's Pizza, and overhauled the space, utilizing local craftsman and upcycled materials. They did a lot of the renovation on their own and proved themselves talented carpenters as well as brewers! In October, they opened The Local Public House as the only pub in the heart of downtown. They carry only Cascadia beers and have a full menu that is crafted by head chef Matt Hansen, who came fresh from Boundary Bay's kitchen this March.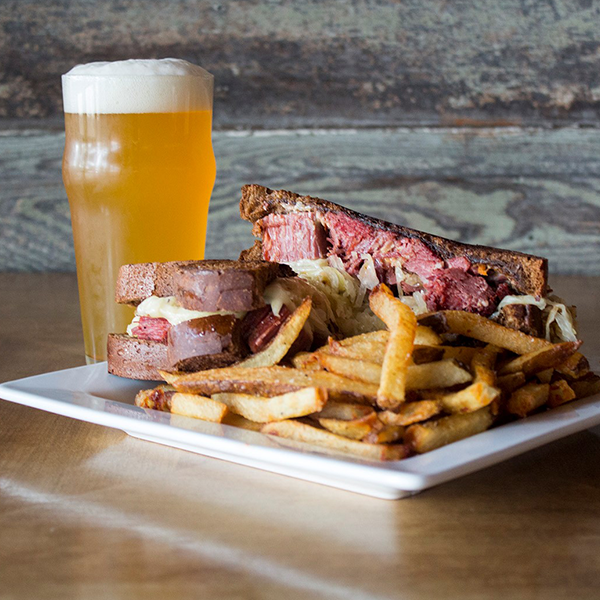 Matt has been killing their new seasonal menus, showcasing some of the best local ingredients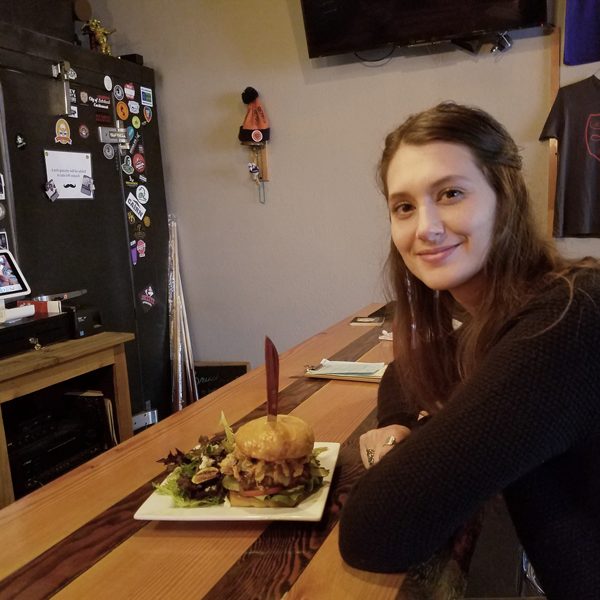 Front of House Manager Jacqueline Goddard about to enjoy one of their stacked burgers
Matt combines ingredients from Cloud Mountain Farm Center, Edaleen Dairy, Penn Cove Oyster, Cascadia Mushrooms, Avenue Bread, and Jack Mountain Meats to create a menu that changes with the seasons. He is committed to sourcing more local each year and crafting unique dishes that pair spectacularly with what's on tap. During November's month-long tapas pairing special they will be featuring a 7 Seas Autumn Ale with allspice sweet potato chips. Thier brats, infused with Menaces Chili Bravo, combined with a dish that utilizes the chilis used to brew the actual beer is also a special dish not to miss. For fall lovers the Harvest Salad with whole rainbow carrots, turnips, rutabaga, sweet potato, fall greens (watercress, endive, chard), Gorgonzola, and an Asiago-sage dressing and a Hallow Jack Pumpkin cider was to die for.
The Annex was opened a few years later and expanded what The Local was able to offer, in both entertainment and beer. Thiers pool, darts, shuffleboard and 8 additional taps, all from independent brewers from around the country. Jacqueline, their new front of house manager and a serious aficionado, promises there will always be something here for everyone (fun fact for anyone that loves beer from the Southwest, Jacki used to manage Wanderlust in Flagstaff)!
They are a team that is wholeheartedly dedicated to crafting food and drink that highlights the beauty and bounty in our region. Play trivia with them on November 7th, or attend their November 16th, Beer Pairing Dinner with pFriem Family beers. They will be pairing five of their brews with five unforgettable courses created by Matt. Regardless of what you like, it's the perfect place to stop and sample what our area has to offer, both here in Whatcom and throughout the Pacific Northwest.